Milne up against the wall?
Rumours are circulating this morning that party leader Jeremy Corbyn's director of comms, the former Guardian journalist, may be on his way out - although these have been denied.
If Milne is to be judged against one of PR's traditional golden rules of 'don't be the story', then he certainly fell down this week (and very much not for the first time in his 11-month tenure). Shadow defence secretary Clive Lewis appeared to take umbridge to a last-minute change being made to his speech by Milne. Reports of Lewis punching a wall in frustration did the rounds, as did footage of him trying to keep his cool. Lewis has played it down.
That thing when someone changes your speech just before you make it... pic.twitter.com/Dqyk4PXt9t

— Carl Dinnen (@carldinnen) September 26, 2016
'Comedy Corbyn' - and a comedy spad
Daily Mail columnist and media personality Andrew Pierce has taken to calling Jeremy Corbyn 'comedy Corbyn'. "It's my line... Comrade Corbyn I called him straight away, but everyone calls him that now," he told Flack, explaining the reason for the new nickname. It may come as little surprise that when PRWeek asked yesterday whether party conferences were becoming less fun and less useful, Pierce planted his flag firmly in 'no' camp.
Someone actually trading in comedy on purpose is Ayesha Hazarika - the former special adviser to Ed Miliband, and before that Gordon Brown and Harriet Harman, who took a show to the Edinburgh fringe this year, and has been at a number of conference events. "She wasn't laugh-out loud funny," was one public affairs professional's judgment.
iNHouse makes itself at home
Once again iNHouse Communications created its London Lounge at conference, with its cordoned off area hosting plenty of movers and shakers including MPs, journalists and broadcasters (some using the space to conduct interviews), Barnardo's CEO Javed Khan and other business figures through the week. It was certainly the most prominent bit of overt branding by any PR of public affairs firm - and the same may well be true in Birmingham for the Conservative Conference event next week.
The night before conference #Lab16 begins, the lull before the storm #londonlounge pic.twitter.com/01Tr3ZXDzV

— iNHouseComms (@iNHouseComms) September 24, 2016
Sponsored by iNHouse clients Diageo, News UK, Microsoft and Starbucks, wi-fi was a major draw, as was free coffee courtesy of the latter company. The choice of shortbread - named by "totally anti-sugar" Labour leader Jeremy Corbyn last week as his favourite biscuit - as one of the complimentary refreshments, was totally coincidental however, the agency tells Flack.
Perhaps the most interesting figure was one not attending the lounge - iNHouse co-founder Katie Perrior had to sell her stake in the business when she was appointed to new Prime Minister Theresa May's team. Jo Tanner, the other co-founder, found herself talking about her erstwhile partner almost constantly on the first days of conference. "Everyone's asking me about Katie," Tanner said. It seems there are (minor) downsides to having friends in high places.
The Sun doesn't go down
As the sun sets on the Labour Party Conference 2016, Flack finds that an attempt to send The Sun newspaper down did not work. The tabloid, long shunned by many in Liverpool for its coverage of Hillsborough, was available for free at the iNHouse lounge, which was part-sponsored by publisher News UK, to the ire of Mayor of Liverpool Joe Anderson, who told the Liverpool Echo on Tuesday: "It's a disgrace... It will be stopped right now."
The Sun's head of PR Dylan Sharpe declined to comment. The newspaper was still available in the lounge later that day, and this morning - the party seemingly never having actually got around to confirming the request to the agency.
"Heaven forbid that a Labour MP should come close to a copy of it," said one lounge attendee with a roll of the eyes. The Echo, incidentally, refers to the paper as 'The S*n'.
A pass-ing word on Portland
A number of conference-goers have wondered what presence Portland would have this year, given the nasty business a few months back of one of its partners being sent a death threat over the rather far-fetched suggestion of it being behind a coup attempting to oust Labour leader Jeremy Corbyn.
Well, it might not be pushing its brand or shouting about itself, but the agency is here, in modest numbers. A former Labour MP with close links to Portland told Flack it appeared that in order not to allow any perception that it was "infiltrating" the conference or doing anything untoward, the agency has paid for all staff to have full-price commercial passes that display the agency name - even where consultants who are also party members and could therefore get in more cheaply, with credentials not bearing the word 'Portland'.
The agency told Flack this was no special arrangement, and that staff attending conference to carry out work for clients would always use commercial passes in line with the APPC code of conduct. Certainly a number of PR and public affairs professionals are using members' passes. That might not sit will with a very strict reading of point 12 of the APPC code - but at any rate it's clear that transparency around the holding of various types of pass can be a thorny issue.
Conspiratorial (Bl)air-waves
If - and it's obviously a ridiculous concept - Portland were part of some kind of pro-Blairite coup, Flack reckons someone might need to give the agency the password to this intriguing wi-fi network available in the conference secure zone.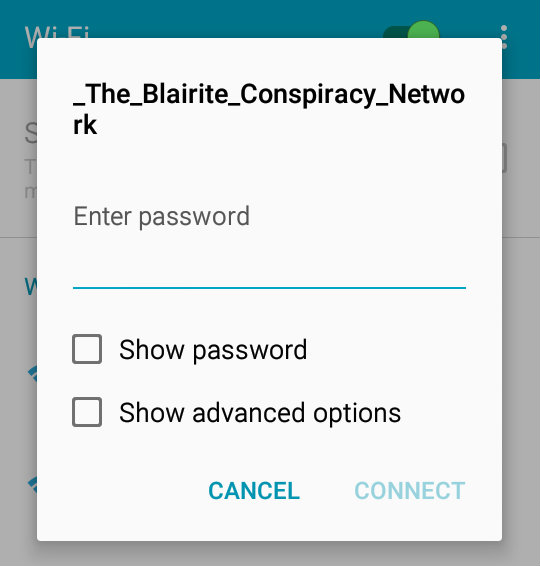 Rayner reigns with husband jibe
Shadow education secretary Angela Rayner has been a big hit among party members and attendees this week, topped off with her announcement of the party's anti-grammar schools 'Education not Segregation' campaign on Tuesday.
She and fellow MP Jess Phillips were on good form at a fringe event hosted by the All Party Parliamentary Group on Women and Work (organised by ex-MP Andy Sawford's Connect Communications). "My husband... he's great at everything else, but he can't lactate," Phillips said in discussion of childcare. "Mine can," Rayner quipped. Flack is tempted to say she milked the laughter.
Don't shoot the Messenger
Finally, allow Flack to indulge briefly its passion for nominative determinism - the idea that your name is likely to provide a clue to what course you will take in life. Step forward an MHP senior account executive manning the agency's four campaigning training sessions this week: Thomas Messenger.