T-Mobile's brand evokes some colorful descriptives: magenta, vulgar, competitive, to name a few. But the brand not only enjoys those labels, it also embraces them. In just a few years, the once-distant fourth-place mobile provider has become a contender, backed by a combative comms division and a CEO who rolls into a crowded room like a live grenade.
Only five years ago, T-Mobile was facing an uncertain future and reeling from a failed merger with AT&T that buckled in the face of tough regulatory opposition. From the rubble, T-Mobile emerged with a $4 billion parting gift from AT&T, which the former used to map and carry out a challenger strategy to modernize its network and store locations. It completed a reverse merger with MetroPCS, and later, in a video featuring René Obermann, the CEO of parent company Deutsche Telekom, T-Mobile announced it hired John Legere of AT&T and Dell fame.
Within weeks, Legere — T-Mobile's new CEO and president — declared his intent to resurrect the brand's cool, with an emphasis on customer satisfaction and support and a philosophy based on forthrightness and listening. This was the ecosystem Janice Kapner, current head of comms, entered in 2013.
"Management was rebuilding, resetting, and refocusing resources," Kapner says. "Comms as part of that mix was shifting dramatically from being a heavy Deutsche Telekom internal communications arm to a company with a new CEO that would be public facing and spearheading the narrative behind the turnaround story."
T-Mobile may end up being the case study of what happens when a Twitter-literate CEO embraces PR and strategically uses it with an integrated approach.
"Comms is the tip of the spear in forcing a stupid, broken, arrogant industry to change," says Legere. "With Janice leading our PR team, we have a leader who shares the same beliefs and is a proven winner."
Crunching the numbers
That story is borne out in the numbers. In August 2015, T-Mobile leapfrogged Sprint to become the third largest carrier in the U.S., with more than 65 million subscribers. For its 2016 Q2 report,T-Mobile recorded its 13th consecutive quarter in which it added more than 1 million net users, while CFO Braxton Carter claimed the self-styled "Un-Carrier" captured all industry growth in postpaid phone additions. Un-Carrier eliminates contracts, subsidized phones, and early termination fees for users.
Network modernization, aided by the alchemy of comms, has put T-Mobile in the spotlight, with audiences eager to see what the company will do next and a CEO with just the right amount of bravado, camp, and sincerity needed to fill the brand's sails.
But three weeks before its Un-Carrier 3.0 event, when Kapner joined, the comms team was still "finding its way" and fighting for the ear of its CEO.
"We're going to fight for our customers and do things people normally wouldn't think a carrier would do," Kapner says about the genesis of the Un-Carrier movement. "We do the right things for our shareholders, but that doesn't mean you have to screw the customer. How to evangelize that narrative was still very much a work in progress."
With no broadcast interviews scheduled for Legere to spread news of 3.0 (unlimited data and texting worldwide at no extra charge), Kapner was asked to arrange media coverage under the pressure of a "short runway." Yet, she was able to coordinate a stellar broadcast lineup including CNN and more.
"It was the beginning of recognizing that this CEO had a voice and was saying things consumers wanted to hear," Kapner explains. "It meant when we did have major news like this, we had an opportunity to go big and get a great lineup of people to have this conversation and share this news with."
Legere's brash rhetoric has made him a media darling. Mad Money's Jim Cramer called him "the Che Guevara of the cellphone business." Websites such as Mashable post videos recapping his greatest hits. Backed by comms, Legere's Un-Carrier movement turned T-Mobile into a consumer advocate. The brand is built so it emphasizes transparency
and frankness, meaning its PR team regularly finds itself at the C-suite table, with Kapner at the helm.
However, back when Kapner joined, the comms division was due for a revamp, including new talent and adding responsibilities for current staff. Kapner explored media management, social and executive engagement, and crisis management, among other areas. Then she leveraged her network to recruit talent, while the brand itself attracted a lot of new staff.
"Being a member of the senior leadership team gave me great insight into what was happening across the business to help identify where we needed to focus and how to build our bench across a number of areas," she notes. "Now, the division is fully staffed with about a dozen people to support 55,000 employees."
"We've raised the bar every time," she adds, "whether it's breaking news in a unique way or place, expanding the number of broadcast interviews, or reinventing our quarterly investor relations calls so they feel more like a behind-the-scenes experience."
Kapner says its comms litmus test is simple: would the CEOs of AT&T and Verizon do X and Y? "If the answer is no," she says, "John is usually in."
| | |
| --- | --- |
| | Our management recognizes the power of an integrated marcomms effort. It's still the best practice |
The art of busting balls
Today's race to win over subscribers is a radical departure from the one seen only five years ago. Social media has accelerated the power of communications, transforming trolling into a subtle corporate art.
A Verizon ad released in early 2016 visualized its wireless performance, as scored by an independent study, using colored balls. T-Mobile countered with a #Ballbuster press release, then delivered the coup de grâce two months later: a Super Bowl ad featuring Steve Harvey, who riffs on his Miss Universe 2015 gaffe when he crowned the wrong contestant. In the ad, Harvey points out that the data Verizon cites is a year old, proclaiming, "Verizon got it wrong! Yes! Not me!" The ad earned media props the next day.
This is the type of media combat that has come to typify T-Mobile's brand — a pugilistic style of integrated comms that entertains the public with one hand and corkscrews the competition into the ground with the other. It leverages social media, communications, its employee base, advertising, and more.
"Our management recognizes the power of an integrated marcomms effort," she says. "It's still the best practice today. No one will succeed being a one-trick pony. We get more reach than we're entitled to based on our spend because of our creativity and direct nature."
But the shouldering between the mobile carriers only seems to have accelerated. Competitors now openly take shots at T-Mobile, forcing its comms division to undergo a cultural evolution. For example, in April, Sprint's CEO, Marcelo Claure, released a series of videos from its 2016 Listening Tour, one of which featured a consumer characterizing T-Mobile as "ghetto." The video was later taken down.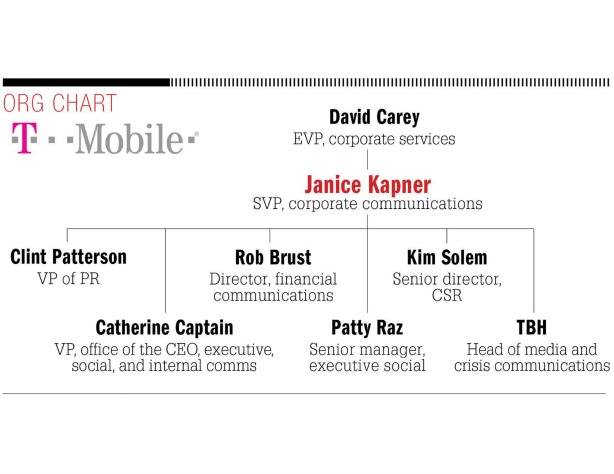 "That is all about scale," Kapner adds. "When you take over the number three spot and take all the industry growth for 11 or 12 quarters in a row, stealing customers from our rivals, then you're not the underdog anymore. We went from being kind of quiet, reactive, and internal facing, to still being small, but needing to scale and having the freedom to be creative."
In June, Sprint adopted an even more aggressive posture by hiring Verizon's former spokesman ("Can you hear me now?"), and later got into a high-profile Twitter beef with Verizon. In short, T-Mobile has disrupted the mobile carrier environment and brought about a new dynamic in which it thrives. And this industrial change can also be seen beyond communications in its business practices, Kapner notes.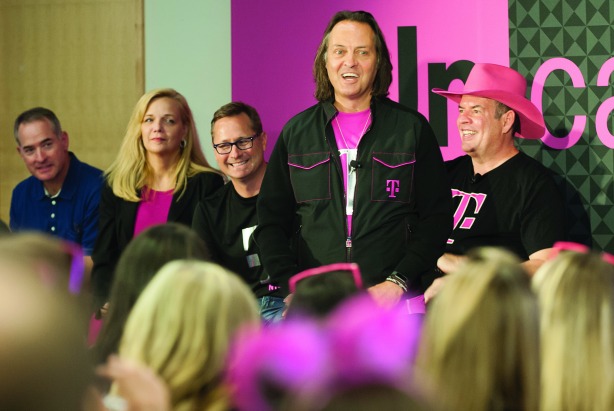 Gone are the days of two-year contracts and phone subsidies. "I applaud Sprint and Verizon for embracing change," says Kapner. "But T-Mobile and John deserve credit for setting that stage and forcing change in that dynamic. We were the innovators in taking
those shots. Imitation is the sincerest form of flattery."
Mobile carriers continue to funnel money into the TV ad space. As AT&T and Verizon continue to outspend T-Mobile, Kapner's team, in addition to its advertising and marketing divisions, have been forced to be more agile, creative, and provocative.
| | | |
| --- | --- | --- |
| | | We'll fight for our customers and do things people wouldn't think a carrier would do. |
T-Mobile has adopted a pugnacious approach with colorful flourishes of its own. It rolls out drinking games ("Verizon is dry, but you don't have to be") and encourages Legere to let loose on critics ("Please, stop the bullshit"). Most recently, it launched a partnership with record producer DJ Khaled, who has a massive following on Snapchat, many of whom are millennials.
"A lot of millennials respond to the transparency of our brand," notes Kapner.
Her philosophy around comms comes from her early days working on Silicon Valley startups, "the epitome of having no money and no brand name."
After that, she moved to Microsoft, which had brand name recognition and immense financial resources. While it lacked a desire to "break the mold" at the time, Kapner says she believes comms at the tech giant has changed as it, too, saw greater value in having a robust, creative strategy.
Hero or false prophet?
None of this means T-Mobile is immune to criticism. In fact, some of its boldest endeavors have revealed its vulnerabilities. In late 2015, T-Mobile's Binge On program came under fire for allegedly throttling video streaming for consumers. Digital rights group Electronic Frontier Foundation (EFF) claimed the service violated net neutrality rules by lowering bandwidth when users stream video. Also, Binge On is enabled by default, furthering speculation T-Mobile was purposely deceiving its consumers.
"Breaking new ground and innovating is sometimes hard," Kapner says. "Sometimes you will take lumps, but our partners and customers are happy and we adhere to the regulatory environment. Critics are entitled to their position. We take no umbrage."
This is a different tone than the initial one Legere assumed in a Periscope video, when the EFF questioned the carrier's practices. His response amounted to what Gizmodo called a "curse-filled hate rant."
In an open letter published four days later, Legere apologized to the EFF and its supporters and scheduled a meeting with its leaders. The letter doubled as an attempt to clarify the brand's practices and clear the murky waters surrounding what constitutes "throttling."
"If you're going to play in social media, then you have to be prepared that periodically people won't like what you have to say," Kapner says.
The Un-Carrier movement is inherently outsider brand marketing. But maintaining authenticity and transparency in an environment where the CEO gives out his own email presents its own challenges, especially as the up and comer runs the risk of replacing "the man." T-Mobile has already dislodged Sprint and continues to gain ground on AT&T and Verizon.
"The key is to pay attention to what is and isn't working for consumers," says Kapner. "They hate the carriers, so if we want to succeed, we can't be them. And we can't forget that."
BIG LOVES
Kapner grew up in Northern California and has lived all over the San Francisco Bay Area.
She has been riding horses since age 8, including some barrel racing and is a self-
proclaimed "animal nut." She currently has two dogs that she says are "spoiled rotten," Nutmeg and Cooper, a Labrador retriever and an Australian shepherd.
She loves to read, especially thrillers by authors such as Brad Thor, Tom Clancy, and James Patterson.
Another passion is travel. With her favorite destinations including the Tahitian Islands; Carmel and Santa Barbara, California; Florence, Italy; and Nice, France.
RESUME
2013-present, T-Mobile, VP, corporate comms (2013-2015). Named SVP, corporate communications in 2015
2003-2013, Microsoft, director of office UC marketing and publicity, Microsoft business division (2003-2007), senior comms director, Microsoft Office division (2007-2013)
2000-2003, PlaceWare, senior director of marketing communications
1995-2000, eFax.com, director of marketing