P
R is in the midst of reinventing its own story. The world of integrated communications has forced agencies to reshape their capabilities, shift budgets, and transform business practices to lure creative talent. But as agencies build their capabilities and craft their own stories, they all run into a common problem: How do you make PR the most attractive option to generations native to social media?
"This is a topic that comes up all the time at the PR Council," says Aaron Kwittken, CEO and chairman of Kwittken and a director at the council. "'PR needs PR' is kind of the thing. We've been very defensive historically, or very precious about it. We need to be more aggressive. We, as an industry, lack the swagger that our sibling industries have."
Across the sector, the hunt for talent is on. And PR, an industry that prides itself on the cutting edge of "everything trending," may be off to a slow start.
For Generation Z and millennial cohorts, who don't recognize the partitions between the disciplines, traditional PR and influencer relations may be "deeply unsatisfying," according to Dan Simon, CEO of Vested, a New York–based firm hatched from the get-go as an integrated shop.
"[Gen Z and millennials] are storytellers with powerful tools at their disposal to craft narratives and distribute them in a way they know," Simon says. "Integration is often cited as the number one or number two reason why people seek out work at Vested. It always comes up in interviews."
For Simon, integration is being driven by clients, and agencies are only responding to their needs. Successful integration partly hinges on architecture, if the agency is set up in such a way that encourages collaboration between divisions.
If you don't build the agency in a way that truly favors an integrated approach, the brain trust that you bought won't stick around

Dan Simon, Vested
"A lot of the older agency owners give it some lip service," Simon says. "Like any business, if you can't innovate from within, and you have the resources to do it, you buy it. The question is if that innovation stays and if you're organizationally prepared to let it thrive. If you don't build the agency in a way that truly favors an integrated approach, which in some ways means cannibalizing some of your own business, the brain trust that you bought won't stick around."
Porter Novelli is "racing toward integration," according to global COO Nick Propper, who stepped into his role in late February, but the industry as a whole has historically kept a thoughtful pace of change. A shake-up is required for the sector. Agencies, he adds, need to not only reflect their clients' needs, but also consumers'.
Changing the talent base
Porter Novelli tracks all employees and hours for reporting and analysis. Propper said up to a quarter of its work was tracked back to people in strategic service groups, but he expects 50% of all work at the firm to eventually be done by its integrated team. Integrated disciplines include strategic planning, analytics and research, creative services, content marketing, and reputation management.
"We have to be much more aggressive and open-minded in terms of how quickly we change the mix of the talent base," Propper says. Part of the problem is just introducing young people to the discipline and filling the pipeline. The recruiting spaces with real potential for integrated comms talent are already colonized by other industries, namely advertising, Silicon Valley startups, and the entertainment industry.
"In that respect, we're going to be low on [their] list [for prospective employment]," Propper says. "Once someone is through the threshold and meets our people, we're in the game. We have to work a lot harder to look like a real opportunity for millennials and Gen Z'ers."
Beyond the sophistication of his agency's technology platforms, integrated work, analytics, and creative capabilities, Propper says he believes PR may even have an advantage over other industries around "career mapping and career tracking — where people are going to go."
And, as the lines between practices and disciplines continue to blur, the talent Porter Novelli seeks are those who can survive the "pressure cooker" of agency life and "sit in the margins and understand how these things connect," Propper says. This changes where the firm looks for its talent.
"If we start thinking about other environments where things constantly shift, [with] an emphasis on producing great work under immense pressure, what are we describing there?" he says. "Once we identify what that might be, let's go hire people from that place."
But integration and technology only play one part in the recruitment process. The everyday jargon practitioners routinely favor means nothing to an outsider, which may prevent agencies from connecting with the talent that will be "the future of our industry," Propper says.
"We have to get inside their world and present ourselves in a way that looks familiar," he adds. "We need to focus much more on the diversity of the talent we bring in, in terms of race, religion, skills, background, and nationalities. We need to find a new narrative in the job marketplace so people who would never have considered PR can see this is an interesting space for them to be."
Advertising agencies are used to making filet mignon, but sometimes the market is asking for cheeseburgers

Aaron Kwittken, Kwittken
Culture examination
Interviews today are as much about the company's culture as the candidate's qualifications. "The fiercest conversations I have in this business, when I stagger out of a room feeling as though I was on the back foot the entire time, are generally because I've been interviewing a 23-year-old looking to get into the agency," Propper says.
"The questions [the candidates are asking] are what do you stand for? How are you making the world a better place doing what you do? That generation is grounded in a sense of purpose."
When asked about the skills needed to survive in today's PR landscape, PR pros agreed on one thing: They roundly encouraged college graduates to experiment, particularly in strategy and data analytics, and cautioned against specializing in any particular industry or skill set.
If there is a single mantra that unites their perspectives, it's to be open to change. Much of this echoes the kind of parlance integration has inspired for years. But Kwittken isn't buying those rallying cries to "transform mindsets."
PR's reputation stronger than a house of cards

The disappointing results at the 2016 Cannes Lions highlighted PR's long fight for recognition, with myriad think pieces from various agencies.
Out of 84 nominations, PR scooped up a paltry five Lions. But even while its sibling industries dominated the scoreboard, they acknowledged the role PR played in the winning campaigns.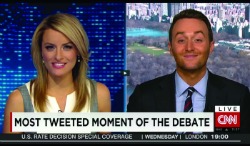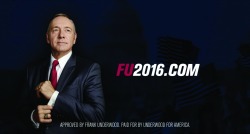 Case in point: The Grand Prix award at the Integrated Lions went to BBH New York for its House of Cards campaign. During the CNN Republican Debate, the highest-rated debate in U.S. political history, Netflix debuted a faux campaign ad featuring its protagonist, Frank Underwood.
"PR played a huge role in what we did," says Gerard Caputo, BBH's executive creative director. "It's becoming way more central to conventional advertising. You're looking to get as many eyes as you can on something to get people talking, and you don't always have a huge budget to do that. They're separate disciplines, but you need to understand both."
As clients continue to evolve and funnel more money into data, PR, as well as the broader communications community, must change radically.
"Usually PR people do programming and planning by gut and start each sentence with: I think; what we hear; and what's trending. And that's important. But now, given the data available to us, PR people need to start with data and map those insights against what's trending in the environment," Kwittken says. "Unless we can move this from mindset to process and insights, we're going to be left behind. To say it's a mindset is a cop-out. It's a complacent, lazy person's way of not having to redefine their skill set to survive the changing market."
Kwittken advised up-and-coming students of the craft to learn the basics of coding and to connect with people developing websites, apps, and widgets.
Kass Sells, president of the North America region at WE Communications, believes clients don't think of integration in the same way agencies do. Clients care about business results and who can bring solutions to the table.
"For us, it is [usually about] finding senior leaders who are broader and more general in the things they bring to a client," Sells says. "They can be a trusted client counselor and leader and adviser. And then we should focus on bringing in super talented people and experts."
The experts Sells refers to are "people who can go deep in specific disciplines" to meet client needs. Their skill sets vary from traditional PR, such as media relations and corporate communications, to experts in planning, strategy, social, creative, content, data, and analytics.
"Our objective is always to put the best people on the right work and then supplement those people with expertise from our WE+ partners [a global partnership network], both here in North America and around the world," Sells adds.
For Sells, it can sometimes come down to finding the agency with the most applicable skills to team with. If that means divvying up the project's budget and bringing other partners and experts to the table, so be it.
Shared characteristics
Meanwhile, communications and every industry that creates content for brands and consumers seem destined for a pileup. Each declares, loudly and repeatedly, they can do the other's job just as well. While advertising and marketing say their work has a strong PR angle, PR stakes its claim on greater ROI and quicker turnaround.
For a few years, Kwittken was owned by Kbs+p. During that time Kwittken picked up on the ad business and how some of its practices can be applied to the PR agency model.
"I learned design and design thinking is very important," Kwittken says. "[I also learned] that the upfront brand planning process that PR agencies don't typically engage in, but advertising agencies do, is critical because you need to map those data and insights to what you're doing. I also learned that ad agencies are making big, beautiful things that cost a lot. These companies are used to making filet mignon, but sometimes the market is asking for cheeseburgers."
There is a general expectation among the communications industry that the age of silos is over and the age of integration has come. Several communications practitioners interviewed by PRWeek predict the labels defining each discipline — PR, advertising, marketing — will cease.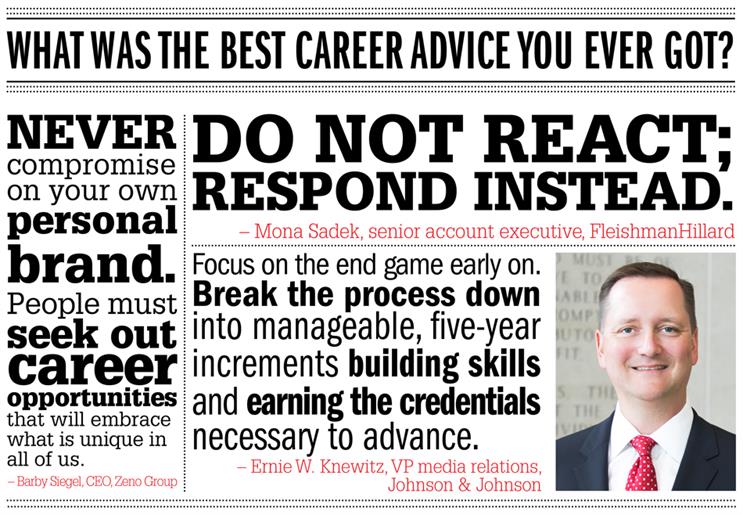 Vox Pop: Creative direction
How would you advise someone looking to go from art director to creative director - no easy feat today considering the dizzying amount of content being generated and myriad skills needed day to day?
Susan Credle, global chief creative officer, FCB Global
When I was a creative, I swore by the proverbial "you're only as good as your last idea." I lived in a culture of scarcity, created by me. Would this be the last good brief or opportunity for me to prove I have talent? Would this be my last good idea? I was protective of everything. Compromise was not an option.
I saw the people sitting in cubicles next to me as my competition. I'm embarrassed to admit that sometimes I even hoped they would fail so I would appear more valuable.
This competitive approach made me pretty successful.
And then I became a creative director. In a very short amount of time, I realized I had to evolve. I stopped judging people on their last idea and started focusing on their track record over time. I came to believe that failure was a part of success and to have faith that the future would bring more opportunity.
Instead of protecting my ideas, I gave them away and started to look at colleagues as teammates, wanting them to succeed more than anything.
I've tried to replace my belief in scarcity and survival with a belief in abundance and generosity. Any success I have had as a creative director has been tied to those beliefs.
Mike Hartman, chief creative officer, W2O Group

Being a creative director is about drawing work out of others, seeing around corners, and shaping what could be. Your training as an art director taught you what works visually, aesthetically, giving you a frame of reference and a reliable economy with minimal waste.
Creative direction is no different, but it deals with the conceptual rather than physical implementation, requiring you to run repeatable programs in your mind to assess the difference between a metaphorical dead end and the most fertile soil. You have to be able to connect the dots by gut. You have to be able to do the mental acrobatics. Say something that hasn't been said before. Push for poetry.
And copy is now your job as well. Along with team management, billability, and profit. But that's as easy as always getting along with your family and flawlessly managing your checkbook.
It's been said the best art directors think in lines, and the finest copywriters think in pictures. So find your words and your voice, because while a picture may be worth a thousand words, the picture that doesn't yet exist will require more than a few and some clever articulation to sell it in.
Jeff Immel, SVP and creative director, Weber Shandwick

Remember that your most important creative tool is not your talent, but your brain. Your talent helps you create, but as you move along in your career, it's your mind that allows you to separate yourself from everyone else.
Having great ideas does not make you a good creative director. This role is about using more than talent to get the best out of those around you. It's about motivating and inspiring others to want it just as badly as you do.
It's about understanding your client's business and inspiring them to see it differently — with a goal of creating space for great ideas to live within. And it's never losing sight of the fact that what we create, as my dad, a former creative director himself, used to say, is "art with a job to do." Not beautiful pictures or clever ideas, but work that changes behavior and, in many cases, culture.
It's no longer a game of pushing products and brands — but rather creating something that people want to be a part of. But getting there requires more than a great thought. You have to turn everyone around you (account teams, clients, even fellow creatives) into true believers of what a great idea can do.
---
Michael Gonda, Chobani, and Jessica Casano-Antonellis, Vimeo, discuss how their respective roles have evolved and what skills communications pros need to rise up the ladder.
---
What you need to know to prosper as a CCO
Conveners. Citizens of the world. Behavioral scientists. Today's chief communications officers juggle myriad roles and responsibilities. By Diana Bradley
S
outhwest Airlines faced immediate public backlash last November following two separate incidents involving the removal of Muslim passengers from flights at Chicago Midway International Airport. As the airline's CCO, Linda Rutherford had to be ready with a response.
"There was immediate public outcry and complaints from the customers that we were profiling and being racially insensitive," she says.
Rutherford explains that her job was not merely responding to media inquiries that were being driven by the individual making the complaints or an organization supporting that individual. She also had to understand what Southwest's strategy needed to look like from a social conversation perspective, and figure out if the company needed to look at revamping any policies or how employees are trained.
Various audiences had to be involved in a conversation about the matter. To do this, Rutherford brought together several Southwest departments (inset) — such as its diversity and inclusion team, governmental affairs, general counsel, legal, and community affairs teams — to communicate with organizations.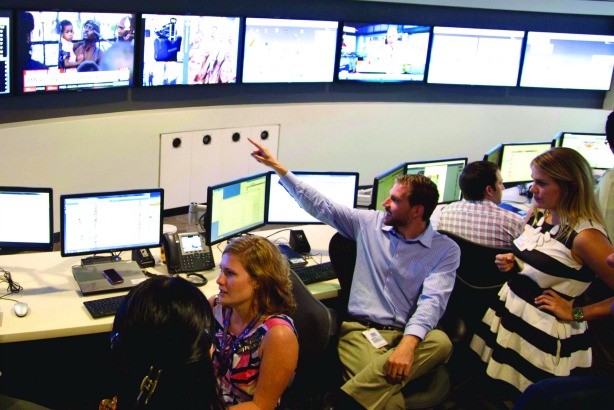 Pleasing the masses
"We had to make sure [our response] was well executed and well coordinated, and that we were communicating the same thing with all these different audiences," she says.
Rutherford admits the airline has not pleased everyone with its response, but largely received "good" feedback for the company's willingness to bring people together and have an open dialogue. She adds this is not a "one and done" matter.
Reflecting on the crisis, Rutherford notes that CCOs are also chief integration officers, pulling together different schools of thought in an effort to integrate them across an enterprise or raise them as a potential issue a brand might have to face.
The ability to regularly integrate teams is a new skill CCOs must possess, recent research from the Arthur W. Page Society concludes. The society's president Roger Bolton says senior comms pros must be increasingly adept at working across a company to build alliances, making sure everyone is engaged with building corporate character and stakeholder engagement.
As an integrator, skills such as listening, collaboration, the ability to deal with ambiguity, empathy, and ethics are key, he adds.
Rutherford took on the top comms position at Southwest at the end of 2015, when Ginger Hardage retired. But she notes that the role is already evolving. From a reputation management standpoint, Rutherford has taken a more aggressive role in proactively communicating internally and externally during global events, such as recent police shootings and terrorist attacks.
"We are not foolish enough to think we can just run an airline; we have to be a citizen of the world," she says. "It is recognizing we can have people in any corner of the planet and making sure we have reached out to the appropriate organizations or authorities to offer whatever help we can."
Internal communications should also reflect what is being said about the company and its competitors in the outside world.
"If CCOs and CEOs ignore the real world and fail to bring the outside in and provide some context to events, chances are high that employees will come to mistrust their unrealistic leaders and employers," says former Cargill comms chief Mike Fernandez.
PR pros need new skills such as the ability to have a close pulse on sentiment to inform our choices

Stacey Tank, The Home Depot
Convincing the CEO
Usually, before any of a CCO's strategies are implemented, they have to be approved by the CEO. Confidence and good listening skills are key to counseling and gaining a CEO's trust.
As The Home Depot's corporate comms and external affairs VP, Stacey Tank, puts it: No one is going to take advice from one whose hair is on fire. "Be reasonable, thoughtful, listen, be calm, and have really good energy," Tank advises.
7 ways to attract and retain a CCO

1. Be open to people with diverse experiences and backgrounds.
2. Encourage people to bring their whole self to their job, not simply fill a role
ascribed to a box on a chart.
3. Invest in talent by providing training and developmental experiences that not only prompt employees to know more about emerging trends and technologies, but also give them the ability to better share what they know.
4. Don't just say you believe in diversity — do something about it. Be sure there are diverse candidates in every job pool and every finalist list. Develop the diverse talent you hire, and put them in leadership roles when they are ready.
5. Understand how critical comms is to the effectiveness of your organization.
6. It is easier for a CCO to represent a company that has a strong identity and clear purpose than one that is continually flip flopping on its values and purpose.
7. Allow the CCO to be challenged, grow, and try new things.
Hardage adds that, to influence senior execs, CCOs must have the ability to be persuasive, articulate, and have the knowledge to present a point of view on a variety of topics. The ability to influence and move people emotionally through stories is an evergreen CCO skill, notes Tank. It's just the method through which storytelling is done that is changing.
"We used to depend on the news media to write the story, but now we manage owned media platforms," says Rutherford.
While CCOs must have an understanding of different platforms and digital tools, being strategic in how they engage and apply them is essential, advises Fernandez.
"PR pros need new skills in today's digital and social era such as the ability to foster real-time feedback loops, both inside and outside the company because we have to have a close pulse on sentiment to inform our choices," adds Tank.
A newer expectation is for the CCO to build and manage digital engagement systems to analyze and understand stakeholders and deliver to those stakeholders what they want, when they want it, Page Society research shows.
Understanding behavioral sciences and the psyches of the stakeholders a company works with can help to inform what a stop smoking campaign or marriage equality-support initiative might look like, says Rutherford. "This stops a company from instantly being offensive to people," she adds.
Although the role of the CCO has evolved so much, the skill that has remained constant is the ability to write. "Writing is still the most critical skill," adds Bolton. "It indicates an ability to do all the other things expected of a CCO."
---
Vox Pop: How to climb the ladder
As agency associates look to climb the ladder moving from AE, to SAE, to account director, what are some common mistakes you see? And what advice would you give those looking for steady advancement?
Michael Law, U.S. CEO, Burson-Marsteller
During my career, I have been fortunate to work at different PR agencies in global markets with a range of diverse clients. I've met hundreds of PR pros and seen many thrive and achieve great heights.
Here are best practices I've seen propel staff to greater prominence in their firms or hold people back when ignored.
First, stay in tune with the world. An early boss told me, "Every good public affairs pro reads The New York Times, The Washington Post, and The Wall Street Journal every morning." Clients look to us for a unique perspective. Choose a news aggregator — my favorite is Flipboard — and read it daily to keep yourself informed.
Second, always improve your writing. PR firms are not a small investment. And with that comes a high expectation for great ideas and flawless execution. That means consistently perfect writing. Make sure your writing is free from industry jargon. Ideas are weakened by a passive tone or, worse, typographical errors.
Finally, cultivate hobbies, and don't be afraid to tell stories. Some of the most successful people I've met are passionate about what they do for fun. Some ride motorbikes, others climb mountains. Only a few bring their interests to life in stories at work. Those who do often reach greater heights — and have fun doing so.
Amy Lyons, managing partner, Shift Communications
When you climb the ranks, your responsibilities, levels of autonomy, and expectations evolve, but what should remain steadfast are the values and traits that define you as a person and a PR pro. It's important to ask: "What do I want to be known for — to my clients, teammates, and agency? Am I at an organization that is culturally aligned to these traits? How can I be my best self and contribute to my organization while being true to these traits?
Answering these questions will ensure you are in the right place and right frame of mind for advancement to happen. Then look at the factors that impact your career path and understand where you have influence, where you don't, and how to navigate the difference.
A recent study by Deloitte showed 77% of millennials felt they had total to a large amount of control over their career path. That tells me this generation is prepared to take ownership of their careers. This is great news for firms looking for leaders.
Those looking to advance must understand how trust is earned and where empowerment begins. You need to put in time, build a reputation, and showcase your ability to engage in something you are passionate about. Then you can be empowered to make decisions that will showcase your readiness to advance.
Jennifer Risi, global CCO and MD, Ogilvy Media Influence, Ogilvy PR
There are various challenges, external and internal, when trying to advance in PR. However, one of the most common mistakes associates make is the internal challenges they create.
For example, some make unnecessary boundaries in their career. A job can turn into any career path you want by seizing opportunity, stepping up for your team, and looking past your job description.
Also, it's important to embrace mistakes. We all make them, and I encourage young PR pros to own theirs. When you make a mistake, create a plan for preventing it in the future and address it directly.
The best advice I would give is to remember it's a marathon, not a sprint. I've seen millennials quit a job after six or nine months because they think there are opportunities of grandeur or more pay at the next job. But you really have to be in a job for a year or two to get the skills you need for that next job. It's a process.
And you need a sponsor. Not just a mentor, but someone who is going to advocate on your behalf when you're not in the room. Having a sponsor is essential. That's a key reason I've been successful — I've always had people advocating for me. It's not just the good work you do, it's about the people around you who appreciate it, understand it, value it, and value you as part of an organization.
---
Educators get schooled
Brand leaders meet industry's next gen during Plank program
The Plank Center for Leadership in Public Relations' Fellowship for Educators brings college educators into global corporations and PR agencies for two weeks each summer to create an exchange of information and ideas that enhance the professional development of both the educators and the hosts.
During the past seven years, 60 Plank Center educators have served in two dozen host companies. Nine PR agencies and corporations stepped up to be hosts in 2016: Burson-Marsteller, Ketchum, Weber Shandwick, Deveney Communication, American Airlines, General Motors Co., The Home Depot, Cox Communications, and Darden Restaurants.
Program participants Chris Wilson, Brigham Young University, and Tony Cervone, GM, share their insights.
Tony Cervone, SVP, global communications,General Motors Co.
Why did you participate in this program?
GM welcomes the perspectives and academic expertise these educators bring to the table. We're trying to build a learning culture throughout our organization.
But whether it's a project specializing in social media, analytics, internal comms, corporate social responsibility, or global business practices, the Plank educators provide rich ideas grounded in research and a breadth of knowledge outside our company and industry. Their vast and very often specialized networks of contacts, personal and professional, enable us to connect with others and learn what they are doing to tackle similar challenges.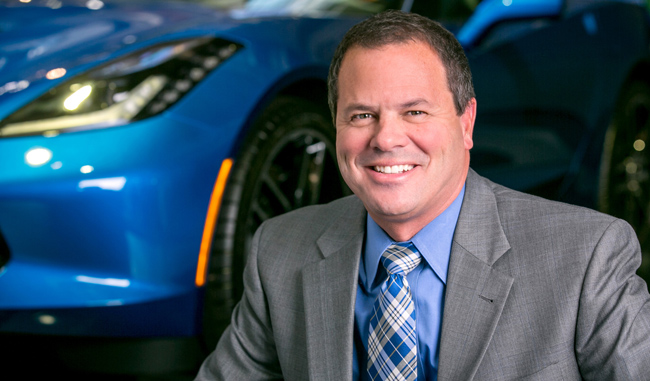 The educator's ability to completely focus for two consecutive weeks on a specific project and produce high-quality work quickly provides a tremendous benefit to us as a host company. In the end, we're both about advancing our profession.
What were your takeaways?
Educators get firsthand comms knowledge and experience to share with their students. Their ability to use real-life examples of projects and programs currently being implemented by organizations and corporations into their lectures helps bridge the gap between theory and practice. They also get a sense of the pace of work in PR, the skills required and the caliber of talent expected in today's companies.
So much has changed in the field of communications over the past several years the media landscape, the global nature of the business, the "always on" mentality. Yet, much has stayed the same. We still consider writing, storytelling, relationship building, media relations, data, and insights as critical core competencies.
Through their involvement with Plank, professors can adjust course curricula and assignments to reflect the contemporary skills students need to be successful in the work world. In the end, we all have access to a larger pool of new communications talent.
By participating in the Plank program, we're reminded to keep our eyes on trends inside and outside of the industry, to reflect on the perspectives shared by other professionals and academics, and to maintain a high level of curiosity as we approach our work each day. And, above all, to remember how exciting this profession is and how much there is still to learn.
What will you do differently based on your involvement with the program?
It has also led us to put a stronger emphasis on university relations and recruiting efforts. The relationships we build through the program enable us to spend more time visiting universities that have high-caliber comms programs where we can engage with faculty members, community leaders, and lead classroom lectures and dialog sessions with both undergraduate and graduate students.
Having a presence on these campuses has also enabled us to build an extended network to identify highly qualified candidates for our summer internship program who, if hired, enter into a three-year developmental rotation program with GM Communications.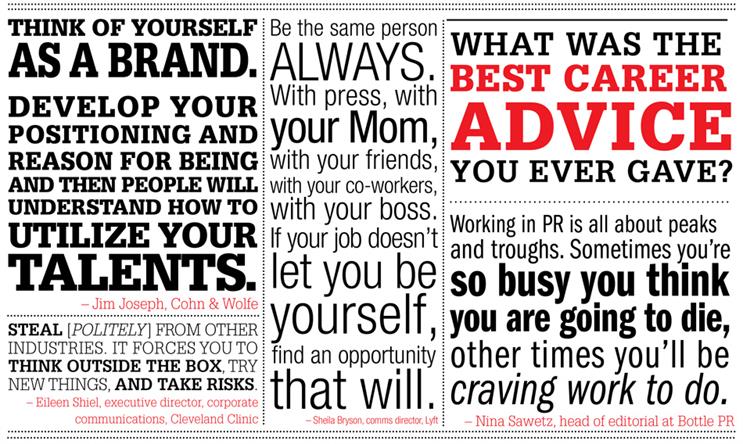 Chris Wilson, assistant professor, Department of Communications,
Brigham Young University, and who served at American Airlines
Why did you participate as an educator in this program?
One of the main reasons I wanted to participate was to experience public relations in a corporate or agency setting. During my professional career, I worked for a municipal government and a regional arts nonprofit.
While some of our students here at BYU are interested in government or nonprofit work, many of them want to land jobs in corporate communications or with high-profile agencies. I felt like I could better teach and advise my students if I had some on-the-ground, in-the-trenches public relations experience with these types of organizations.
Another reason was to compare and contrast what I'm teaching in the classroom with the ways in which public relations is being practiced in the industry. It's only been five years since I left the professional world for academia, but so much has changed that I wanted to get back out into the field to see what PR professionals are doing on a day-to-day basis and to learn how they are coping with the constantly evolving demands and expectations for communication.
What were your takeaways?
One of my major takeaways was the importance of internal communications and employee engagement, not just as initiatives of the corporate comms department, but also as integral components of the business strategy. I was also struck by the realization that the line between internal and external comms is almost non-existent. What a large multinational corporation does or says internally can impact what happens to an organization externally, and vice versa.
Another takeaway was the degree of specialization in American Airlines' comms department. Nearly everyone in the department of close to 100 employees is a specialist. As I explained the purpose of the Plank Fellowship to the people I met with, I found myself asking them to describe their piece of the puzzle and how they fit into the larger picture. It became intriguing to me to learn how each work team coordinated with other related work teams, what information they shared, how they shared it, and how they accomplished their specific work group goals while providing support for other corporate comms work groups.
The other thing that caught me off-guard was the speed and intensity of the business. The airline industry moves at the speed of light, 24 hours a day, seven days a week. Dealing with complicated issues and crises is just part of a regular day's work.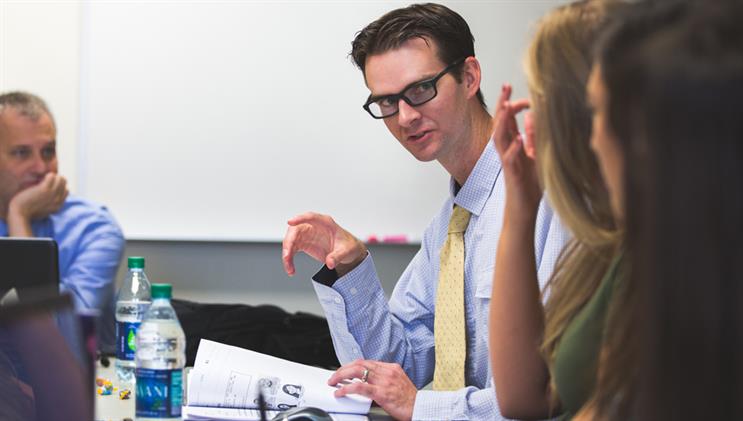 What will you do differently based on your involvement with the program?
I've already started advising students differently. I'm doing more to help them understand that the so-called soft skills, like attitude, grit, and self-reliance, are every bit as important to their future employers as the PR skills students are learning in the classroom.
In addition, when students come to me with questions about how to prepare for a future career in PR or about what they should do after they graduate, I'm able to have a more nuanced discussion with them based on things I observed as a Plank Fellow, such as being a PR generalist versus a specialist, working in government versus nonprofit or corporate, understanding the unique characteristics of different industries, and taking into account the differences in the speed, duration, and intensity of the work in those industries.
In addition, I've started helping students realize the skills they're developing are only part of the package that employers look for when hiring students. Professional habits and attitudes are also high on the list. I have had fantastic discussions about what it means to be a professional with my students.­­