Business analytics firm Alva analysed all publicly available English-language content for the ten global Olympics and Paralympics partners in the 12 months leading up to the Games, as well as while they ran campaigns during the two Rio 2016 events. It used this data to assess which had generated the greatest returns for sponsors and which brand performed best overall.
Part of the research explored the change brands saw in their visibility (level of influence with the audience and prominence of the brand's mention); likeability (use of positive words and phrases); and advocacy (use of words actively endorsing the brand), from their sponsorship.
On average, brands generated three times more likeability from the Paralympics than the Olympics, but only 55 per cent of the visibility - although results varied substantially from partner to partner.
While Samsung, Proctor & Gamble and Panasonic generated fondness for their brands during the Olympics, General Electric, Bridgestone and Coca-Cola increased their likeability during the Paralympics, with the latter turning that around following a decrease in likeability in the Olympics.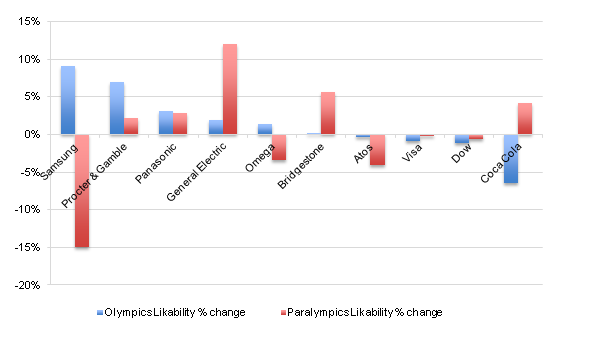 Advocacy proved trickier to come by, though there was evidence of moderate levels for Paralympic sponsors compared to none for Olympic ones.
An outlier for the period was Samsung – it had put together a range of Paralympic content and might have benefitted from that, but this was overshadowed due to concern over its Galaxy Note 7 phones following battery fires. This had a knock-on effect for the brand's likeability, but it was still highly visible during both Olympics and Paralympics, appearing to be the only sponsor to have given equal effort during both events.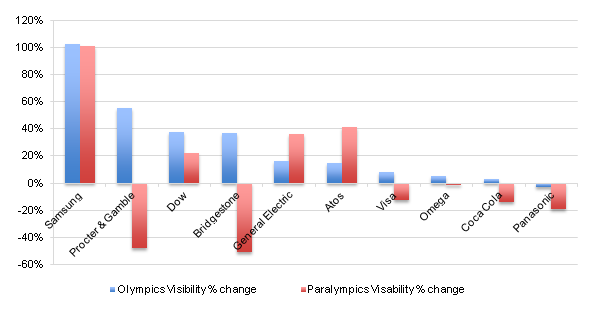 Atos also came under scrutiny due to concerns over its treatment of disabled people in its care. In London 2012, it also drew criticism for its Paralympic sponsorship, with hundreds protesting over its role in slashing the benefits bill.
Those brands best using their sponsorship fostered likeability through strong engagement with the Paralympics and the athletes involved, while the Olympics remained the better bet for boosting visibility.