The party's conference, held in Bournemouth on Friday and Saturday (with an evening drinks reception for media kicking things off on Thursday night) saw the announcement of new leader Diane James - its first contested election and its first female leader.
It concludes a decade of Farage at the helm (aside from when he stepped down temporarily in 2009) in which time the party has changed in a number of ways, although its lean press team and open-minded attitude to media access has remained largely unchanged.
In 2010, UKIP leader Nigel Farage was campaigning to be elected MP for Buckingham, and vowed to visit every pub in the constituency to gauge the views of the common man. John Harrington, then news editor of pub trade title The Morning Advertiser (now, of course, deputy editor of PRWeek UK), asked the party's press officer if he could join Farage for a feature.
Harrington remembers: "To my surprise, he agreed. Not only that, I ended up driving Farage - just the two of us - around the Bucks countryside in my pooled car. It was quite surreal, and indicative of a very relaxed, informal and open approach to media relations – to put it mildly. Farage came across in person as he does on TV: forthright, determined, and charming."
(Mostly) one-man band
Gawain Towler, UKIP's national head of press, claims on his Twitter biography to be known as a "cheery fellow". He is certainly relaxed and easy to get on with.
Towler has been the only full-time PR man for the party itself for most of the 13 years that he has worked for it - and that is again the case after press officer Joe Jenkins left the party after conference to offer his services as a campaigns consultant for other political causes across Europe. That leaves Towler working alongside twentysomething senior press officer John Gill, who is shared between HQ and UKIP's two London Assembly members.
While Paul 'Gobby' Lambert, a high-profile recruit from the BBC at the end of 2014, is already long gone, Towler and Gill would also work with Nigel Farage's personal media aide Michael Heaver (pictured below with Farage in 2012 when he was chair of UKIP's youth wing), and the trio of press officers based in Brussels with its MEPs.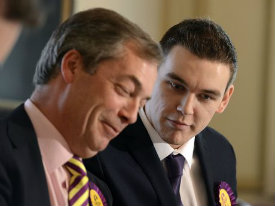 The party has occasionally taken on agencies, but aside from its "very successful" work with independent Edinburgh creative agency Family for poster design, external firms have generally proved to be "not suited to us", Towler says.
"Though we do not have walls between our roles, basically John handles broadcast and I handle print, broadly," Towler says. Gill also handles social media. Late nights - both working and networking in pubs in Westminster and elsewhere - are common, although Towler says he is "rarely" working after midnight. Saturdays are also often busy ahead of Sunday's The Andrew Marr Show.
Towler says he and colleagues are keen to get the basics right. "We don't let people down; when we book something in 99% of the time people will be there on time and ready to deliver - it's just a question of manners," he says - nothing revolutionary, but certainly things that will make journalists want to work with you. He also says he reckons that Gill is known as the "nicest man in Westminster" among journalists. "Polite, doesn't overpromise, does the work and is always good for a drink at the end of the day."
They also say that they're generally likely to say yes to interview requests rather than be cautious, giving journalists easy access to councillors, candidates and other party figures. "Give that we are so lean, there would be no use trying to control everything," he says.
Having such loose control might be seen as a risky move, but Towler says putting trust in people is a logical move. "They've been elected on our ticket, and they're not expected to be blithering idiots, and by and large they aren't."
Of course, there have been plenty of reports of UKIP members acting idiotically, in particular posting offensive message on social media. Some of these have turned out to be fake, but Towler insists that the party always does its best to investigate as quickly as possible, and throw out offenders. He often thanks the journalists who brought it to their attention for having aided its small but improving vetting regime. In some cases, such stories have clearly been planted with journalists by other parties. Towler claimed in 2013 to PRWeek that he would never indulge in this kind of "hit job".
The most obvious strength that UKIP's press team has - or had - is the charismatic leader. Farage creates good copy, draws a crowd and isn't afraid of locking horns with people he disagrees with. "In a day of campaigning in a town, where he hasn't talked to a couple of members of the public who absolutely disagree with what he says and thinks, is a failed day - he wants to engage with the public," Towler says.
Farage's PR man Heaver agrees. "He doesn't plan word by word what he says because it's in his head and in his heart with his own notes on themes being enough guidance and the end product being a much more solid, authentic speaking style that doesn't sound overly rehearsed and full of buzzword bullshit," Heaver explains over email. When PRWeek sees him the next day at conference, he's particularly keen for the "buzzword bullshit" term to go into the piece.
A 'delight' to deal with
When PRWeek arrived on Friday to the party's conference, deputy leader Paul Nuttall was one place behind in the queue - no VIP treatment for him. He admits with a smile that the press team's attitude of easy access "has its ups and downs", before cheerfully responding to several questions in a door-stepping interview from Channel 4's Michael Crick.
Around 300 journalists registered for conference, according to Gill. It doesn't seem that that many turned up, but it's still an improvement on just one national media outlet back in 2010. Journalists at the conference all agree that UKIP's press team are easy to deal with - something of a novelty for a profession often all too keen to lay into PR people.
Crick himself goes further. "Gawain [pictued below] is a delight - he always returns your calls," he tells PRWeek. With the exception of an altercation he once had with Hermann Kelly, a spokesman for the UKIP grouping in Brussels, Crick says he feels that UKIP is "probably the easiest party around to deal with".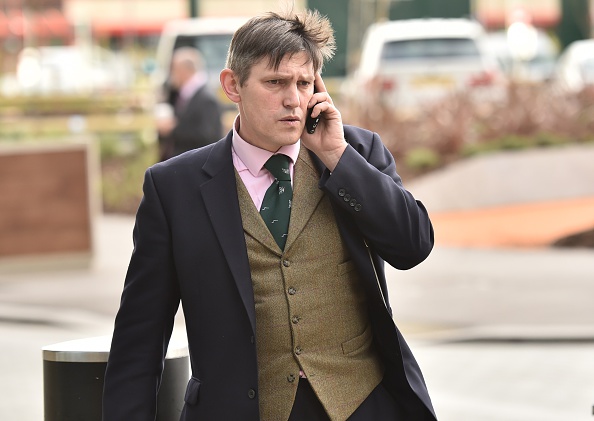 "They don't take themselves too seriously," he says of the party more broadly, "there's an honesty and an authenticity - it gets them into trouble but they provide fantastic copy". He contrasts this with other parties - Labour and the Greens in particular, going on to say of UKIP's press team: "They're forgiving - if you do a story about them that is not favourable, they don't hold that against you."
It's not entirely positive - one senior political correspondent says he feels the press team is "slightly irrelevant", on the grounds that "if we wanted something on the party we usually just called him [Farage] directly".
Meanwhile Raheem Kassem, London editor-in-chief of Breitbart and an adviser to Farage for eight months before the 2015 election, says the press team is "well meaning but understaffed". Kassam also says that outside of media relations, the PR and marketing arm of UKIP is a "shambles", with little or no focus on branding or outreach.
That lack of desire - or ability - to control the message isn't just fun for journalists, however. Steve Crowther, the party chairman until earlier this year, told a session of the conference he believed that media and broadcasters' delight in sharing Farage's apparent gaffes only served to make him more popular among voters.
The new era
The Friday morning of conference is, in essence, all a long build-up to Farage's farewell speech. Pretty much every mention of his name elicits a hearty round of applause - a trend that continues when his successor makes her debut after lunch. When he emerges, banners wave and a lengthy rousing standing ovation. He is, reliable as ever, everything the UK public has grown to expect - forceful and flawless.
Farage's farewell may be the main event, but the unveiling of James as the new leader is the main piece of serious business of the day.
Among other messages, Diane James (pictured below) promises that UKIP members "will always get honesty from me", and thanks the media for attending the conference, saying UKIP was attracting press interest that "other parties would dream of". An indifferent applause rises from some - perhaps a minority - of the crowd, unsurprising given the loud applause that the conference gave to an earlier speaker decrying the BBC for being biased.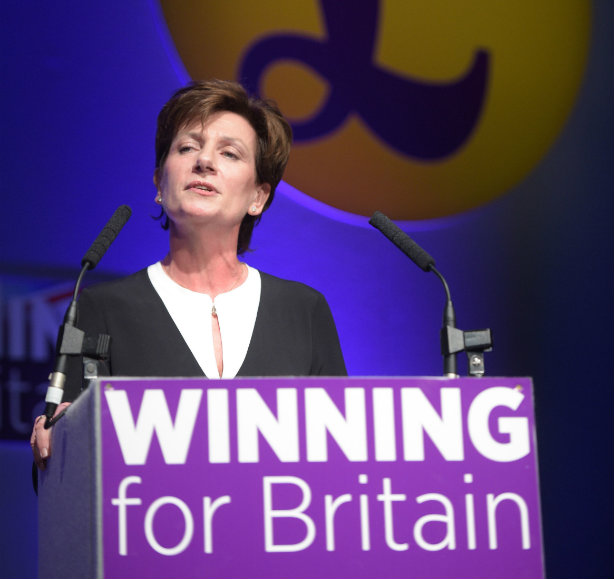 One of the bigger applauses comes when she pays tribute to Nigel - this gets a standing ovation. With UKIP, everything does come back to Nigel eventually - nearly every conversation with Towler or Gill, or with any party member or member of the public, will in time gravitate towards him. When I asked Towler whether he has ever had to give Farage media training, he responded: "You've got to be kidding - he has more media experience than I would say 99 per cent of media trainers in the business."
James, Towler, and everyone else knows she has a very tough task filling Nigel's large shoes. How much of a challenge is that for Towler? Speaking before the leadership announcement, while admitting that change was "always interesting", Towler compared the situation to a few years ago when he was fighting just to get the party a couple of mentions in the press a month.
"This isn't hard, this is really easy by comparison - we actually get phoned by journalists who ask our opinion, we're not fighting and fighting and fighting just to get people to listen," he says.
---
Photo credits
Image of Farage and Heaver credit: Stephen Simpson/REX/Shutterstock
Image of Towler credit: LEON NEAL/AFP/Getty Images
Image of James credit: PA Images