It marks the largest haul of commercial records ever featured in the book.
GWR's commercial team works with brands aiming to break records - with company involved paying for an official adjudicator and sometimes for licensing of the logo after a successful effort.
Nadine Causey, senior vice-president of EMEA APAC for GWR said: "Brands are becoming increasingly creative in the way they weave record breaking into their PR and marketing, and the team here works closely with our commercial clients to ensure the record they attempt fits the brief."
In terms of the records themselves, Jaguar opted for scale, taking inspiration from a super-sized version of Hot Wheels as it broke the record for the largest loop the loop in a car, on the eve of the Frankfurt Motor Show.
In a bid to showcase LG Electronics' Centrum System washing machine and the fact it had significantly reduced vibrations, the South Korean firm teamed up with prolific card stacker Bryan Berg. They created the tallest house of cards in 12 hours – on top of a washing machine operating at 1,000 rpm.
The City of Liverpool celebrated the 175th anniversary of the first passenger transatlantic crossing with its record for the most people modelling on a catwalk (3,651 in total), carried out with online retailer Very and designer Wayne Hemingway.
Center Parcs celebrated its restaurant The Pancake House with its Guinness entry. Just before one of the restaurant's busiest days of the year – Shrove Tuesday – it tackled a world record for the tallest stack of pancakes and succeeded with its 101.8cm effort.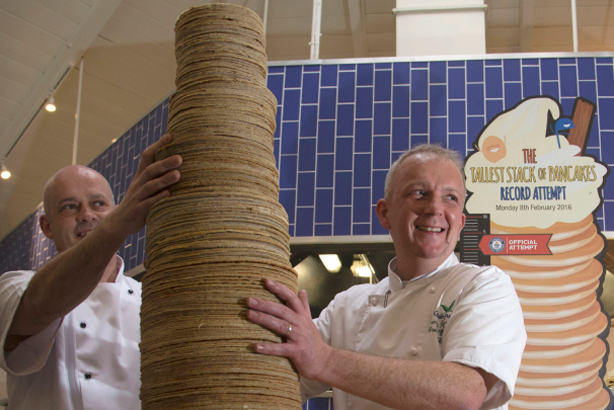 GWR's database holds more than 50,000 titles, although just 4,000 records make it into the print edition.