Every September the question: "Are you going to conference this year?" rings out around Westminster like clockwork. The answer given is nearly always followed by predictions on the likely mood at each venue, and a discussion on what this will mean for the politics that follows.
This year, we can expect these prophetic conversations to take place with even more gusto after one of the most febrile political summers on record.
The Conservative Party conference in 2015 was a mix of bemusement among many that a majority had, in fact, been achieved at the general election, mixed with feelings of euphoria as thoughts turned to what would be possible outside coalition. We can expect a similar mix of emotions this year because the majority of party members wanted Brexit. Some, though, did not and so, as we saw in the days after the poll, the overriding sense of party discipline is likely to be a core tenet at conference.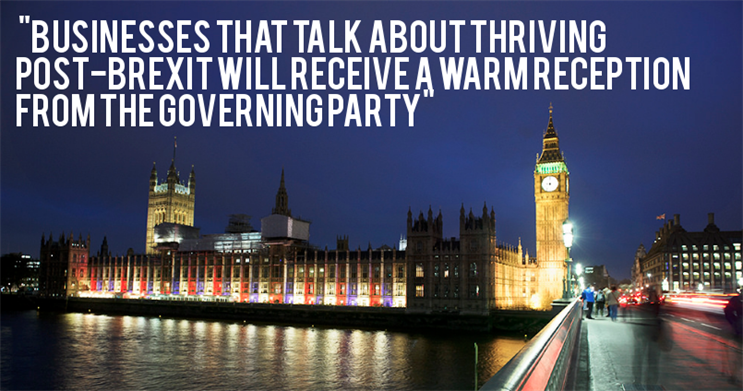 The Prime Minister knows markets will be watching for remarks on the next steps for Brexit and so there will be no place for off-the-cuff comments that could undermine the confidence in the process she has sought to build. Business will dominate discussions as the Tory leadership looks to use the party conference as a platform to underline that the UK is open for trade. We can also expect Theresa May to set out more detail on her mission to make Britain a country that works for everyone.
Businesses that talk confidently about their ambition to invest in the country, especially in projects that fit neatly with the line that the UK can thrive post-Brexit, will receive a warm reception from the governing party, as will organisations that talk credibly about devolution beyond the 'Northern Powerhouse'.
Labour's conference begins the day after the result of its leadership contest and so internal politics will undoubtedly continue to be a dominant feature. If the favourite, Jeremy Corbyn, is swept in again as leader, the question that follows is: what next for those in the Parliamentary Labour Party who have publicly questioned his leadership, and over what time frame? So far, no Labour MPs have taken Tim Farron up on his offer to join the Lib Dems, but some may opt to jump ship or form a new party, rather than go through the trial of deselection. With the Lib Dems conference taking place in Brighton the week before, we can expect to see Farron reiterate his invitation, emboldened by recent local election success.
For those trying to engage with the official opposition, either now or later on down the line, it will be vital to make every effort to avoid being drawn into a public spat between the different factions. Those of us in the public affairs sector who believe that an effective opposition is crucial to effective Government will surely be left disappointed if internal wrangling continues to distract attention.
Conference season 2016 could set the tone of politics for years after the stages are packed away. It's going to be a belter, so get some rest in advance.
Naomi Harris is managing director, public affairs, at Newington Communications