I remember trying on an Oculus Rift VR headset in its very early days, finding it a fun, if slightly disorientating, experience – and that was about it.
So when Samsung proclaimed it would be holding a series of "world firsts" at the offices of its agency M&C Saatchi Sport & Entertainment – several live VR press conferences with Rio stars including rower Helen Glover, cyclists Bradley Wiggins and Becky James and the five-time Olympic champion Sir Steve Redgrave – I was intrigued, if a little cynical.
My interview with Redgrave was conducted using a 360° camera, headsets and (naturally) Samsung Galaxy handsets. It was meant to feel as if you too were in the room with Redgrave himself, at British House in Rio. Did it? Not really. It was quite a blurry view and after half an hour with the headset on, I was getting a headache. What is more, while you have the headset on, it is also pretty tricky to make notes, or do anything else really – not ideal for a journalist.
Samsung emphasised that there were still niggles to iron out and adjustments to be made, and the potential of the tech was clear all the same. But what impact will VR have on communications? It has some particular qualities that suggest it will be more than just a flash in the pan.
When done right, VR is, or will be, immersive, memorable and for the time being, still novel. And developing a two-way interaction as opposed to just focusing on the consumption of content could open up a range of opportunities for communications. Getting a 360° view of the room your interviewee is in (we could have a look around the room by turning our heads while Redgrave answered questions) does make the experience much more immersive. It is easy to see the draws of that for both sport and travel in particular.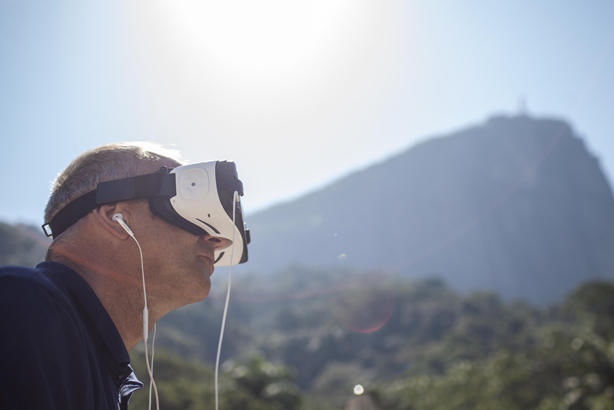 We are already seeing initial uses of VR coming to the fore at the Rio Olympics – with NBCUniversal in the US and the BBC in the UK offering VR footage to viewers. Using technology to bring people closer to the action is a big draw of VR.
And as for Redgrave, he was rather unfazed by the fact he could turn to his left and check out the journalists interviewing him, kitted out in VR headsets, though he admitted it was "a bit weird seeing you all sitting round the table staring into your goggles".
He feels sports broadcasting has changed significantly in recent years – moving away from a reliance on heavy, fixed cameras unable to get to the heart of the action. "Take track cycling – they've now got cameras on the backs of the bikes," he explained. "In the team pursuit, one member of each team had to carry a camera, and to get those shots were just amazing," he said. If VR can also play a part in bringing people closer to the action and give more insight into what is going on, it could yet prove even more transformative.
The easiest way to avoid social media perils is to log off, Steve Redgrave tells Olympians