Beth Balsam, U.S. president and CEO, Hill+Knowlton Strategies


Wherever you stand on the political spectrum, I think most of us would agree that today is a day for celebration. For the first time in our nation's history and less than 100 years after women earned the right to vote, a major party has nominated a female candidate for president of the United States. And this follows two elections where we elected and reelected our nation's first black president. The strength of our country lies in our diversity and our belief in a society where we all have an opportunity to succeed -- and an understanding that when we open doors for diverse participation, we are all stronger and better for it.
Aedhmar Hynes, CEO, Text100


I was thrilled to see Hillary accept the Democratic Party nomination last night. I was more thrilled to see her accept the nomination as the most qualified person rather than because she is the first woman. I struggled to watch her daughter's need to create a utopian childhood. As a working mom myself, I know the reality of running a business and raising a family. It's challenging, and things aren't always so neatly embroidered. But I believe children benefit greatly and learn invaluable life lessons. As a communicator, I understand the need to soften images, but as a woman, I fear Chelsea's homage potentially sets working moms back as we seek to evolve our role in our children's lives.
Barri Rafferty, partner and president, Ketchum


For women of all ages in this country, Hillary's nomination is a monumental moment in our history. It took us 96 years from winning the right to vote to being able to vote for a female president. Whatever party you favor, this is a step towards greater gender equity and a new role model for young women that symbolizes you can do whatever you put your mind to.
Karen van Bergen, CEO, Omnicom Public Relations Group


Well, it's about time! This is an historic moment – one that should transcend both politics and gender. My hope is that we can all come together to celebrate what this means for women – and especially for our girls and our daughters – around the world.
Charlene Wheeless, principal VP for global corporate affairs, Betchel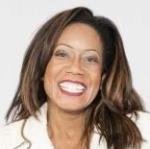 If you told me 20 years ago that I would live to see an African-American man become president or a woman nominated to be president by either major political party, I'd have laughed. Now, I'm blessed to see both, and I've cried. Americans of every political persuasion should be proud of what happened last night and what it says about our country. Hillary wasn't chosen because she's a woman, but because she's competent. But she is a woman and she was chosen. The glass ceiling might not have been shattered, but it's sure cracked. And we all should celebrate what that means for all Americans, girls and boys, men and women. As Hillary said, "When any barrier falls in America, for anyone, it clears the way for everyone."