The global study surveyed more than 1,600 producers and executive consumers of thought leadership worldwide and found 60 per cent felt overwhelmed or confused by the sheer amount of content they encountered. Over half said they felt that "intrusiveness" had increased. As a result, three-quarters have become increasingly selective about the thought leadership they read.
However, 80 per cent of marketers still said they were planning to increase the amount of thought leadership they produced in the coming year – despite both executives and marketers agreeing that on average, only a quarter of such content produced is engaged with.
Marketers said that it was difficult to achieve "internal alignment", and that the right people were not always involved in the process of creating thought leadership.
The study defined thought leadership as "the practice of influencing a community of interest by developing information, analysis and insight that helps its audience understand its world and plan for the future".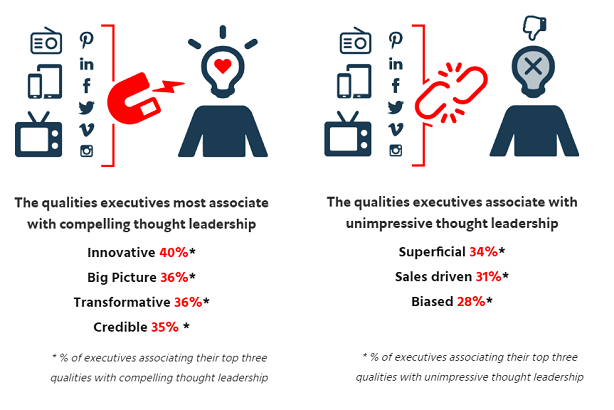 The research said there was still reason for marketers to persevere, with a third of executives reading such content every day, and a fifth saying they had been reading more thought leadership over the past 12 months. But to maximise the engagement, marketers needed to prioritise quality over quantity and focus on delivering more original, evidence-based content, the report said.
"Because there is a disconnect between marketers' goals and their measures of success, they fall back on volume and reach as bragging rights," said Jeff Pundyk, SVP global integrated content solutions at The Economist Group. He also suggested that it was to marketers' detriment that they had been told they needed to act like publishers: "Publishers publish a lot. It becomes a point of comparison with their competitors, and conventional wisdom that you need to keep publishing."
The study also found that credibility is based on the quality of the research, rather than just the brand – nearly half of executives would consider a new source of content if it was providing "hard facts". Seven in 10 execs would continue to read more from the source of a piece of compelling thought leadership, with 83 per cent saying they were influenced in the choice of potential business partner as a result, 76 per cent saying they were influenced in their purchasing decisions and 67 per cent saying they would be willing to advocate for the brand.
"For brands that are less well known, the way in is through rigorous, fact-based work," Pundyk said. "As for established brands, the rules apply: great thought leadership is credible and innovative. Brands that understand these attributes get rewarded and those that don't get ignored or punished, regardless of how well established the brand is."