Deirdre Latour took over communications at GE on April 1, 2015, but her elevation to the top job was anything but an April Fools' Day joke — it was the start of a roller-coaster ride that would have tested any in-house PR pro.
She inherited the role at the iconic American company from PR veteran Gary Sheffer, one of the most-respected pros in the business.
"I took over from one of the greatest who has ever done the job," says Latour, who worked for Sheffer for more than a decade before succeeding him.
In her lucky 13th year at GE, having originally joined from Edelman, where she worked in experiential marketing, Latour had been mentored to step up when Sheffer left for new challenges after a 16-year stint, 12 leading comms and public affairs.
"I learned an amazing amount from him," she says. "I did my first M&A deal, my first earnings. He taught me a lot of the basics I hadn't done at Edelman."
Beth Comstock, formerly chief marketing and commercial officer and now vice chair at GE, notes that Latour "adapted incredibly well."
"Few people have the first year in a top job that she had," says Comstock, to whom Latour reports. "Spinning off GE Capital, the Alstom acquisition, a big headquarters move, the transition to digital, and global growth in volatile markets — just one of those would be a job well done."
For Latour, the greatest accomplishment of her team was remaining steady in that context and handling the relentless pace of change since April last year while also being proactive in introducing new practices. Personally, she supervised all this while also raising three children under the age of five.
"If you're not in a supportive situation or a company that values the fact people have a life outside the office, then you should quit and go somewhere else," says Latour. "We value that as a team. When young women in comms at GE look at my situation, it normalizes the fact it's possible."
A seamless transition
Edelman's global COO, Matt Harrington, worked with Latour when she was at the firm in New York and now interacts with her in a client context as GE's largest PR agency in terms of fees. GE also uses The OutCast Agency, Hill+Knowlton's Group SJR, Joelle Frank, and Stephanie Cutter's Precision Strategies.
"She's the ultimate successor to Gary, and in particular Beth [Comstock]," says Harrington. "She brings that sense of corporation as corporate entity as well as brand, a broad capacity to think about the company's story."
The CCO transition suited GE, as she had worked closely with CEO Jeff Immelt while on Sheffer's team.
"The continuity is with the CEO," Latour notes. "That is critical. There has to be a high level of trust and compatibility, and a strategic relationship where you can counsel and have a seat at the table."
That seat encompasses the major things GE does, which, as Comstock pointed out, in Latour's first year included the divestiture of GE Capital, the purchase of French multinational conglomerate Alstom's energy businesses, setting up the stand-alone GE Digital business within the company, and the impending move of GE's HQ from a longstanding home in Fairfield, Connecticut, to Boston to reflect its nature as a 90% digital/industrial company.
It involves interacting with every lead member of the C-suite: CFO, head of HR, general counsel.
"I'm part of the strategic discussion not just on the announce­ment and communications around it, but also what we do, how we do it, when we do it," says Latour. "That built up over years of trust with Jeff and the strategic value the CCO brings."
GE's C-suite assesses communications using a variety of metrics, but audience response to what the company does tops the list, measured by what Latour calls "touchbase polling" of employees on such issues as the HQ move and how that was interpreted.
The comms team also conducts polls to assess company reputation and how audiences it needs to engage, such as business leaders, respond.
"We do difficult things and a lot of the art of the CCO job is what you don't see," says Latour. The "tough stuff" included spending significant time during the $10.6 billion Alstom acquisition in Brussels and Paris with her team navigating the media and chattering classes' negativity about the deal, GE's largest industrial acquisition.
The artistry of what goes unseen
It involved briefing the media — behind the scenes, not for coverage — as well as engaging customers, employees, government officials, regulators in 20 countries, and other influencers. Issues included what the European Union and Alstom wanted and how GE could close the deal to the satisfaction of all parties, with legal playing a huge role.
"Maybe that's unique to Jeff and his team, but they appreciate [the value of] that," she says. "You have to connect across functions — I could never do this job without them."
"The imperative is more around strategy than ever," notes Comstock, "and that's sometimes where comms teams fall down. A good CEO needs great strategists — and Deirdre brings that to the table."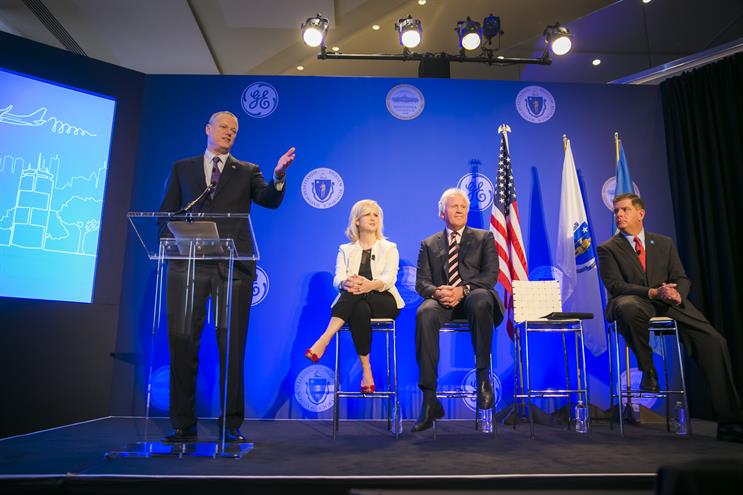 Latour and CEO Jeff Immelt (second from right) side by side outlining why Boston was picked for the company's new HQ
The perception that GE's move to Boston stemmed from a change in tax status in Connecticut, which Latour concedes is partially valid, was presented as GE shaking up culture and acquiring a HQ to reflect its digital nature. It needed an ecosystem of partners — schools, academics, VCs, entrepreneurs, and other tech companies.
The Fairfield office had about 800 people, and roughly the same number will now be in Boston — 200 will move up, including CEO Immelt and the functional business heads. Latour's communications team will stay in New York City but move out of the iconic 30 Rock building — another end of an era.
The unplanned element of the move, which encompassed a review of 20 cities across the country, was The Boston Globe breaking the story before GE unveiled it, courtesy of a leak in the mayor of Boston's office, according to Latour (see sidebar).
At such times, with constant decisions about how much to react and fight back and how much to let an issue play out, Latour misses Sheffer's counsel.
"It's difficult to tell which story will become a much bigger issue than it should be because you don't nip it in the bud," she explains.
Take GE's perceived reluctance to pay corporate taxes, which in March saw then Democratic presidential candidate Bernie Sanders say GE and others were "destroying the moral fabric" of America.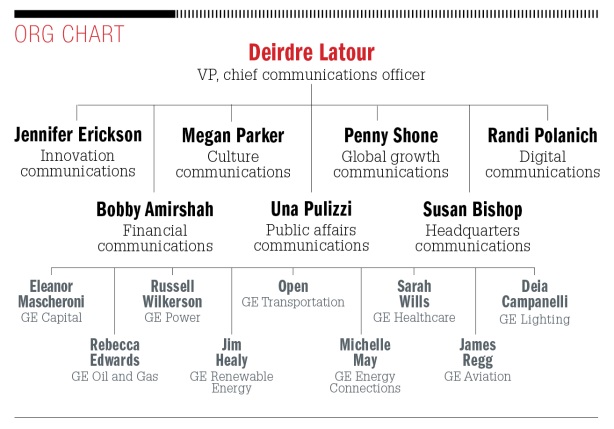 "[Taxes are] a bigger issue for journalists than people's perceptions of the company," says Latour. "You have to decide whether to do nothing or respond hard. It depends on the outlet, audience, and how people react. If nobody's sharing and no one's caring, it tells you how it's resonating."
But the Sanders outburst crossed Latour's line for its tone and what she saw as inaccuracies. An op-ed by Immelt was quickly arranged and placed in The Washington Post, pointing out GE employs 125,000 people in the U.S., including the senator's home state, and pays billions in federal, state, and local taxes.
"You realize you have a whole team looking to you to make those calls, and you have to go into Beth's or Jeff's office and say, 'This is what we should do.'"
GE said its piece and got out, having no desire to be part of the political process, despite hundreds of follow-up media requests. It operates in 180 countries and there is enormous incoming traffic. "As we're sitting here, we have 10 journalists calling in from 10 countries," says Latour.
You have to decide whether to do nothing or respond hard. It depends on the outlet and audience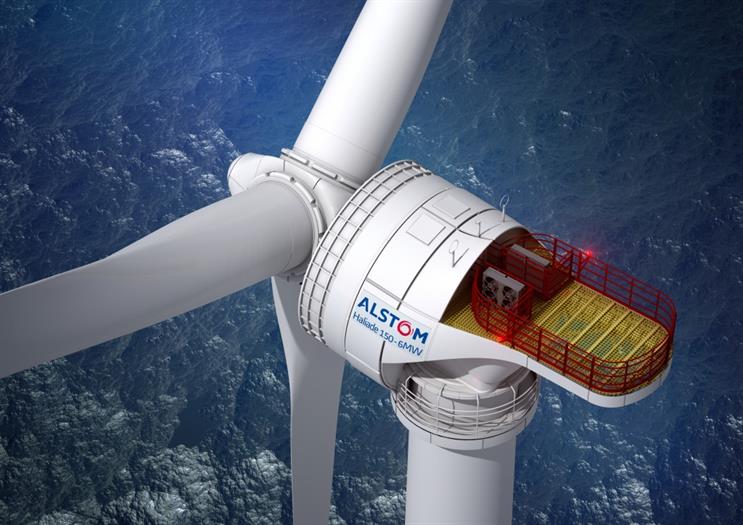 Latour's team worked extensively in Europe during GE's acquisition of Astom's energy businesses, which include wind power
To service such demand, Latour empowers her team and trusts them to get on with the job, but know when to elevate issues. Unlike companies such as Apple, GE has "a completely open engagement strategy." "If they call, we respond and engage every­body: good, bad, or indifferent," she says. "I could hire a person to handle just Boston."
GE aspires to be in permanent revolution and Immelt has overseen a period in which half the company has been sold since 2001, including NBC, plastics, and security. That has ramped up since Latour took her new role, but she says the change process is still only at three on a scale of one to ten.
Always evolving communications
But for her, the role of the press release in telling that story is dead. "It's largely useless and ends up becoming spin and marketing speak." GE is trying to do more compelling things such as visual releases and infographics, which it started using for its earnings reports rather than wire services last year.
When GE moved away from CFLs (compact fluo­rescent lamps) to concentrate on LED lighting, it put out a "Dear John" letter on social media to communicate the "relationship" was over.
Alongside its revolution to being a digitally led company, GE is also a massive retail investment stock, with about 50% of shares owned by private individuals. Communicating to them differs from engaging with institutional investors, who understand the tax narrative and want GE to manage in the most-efficient way to maximize shareholder value.
Identifying the influencers and academic voices that matter in each area and tailoring content accord­ingly requires sophisticated data and analytics, and GE is pushing hard on that this year.
"It's about proactive engagement," says Latour. "Do people understand where GE is today? Because we're vastly different to where we used to be even a year ago. Are we doing a good job communicating and who do we need to do that with?"
That fleet-footedness and push to evolve and change quickly enough drive everything Latour does internally and in marshaling the GE brand externally. She is paranoid her team will fall into doing things the way they have always been done.
"In communications, if you're running the same culture you were a decade ago, you're probably not doing the right thing," she says. "It's fun to push it."
Comstock notes this energy and strategic nature are really important for a communicator. "Those jobs are really tough," she adds. "[Deirdre] gets ahead of things, establishes relationships, gets outside the company, and deals with incoming."
Harrington identifies the crucial ingredient his former co-worker brings to the table: "It's the ability to do the day-to-day battle with the reactive while also advancing the proactive story. Her imprint on GE will be the running of a modern communications infrastructure."
Shipping up to Boston
The story of GE moving its HQ to Boston hit TV, and the phones of the comms team rang off the hook. Email blew up from all over the world. The Boston Globe, which broke the story, called for comment ahead of GE's planned announcement. "We just went early and turned much faster, went to the employees, and confirmed it externally," says Latour.
She admits it was tough internally and not how she wanted to do it, but reflects, "We've course-corrected with the team in Connecticut and we are incredibly transparent in communicating everything."
One staffer communicates the move's culture to GE's 330,000 employees full time, as the incident reiterated how important they are. "They should all be advocating," says Latour. "Internal comms now is all instantaneous and all external."
The continuity is with the CEO. There has to be a high level of trust and compatibility
Résumé
2015-present
GE, CCO
2011-2015
GE, senior director, communications
2007-2011
GE, director, PR
2004-2007
GE, manager, ­marketing
and events
2003-2004
Edelman, VP
1998-2003
Edelman, SAE/senior account supervisor
1996-1998
Porter Novelli,
AAE/AE
You can hear more from Latour when she joins GE CMO Linda Boff in New York City at The PRWeek Conference on Thursday, October 13. In a session entitled "Creating teamwork insetad of tension," Latour and Boff will share their playbook on how they effectively integrate marketing and communications for the ultimate benefit to the brand and its stakeholders. Click here for the full Conference agenda and to purchase tickets today.