DALLAS: When Southwest Airlines' website and computer system crashed Wednesday afternoon, grounding hundreds of flights, its comms team sprang into action.
Up to 700 Southwest Airlines flights were canceled or delayed Wednesday, accounting for about 20% of its daily flights, affecting tens of thousands of customers. Lines stretched for hours, flights were missed, headaches abounded.
On Thursday, after most of its system rebounded, it still had to cancel 300 more flights.
Southwest lines still long at Midway Airport after 'major outage': https://t.co/WnBw6t13Xi pic.twitter.com/pgYSsdDMtv

— ABC 7 Chicago (@ABC7Chicago) July 21, 2016
Southwest's entire system crashed and I have a flight tomorrow so I am going to drug myself to sleep to relieve my anxiety.

— Reluctant Dragon (@CasillaLater) July 21, 2016
On the same day, Wednesday, the airline announced the launch of the Southwest Community, an online resource that combines the blog Southwest Stories and its discussion forum. Southwest's social business adviser for strategic execution and delivery, Brooks Thomas, took to the new platform to issue the airline's mea culpa.
The short statement released early Wednesday afternoon explained why there were delays and cancelations:
"Southwest Airlines began experiencing intermittent performance issues earlier this afternoon with multiple technology systems as a result of an outage. We are now managing flight delays across our system, with a temporary ground stop in place for those flights that have not left the gate. We apologize to our customers whose travel plans are impacted."
Users trying to access Southwest.com during the delays saw the following holding message: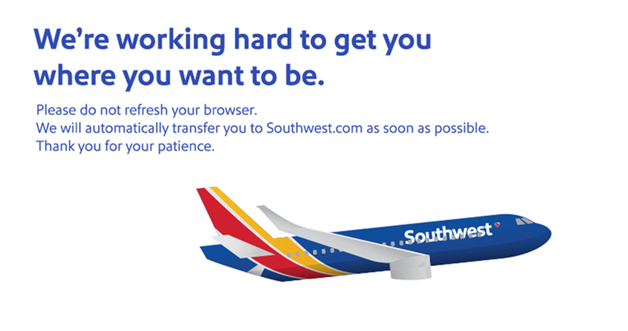 Community board users were also told: "If you are seeing this image on Southwest.com, you are in our waiting room. Please don't refresh your browser; we are working hard on a fix."
On the same post on the board six hours later, Brooks told customers the airline is "offering flexible accommodations" once systems were fully functional. Then, late that night, Southwest uploaded a Facebook Live video from its listening center at its Dallas headquarters, featuring an interview with Linda Rutherford, VP of communication and outreach.
"We know we disappointed our customers today and we're really, really sorry about that," Rutherford said. "That's unacceptable."
The video now has more than 155,000 views as of press time, the public reaction being a mix of outrage and graciousness.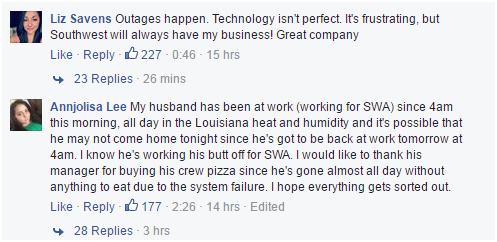 The next day, Rutherford posted an update on the barely broken-in Southwest Community platform.
"I want to start off by once again apologizing to our customers and reiterating that your experience throughout the past 24 hours is not the service you should expect from Southwest Airlines," she wrote.
Using the post to also update customers on the situation, Rutherford said most of the airline's systems are back online, "but recovery will take some time. We expect some cancelations and delays as we position aircraft and crews."
In a CNBC interview Thursday morning, scheduled for the airline's Q2 results announcement, Southwest CEO Gary Kelly took time to apologize for the airline's failure in service.
Southwest's stock dropped 9% Thursday morning despite the company reporting a 35% quarterly profit increase.
At about 10:15 a.m. CT on Thursday, Southwest released an official statement through its regular press room, enumerating the number of flights canceled and delayed, the steps it was taking to serve its customers, and to report "most systems are back online."
"We are focused on getting customers and their baggage safely to their destinations and apologize to our customers whose travel plans are impacted," the statement says. "Customers who are booked to travel should check flight status information on Southwest.com and plan to arrive at our airports early, as longer than average lines are likely. Flexible rebooking accommodation is available to customers holding tickets from Wednesday through Sunday."