The challenge was to produce fresh, hard-hitting facts that would make parents sit up and react to the negative effect sugar has on children.

The agency created a film called Sugar Boy to highlight how average four- to 10-year-olds consume more than 5,500 sugar cubes each year, or around 22kg, which is roughly the bodyweight of a five-year-old. In the film, a real five-year-old boy comes face to face with his counterpart made out of sugar cubes, revealing the amount of sugar lurking in everyday food and drink, illustrating the health dangers of too much sugar.
The message personalised the issue for the target audience and positioned the Sugar Smart app as the solution.

The launch of the Change4Life Sugar Smart campaign and the app dominated the media on launch day on 4 January, with coverage appearing across all national TV channels, multiple radio stations as well as numerous nationals, consumer and regional titles including BBC News, ITV News, Good Morning Britain, Daily Mail, London Evening Standard, Grazia and The Huffington Post.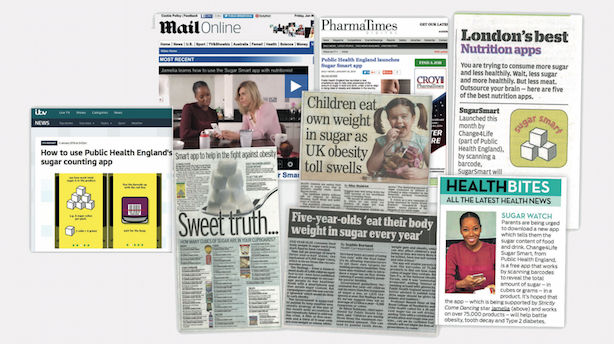 Sugar Smart was Apple's 'App of the Week', topped the iTunes free app chart, trended on Twitter and has had more than two million downloads since its launch. It has so far been used to conduct more than 22 million product nutrition information scans. Nearly a third of mothers surveyed (after using the app) said they had reduced their children's sugar consumption because of the campaign. It was nominated for a Cannes Lion.