Angola has risen from the ashes since the end of its civil conflict in 2002 with record growth and unprecedented investment.

Angola is a fascinating place to work in comms. Since peacetime in 2002, the entire structure of the state has changed – banks have been privatised and the free market has blossomed. The Central Bank and other government-related financial institutions have adopted global standards of governance and transparency. That journey isn't straightforward – it requires careful consultation and counsel to key decision makers.

Despite the progress Angola has ach­ieved, it is clear one of the greatest long-term challenges is the maintenance of trust in politics and in economic competence.

Yet we have seen from the inside that Angola is committed to delivering rapid economic and political reform to satisfy the international community of media, investors and global bodies.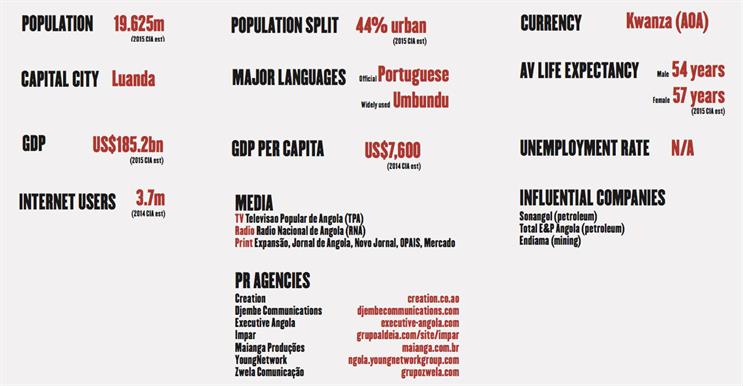 Angola continues to see high levels of foreign direct investment and the government is still investing in high growth, priority industry sectors such as agriculture, ICT, infrastructure, healthcare and hospitality. While the government has had to reprioritise where it allocates the state budget, it is investing in sectors that offer high job growth potential and reliable long-term returns for foreign investors. Those advising investors and working with government bodies and private sector businesses have an important job to do in cementing Angola's reputation as a stable, transparently governed market.

There is much to be gained in this context by creating research-led, intelligent thought leadership programmes. For many organisations, there are opportunities to start from scratch, which provides communicators with a rare opportunity to take charge from the inside.

Within the digital space, there are huge opportunities. Angola is very much online and many businesses are turning to digital. Like many African countries, Angola has a challenged history of financial inclusion, yet we are now seeing progress being made thanks to mobile payments. Home-grown e-commerce and public policy initiatives are helping tech innovators to flourish.

Angola's creative minds are playing an increasingly major role in economic development and job creation. They are also enabling businesses to engage with new customers across borders and support a diverse supply chain across the continent.

One of the most important requirements when working in comms in Angola is authenticity. It's important to have a local presence and gain a deep cultural understanding. Flying in teams from London may offer clout – but it does little to build long-term relationships. In Angola, which has a complex history, ministers, NGOs, business leaders and others expect their comms firms to know the country well.

The good news is that, despite all of the issues surrounding oil and commodity prices, the government of Angola is continuing to invest in major infrastructure and social projects that need comms support. For comms companies in Angola that means growth and great opportunities.