The agency has created a giant dog bowl for the nation's canine companions, which was unveiled today (Thursday) in Kennington Park, south London.
It being July – though the weather might be trying to convince Brits otherwise – Manifest said it thought it timely to remind everyone how important it is to keep your pets hydrated in the hotter months.
Manifest told PRWeek the agency had spotted dog walkers online talking about the lack of water available in London parks, which led to the team conjuring up a 4.5m wide and 1m tall dog bowl that can hold up to 2,000 litres of water. The spectacle will be in place for dog walkers' furry friends until Saturday, and will then tour across the UK.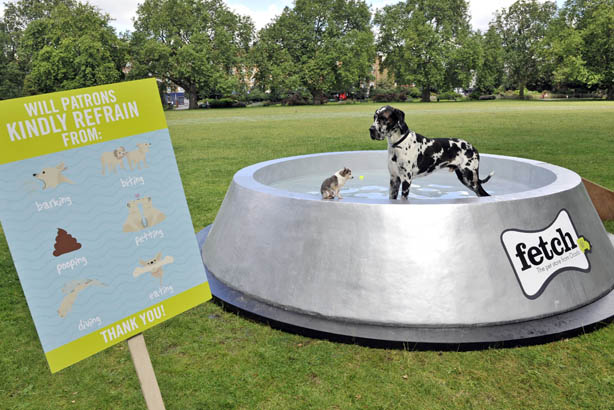 Lauren Vrsalovich, Fetch's in-house vet, said: "It can be difficult to decide how much water you should give your dog. Generally speaking the average dog should drink 20-70 millilitres of water for every kilogram they weigh. For example, a 10kg dog should drink between 200 and 700ml in a 24-hour period. But this will vary between individuals. It's a good idea to get used to what is normal for your pet so you can keep an eye out for any dramatic increases or decreases in fluid intake."
Another recent campaign the agency organised for Fetch was the Petnology centre – launched to help the firm come up with ideas to help pet owners around the UK. A public vote saw 'WhatsYapp' picked as the first device for the team to develop, a device using smartband technology to help owners understand just what their dogs are thinking by analysing sounds and movements.
Earlier this year, Manifest's founder Alex Myers told PRWeek the agency would have five offices in five countries by 2020, including Cape Town this year. Its clients include messaging app Viber, fitness expert Joe Wicks and cab app Hailo.