This is despite a rosy outlook in the Institute of Practitioners in Advertising's new Bellwether report for Q2, which shows the strongest growth in marketing budgets for a year.
The quarterly update published by Markit Economics on behalf of the IPA asked marketing directors about their budgets for the past quarter.
PR budgets increased overall, marking a turnaround from the net fall recorded in the last survey – 13.9 per cent of the 300-strong panel reported a rise, compared with 11.6 per cent noting a reduction.
The net balance of +2.3 per cent, though not a huge upswing, marks a turnaround from last quarter's -4 per cent and now stands at a six-quarter high.
The record growth period for marketing budgets overall has now been extended to 15 consecutive quarters. Events, internet and main media advertising were the big winners when marketers divvied up their most recent budgets.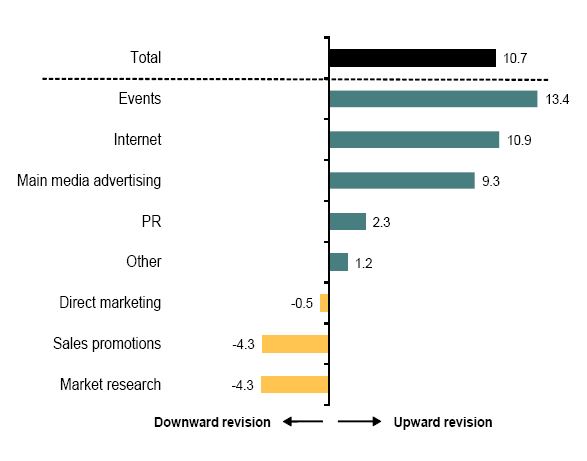 But Brexit could still spoil the party, the IPA warns. The report notes that the majority of respondents for this latest survey submitted their results ahead of the referendum vote and there was already some uncertainty among marketers. A record 68 per cent had frozen their budgets for the quarter, while there was widespread uncertainty surrounding marketers' financial prospects.
And perhaps bracing itself for future reservation in spending, the Bellwether downgraded its adspend forecasts for both 2016 and 2017, predicting declines of -0.2 per cent and -1.3 per cent respectively.
Paul Bainsfair, IPA's director general, said: "While the uncertainty in the economy caused by the vote to leave Europe continues to linger, we will experience an inevitable period of flux – as reflected in the Bellwether's downgrading of adspend forecasts. Before companies react and cut marketing spend however, it is worth remembering that all the evidence points to the opposite. Companies that keep investing during a downturn perform better financially than those that reduce marketing expenditure."