Which? was founded in 1957 as a consumer magazine. Parent organisation The Consumers' Association has been a charity since 1987 with the purpose of creating and publicising research into the standards and quality of goods and services. In addition to the magazine it operates a variety of commercial services, and campaigns on behalf of consumers.
PRWeek met former Downing Street chief press officer Abbie Sampson, who since 2012 has been Which?'s head of news.

Can you explain the structure of your team?
We're a 12-strong press office, which includes part of the corporate comms team, with staff grouped around subject areas such as energy, personal finance and telecoms. We work closely with Which?'s comms planning team, which also reports to [director of policy, campaigns and comms] Alex Neill, to make sure we've got proactive stories planned for our major campaigns and comms plans for our editorial investigations, and to promote our products and services. We've also got a team working on social media – part of our approach has been to try to reach consumers in different forms and we're about to launch an Instagram feed.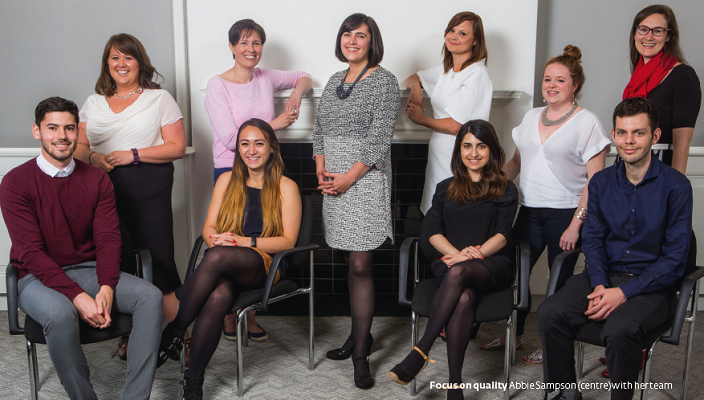 Do you work with external PR firms?
We pride ourselves on being an internal PR team; we don't work with agencies. I joined just over four years ago and we've done everything in-house.

How much do you work with other teams within Which?
All of our teams are based in the same building, so whether it's our campaigners or the editorial team for Which? magazine, we have strong working relationships with everyone. Every month we have planning meetings with them to talk about the forthcoming issue of the mag and the stories they have so we can work on a plan to promote these.
Are there separate Twitter and other social accounts for the magazine itself, your press team and other departments?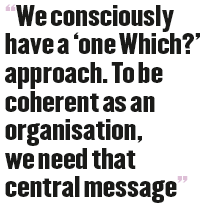 No, we very consciously have a 'one Which?' approach. This is about how we talk about ourselves as a brand and as an organisation working for positive change for consumers, so we don't distinguish. To be coherent as an organisation, we need to have that central message.
Are the organisations you scrutinise less able to hide in the social media age?
It's certainly easier to gain intelligence about an issue, but we still need to do robust research when something comes up. On something like Whirlpool [some of its driers and washing machines have been found to explode or cause fires] that issue organically surfaced through social media, but then we needed to do the wider investigation. It's easier to horizon-scan and tell what's going on.
How did that issue come to the attention of Which?, and how did it then work through the organisation?
It was quite driven by the press office – we knew there was a lot of media interest, we were regularly getting calls, so we wanted to find out if there was an evidence base. We discussed with other internal colleagues, commissioned further work through our research team, editorial covered it in the magazine, we worked with in-house lawyers and the campaigns team to look at whether the wider product recall regime was adequate. Our work through telecoms is another one to highlight – this didn't originate in the press office, but it was the comms team bringing everyone together.
We're calling for Southern to offer improved #RailRefunds to commuters suffering from delays https://t.co/ntwuhpIClE pic.twitter.com/yLN4k9zCe8

— Which? (@WhichUK) July 13, 2016
Is there ever any rivalry between departments with people wanting to 'own' a particular issue?
It comes back to us being all in the same building, and having very close working relationships. When we've got a big story, we establish virtual teams that come together very organically. I think sometimes in organisations you have very different objectives in different teams that might jar, but actually when you've got that central objective of achieving change, to make consumers as powerful as the organisations they interact with, it drives everyone in the same direction.

What is the balance of reactive and proactive work done in your team?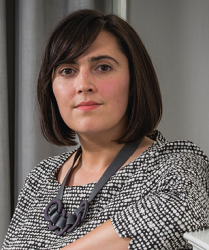 It is pretty much 50-50. Because we are such a busy press office and we get such a broad range of enquiries coming in, it's important that we are clear what we want to be known for and that we focus on those core areas, otherwise you create a confused idea of what Which? stands for.
When I came in four years ago, we decided we needed to do less and take the approach of 'fewer clearer louder' – it's slightly counter-intuitive, but it means more bang for our buck, being more strategic with our approach, and clearer about the issues that we want to comment on and don't want to comment on, because otherwise you can be defined by what you're asked to comment on. I think we have to focus on our core issues, a coherent message so it's not that scattergun approach where you're in danger of ruining your story if you're on broadcast the day before.

How do you measure the success of that?
We have metrics around volume, so for national print and national broadcast we would expect to get about 1,600 pieces of national print a year, 1,000 for national broadcast. Also we are very focused on quality; our broadcast strategy is designed not just to get mentions, but to target the high impact, high volume, high audience outlets – the Today programme, the 10 O'Clock News, etc. With print coverage, it's not only volume but shifting the balance from last paragraph to first paragraph mentions, and counting headline mentions. Front pages are great, but they need to be on your proactive stories.
Pension investment scams on the rise with the average loss to victims of pension fraud at around £40,000. #panorama https://t.co/PLOp8ncOmC

— Which? (@WhichUK) July 11, 2016
Because we do such a broad range of comms our audience varies widely – it might be a campaign where the audience is regulators and government, or advice about holiday money, which is squarely consumer-focused. The key is being clear at the outset who you're trying to reach with every story, having some target media for that story, and making sure we're evaluating against those.

Are there certain journalists and titles with which you particularly like working?
We have a really good relationship with the nationals' consumer editors, and have regular meetings to find out what's of interest to them. When I came in, my contacts were very much more in Whitehall and political editors, and I think we've very successfully managed to increase our interaction with them, shifting their mindset on what sort of issues they'd be interested in. While obviously national media are hugely important, I think we're pretty good at making sure we're not overly focused on them. Recently we've set up two syndicated regional columns, because while there are huge shifts in the media landscape, one thing that stays common is how much people trust their local newspaper.

What are your plans for the near future?
There will be more over the summer on our rail, energy and other campaigns, and a programme of summer holiday advice. Next year is our 60th birthday, but the challenge with brand stories like that is that for journalists it can be 'so what?'. Our challenge is to bring that to life, for example by looking back at previous magazine front covers, and some of the quirky facts about the business people won't know about, such as how many times you watch a Matt Damon film on a laptop to test the battery life.