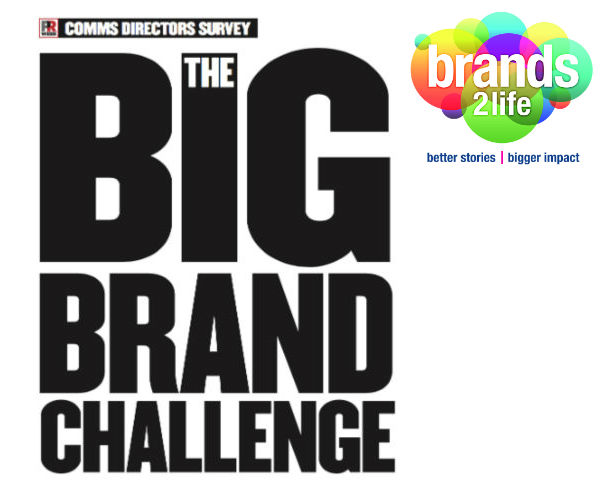 Ensuring a consistent brand story is the key challenge facing comms directors this year but nearly half of those asked thought their company's brand narrative could do with improvement, according to this year's PRWeek/Brands2Life Comms Directors Survey.

The 11th annual survey asked 128 PR, marketing and comms decision-makers for their opinions on a range of issues: from budgets and social media through to the relationship between in-house teams and agencies. Respondents were drawn from a variety of sectors, including financial, health, tech, energy and transport, as well as consumer brands.


Giles Fraser, co-founder of Brands2Life, says: "Budgets are having to work twice as hard. Not only are comms professionals delivering on brand awareness but also direct customer engagement and sales. It's about business as well as comms impact these days."

Key challenges
Half of those surveyed said ensuring a consistent brand message was a key comms challenge. However, 42 per cent said that, although developing their company's brand narrative was important, they thought they could be doing it better. A quarter told the survey they needed to do more work both in developing the company's narrative and communicating it.

Fraser says: "Developing a coherent and diff­erentiated brand narrative – and the associated stories and content – has become an ever tougher challenge in a multi-channel world. It's hard to deliver a regular flow of creative campaigns and stories that always trump the competition."

Other priority comms challenges this year included integrating comms across the business – last year's top answer – with 46 per cent telling the survey this was a vital task.

In third place, 44 per cent said the internal comms task of engaging staff with the corp­orate narrative was a key challenge. It is the first time the survey has included this option.


The majority of respondents said they thought PR and comms had a tangible impact on their business. More than half said they could demonstrate this but nearly a quarter said they were unable to measure the impact of comms properly.

In addition, the role of crisis comms in business is clear, with 52 per cent of those surveyed saying that protecting the company's brand against crises and issues was their top priority, while 48 per cent said their role was to help shape overall corporate strategy. As for success in these two fields, 72 per cent said their organisation managed issues and crises well while 67 per cent said the same of shaping corporate strategy.

Budgets
Half of those surveyed said their budgets had increased in the previous year, while 13 per cent of respondents said they had decreased by more than 10 per cent and a fifth said there was no change.

It should be noted, however, that the survey was carried out in May, ahead of the EU referendum in which 52 per cent of UK voters opted to leave Europe.

Those working in the health and tech sectors were most likely to have seen their budgets increased, while those working in financial or manufacturing comms were most likely to have seen a reduction in their budgets.

In the coming year, 50 per cent of respondents said they expected their budgets to increase while eight per cent said they expected a reduction in their budgets by 10 to 20 per cent.


Those working in the energy and utility sector were most likely to say they expected their budgets to decrease.

Asked to rate what factors most strongly influenced potential new recruits to their teams, respondents put job security in top place, followed by pay and opportunities for flexible working.
Fraser says: "The global financial crisis saw businesses become leaner and more agile, able to better weather storms. And so when something seismic like Brexit happens, clients and agencies must be vigilant to the uncertainty. But, this said, a great idea communicated across all channels to all audiences remains our industry's core expertise and the best way to spend a marketing or PR budget."

Social media
Despite the huge, and growing, importance of social media in the comms mix for any company in 2016, only 17 per cent of those surveyed said their organisation had been completely effective in meeting this challenge.
Asked to rate their organisation from one to five, with five the most effective, nine per cent gave their organisation a 'two' and 40 per cent opted for a 'four' rating. Nobody thought their organisation was completely ineffective in the social media sphere.

However, nearly 70 per cent of respondents said their chief executive could make more use of social media while eight per cent said the boss was doing enough, with the remainder neutral.

Comms from the top
Those who work in retail were more likely to say that their boss was bad at internal comms, while financial services bosses were considered by comms chiefs to be worst at external comms.

As for managing the public profile of the chief executive, comms chiefs working in the financial and health sectors thought that they did this least effectively, while those working in the media, tech and retail sectors said that they thought they were best at promoting their chief executive.

In-house and agency relationships
In a worrying development for agencies, 55 per cent of comms chiefs reported that they were doing more work in-house than a year ago, while 35 per cent said they were now giving agencies more project work and fewer retained contracts. A fifth also said they were asking for 'more for less' from their agency than a year ago, which is only likely to increase pressure on slim agency margins.

However, more heartening for the in-house/agency relationship is that nearly 40 per cent of respondents said that they were sourcing a wider range of agency or specialist expertise than ever before.

Industry headaches
Those surveyed were also asked to comment on their organisation's biggest comms headaches, so far, in 2016.

One felt the biggest problem was navigating the multiplicity of media outlets to find the best one to communicate in, while another highlighted activist investors as their greatest bugbear.

Leaks to the media, keeping everyone on message and negative social media feedback were also highlighted as problem areas.

But, perhaps, pity the overwhelmed comms chief who simply told the survey: "It never stops, so many platforms and outlets."