What are your feelings as you come into work?
Every day there is always something new and exciting happening. It is never mundane so that makes it quite exciting going into work.
Why do you do this job?
I do this because I have the power to make a positive change to a huge amount of people. We are in a unique position to address the issues our audience are facing and it's both challenging and rewarding at the same time.

As a child I wanted to be…
I always wanted to work within the media – ideally as a TV presenter. Who knows, it could still happen.

When is the worst time to pitch to you?
When the end of the month comes around there's always a huge amount of admin work. However, I do read every email and I can tell when it's not personalised. I think the most important thing is to really understand why your story matters to UNILAD readers and think about what else we could do with it.

When is the best time to pitch to you?
When I'm having a beer or relaxing. Your mind is open to more ideas then.

What makes a great story for you?
A great story is something that gets good eng­agement and provokes thought and discussion. Usually for me these are stories that tackle issues important to Gen Y; homelessness, education and mental health. However, it's important to give our audience everything they want, which is a good mix of funny and serious news.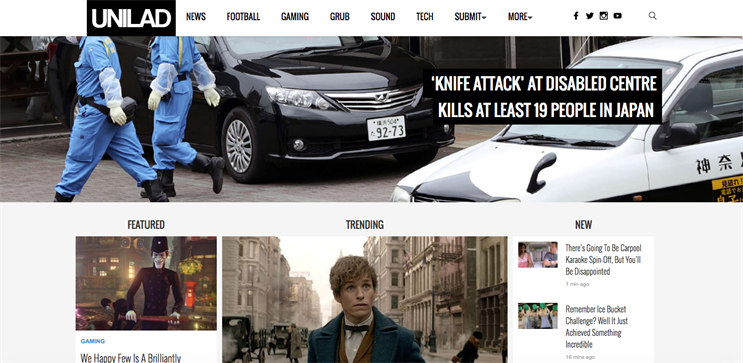 What is your view of PR professionals?
PR is essential for any business. PR professionals bring people together and usually take the middle ground, which is quite reassuring. A sort of safety net if you like. PR also makes you understand what is important to your business and keeps you focused on your goals.

Do you have a favourite PR person?
Emma Catchpole at Manifest London (which does our PR)... obviously, ha ha.
---
"It's important to give our audience what they want, which is a mix of funny and serious news"
---
What single thing gets in the way of you doing your job?
I worry a lot of the time. I always want to make sure that I'm doing something good that benefits the audience, and if I don't achieve some form of positive emotion, I worry I've let the readers down.
What gives you the biggest sense of job satisfaction?
Seeing a video about a topic close to my heart get millions of views and positive engagement. With every view we receive for a video, that's another person thinking and engaging.

The greatest pressure on me is…
Having a team nearly 50 strong is quite a hefty responsibility. Making sure they're all happy is the greatest pressure.

What's in your lunch box?
Jelly beans, Gangnam chicken with salad and a pint of milk... And some watermelon.

Which outlet do you most admire for its news coverage and why?
Channel 4 is very good. It has kept up with the times and discusses topical issues. Some of its most recent content is keeping users engaged with its platform, which other networks have struggled with.