Ryanair chief executive Michael O'Leary donned a suit featuring both the Union Jack and the EU flag as he called for UK voters to back 'remain'. He also promised to slash prices on Friday if the UK rejected Brexit.
UK ad agency London launched an 11th hour marketing campaign in favour of Brexit that focused on "ordinary people" who plan to vote 'leave', including a recruitment consultant, an electrical engineer, a mother and a fisherman:
Vote Leave, the official campaign in favour of Brexit, has been continuing to promote its message this morning, focusing on fears that Turkey will join the EU.
BREAKING: The EU will open new membership talks with Turkey on June 30th: https://t.co/zfj8FZv0t6 #VoteLeave pic.twitter.com/BXZ8l7SxAM

— Vote Leave (@vote_leave) June 23, 2016
Meanwhile, counterpart Stronger In has been urging voters not to be deterred by the rain as it calls on the UK to chose 'remain'.
Raining? Don't let the weather get in the way of you voting in the most important vote in a generation. #VoteRemain pic.twitter.com/GJ9KRHAAxX

— Stronger In (@StrongerIn) June 23, 2016
Former New Labour advisor Alastair Campbell was unimpressed by one email from Vote Leave.
The @vote_leave campaign team not just desperate but weird. Since when did London/Scotland stop being UK heartlands? pic.twitter.com/rJz41e5Jzw

— Alastair Campbell (@campbellclaret) June 23, 2016
Youth media platform Unilad has created a video encouraging young people to vote by using even younger people as actors portraying politicians - an idea previously used by the Green Party, albeit with a different point in mind. The deadpan George Osborne is PRWeek's favourite.
The creative agency Saatchi & Saatchi created a pop-up tattoo shop in Soho yesterday afternoon for We Are Europe, a campaign aimed at making sure younger voices are heard in the referendum. It offered visitors satirical Brexit tattoos that cost no money, but came at the price of permanency. The designs, which included the likes of "Farage Forever", "Bye-bye Britain", and "Seas of Doubt", were available to view in a gallery, for those unwilling to take the plunge.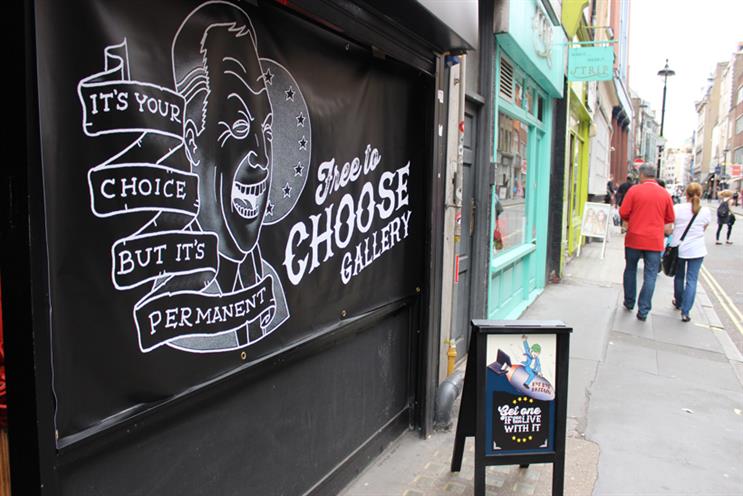 Campaigners have also been posting clips from last night's final TV debate on the referendum, broadcast on Channel 4 and hosted by Jeremy Paxman.
If you watch one video today about #EURef, make it this. 83-yo Sheila Hancock NAILS why Britain MUST remain in.https://t.co/XXd3PRw2iq

— Stronger In (@StrongerIn) June 23, 2016
A number of celebrities and politicians have urged people that they must exercise their democratic right, whichever way they lean.
"If voting changed anything they would ban it". Well it does change things, which is why it's banned in over half the world. #vote

— Richard Osman (@richardosman) June 23, 2016
This article includes copy from a report by PRWeek sister title Campaign