The PRCA's 2016 Census of the PR and comms industry paints, in some cases, a disturbing picture of a sector that, although largely young and vibrant, continues to lack diversity in terms of background and gender.


The survey of 1,874 practitioners, carried out by YouGov, also reveals
stark differences in levels of pay, gender balance and average age across the regions of the UK
, and asks respondents to predict what will be the most important tasks in their jobs in two years' time.
Danny Rogers, PRWeek's editor-in-chief, says: "As someone who has been in and around this industry for two decades – first as a graduate trainee in PR, and later as an industry editor and author – what strikes me about the PR Census is how little the big themes actually change. We are still discussing the future of print, the
hot growth of healthcare and tech
, the difficulties of measurement and the lack of diversity. But the industry is getting most things right. Because for most of those two decades UK PR spend has been growing rapidly, and continues to do so. Another constant is
PR's adaptability – and this is more critical than ever as technology and media rapidly transform each other
."

Francis Ingham, PRCA director-general, tells PRWeek: "Considering the salary figures, there's a welcome shift from a top-heavy model to one that more appropriately rewards the people who do the most work. I believe this is a result of two things: on the one hand, consolidation of major networked agencies; and, on the other, CEOs and board members having the confidence to set up their own outfits, while taking a sizeable pay cut. The entrepreneurial spirit is back."
Section One: Demographics
In the first of our five-part series on the census, PRWeek looks at the current demographics of the industry.
According to the latest census, approximately 83,000 people work in the UK's PR and comms industry, a rise of more than 20,000 compared with the previous census in 2013. The sector's gender breakdown has remained stable – at 66 per cent female to 34 per cent male – according to the 2016 census, when compared with those in 2013 and 2011.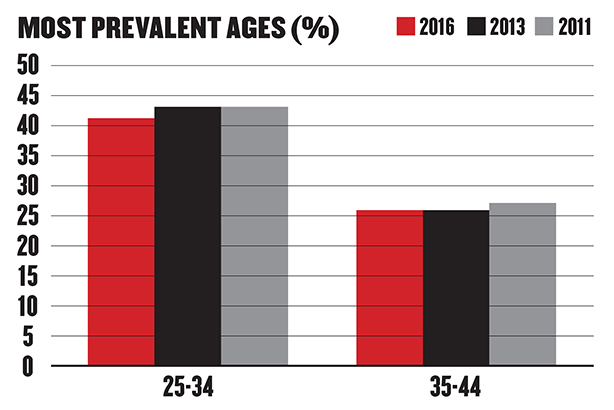 The relative youth of the industry is underlined, with the largest number of people in the age range 25-34 followed by those aged 35-44, at around 40 per cent and 28 per cent of the workforce, respectively.

One third of employees had children or dependents, and in-house staff were three per cent more likely to have them than their agency counterparts.

Diversity continues to be an issue in the industry, with 'white British' chosen by 83 per cent of respondents to describe themselves, followed by eight per cent who described themselves as 'other white', which includes those from Europe and the US. Only three per cent described themselves as 'Asian', while two per cent described themselves as 'black'.


According to a comparison with Office for National Statistics data from the 2011 national census, white British PR people are overrepresented by three per cent in the industry.

By seniority, 92 per cent of PR board directors were white and, by age, 94 per cent of those aged over 65 were white.
The vast majority of the industry is straight, with 85 per cent describing themselves as heterosexual, while four per cent described themselves as gay – of whom 90 per cent were gay men. Ten per cent preferred not to say.


Ingham continues: "The fact that our industry's diversity has remained static for the past six years is a concern, and one that we will continue to work to address. There is some comfort in the fact that we can see the younger the PR individual, the less likely they are to be white British, and I hope that as that trend continues we will see an increasingly diverse workforce filtering into the industry. As we have always said, a PR industry that is not entirely reflective of the people to whom it is aiming to communicate will ultimately fail."