As for remuneration, average salaries have been slashed across the board for both agency and in-house teams, and cuts to senior pay appear to have been most severe since the last census in 2013.


The survey of 1,874 practitioners, carried out by YouGov, also reveals
stark differences in levels of pay, gender balance and average age across the regions of the UK
, and asks respondents to predict what will be the most important tasks in their jobs in two years' time.
Danny Rogers, PRWeek's editor-in-chief, says: "As someone who has been in and around this industry for two decades – first as a graduate trainee in PR, and later as an industry editor and author – what strikes me about the PR Census is how little the big themes actually change. We are still discussing the future of print, the
hot growth of healthcare and tech
, the difficulties of measurement and the lack of diversity. But the industry is getting most things right. Because for most of those two decades UK PR spend has been growing rapidly, and continues to do so. Another constant is
PR's adaptability – and this is more critical than ever as technology and media rapidly transform each other
."

Francis Ingham, PRCA director-general, tells PRWeek: "Considering the salary figures, there's a welcome shift from a top-heavy model to one that more appropriately rewards the people who do the most work. I believe this is a result of two things: on the one hand, consolidation of major networked agencies; and, on the other, CEOs and board members having the confidence to set up their own outfits, while taking a sizeable pay cut. The entrepreneurial spirit is back."
Section Two: The salary survey
In the second of our five-part series on the Census, PRWeek looks at salary levels across the industry. Mean salaries across the industry fell by more than £8,000, to slightly more than £45,100, in the period between the 2013 and 2016 censuses.
However, more respondents – 15 per cent – reported earning between £50,000 and 74,999, as well as more than £75,000 – also 15 per cent – during the current census than in any other pay bracket. Only six per cent reported earning under £20,000 while 14 per cent said they did not know their salary.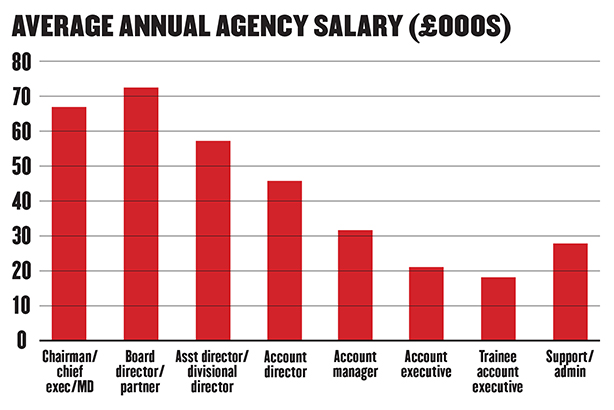 In agencies, senior pay dropped, with chairman-level pay suffering the largest decrease – from £105,000 in 2013 to £67,000 in 2016. Associate director salaries fell by more than £10,000 from a 2013 high of £67,000 during the same period.
However, lower ranks have seen modest increases in their pay, with account directors earning £46,000, up from £41,000 in 2013, and account managers earning nearly £32,000, around £2,000 more than in 2013.
Across the board, average salaries in agencies dropped from £54,000 to almost £45,000 in 2016, and are now even lower than the £48,000 average recorded by the 2011 census.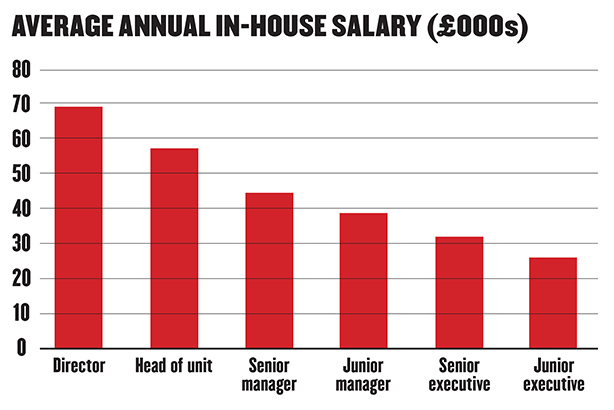 In-house teams fare little better. Average in-house pay is now £43,000 compared with £50,000 in 2013 and £49,000 in 2011.

In-house directors earn £69,000 and a 'head of unit' can expect £57,000, with a junior executive earning around £27,000 according to the current census.

Agency staff working on government projects earned the most, followed by those working in retail and wholesale, while those working in the not-for-profit sector earned least. The disparity in annual pay was £11,000 between the highest and lowest paying sectors.
Gender pay gap
The persistent gender pay gap continues, with men earning an average of £9,000 more than women, according to the latest census. The figure is roughly in line with studies in the past 12 months that estimate the disparity to be £10,000.


Where employees received a bonus, men received an average of nearly £6,000 while women received nearly £4,000.


Higher average pay for men can, in part, be explained by the relative seniority of men and women in the PR industry. In agencies, women outnumbered men by three to one among the junior ranks, but two-thirds of board directors or partners remained men.


For in-house, almost the reverse was true, and men occupied only 40 per cent of director roles and around 31 per cent of other senior jobs.


Sarah Leembruggen, managing director at recruitment firm The Works Search and Selection, says the figures on the gender pay gap are depressingly similar to those in 2015.


She adds: "Equality between men and women's remuneration is an ongoing issue and something that isn't going to improve soon unless the industry takes it seriously. There are several reasons as to why this is happening, in particular the issue of women being under-represented at senior level. Statistics show that women do not ask for enough at the start of salary negotiation – I would encourage women to negotiate harder. Decide what the value of your job is and add 20 per cent, then negotiate from there."

Mary Whenman, president, Women in PR, adds: "The results of the 2016 PRCA PR Census are extremely disappointing. They reinforce the findings of other industry surveys published over the past 12 months that women working in the PR industry continue to face pay discrimination. In 2016, this is simply unacceptable."