Change is never easy and there will always be people who are stuck in the past and reluctant to adapt their ways to new realities.
I was struck by this when I listened to Mike Francesa's, admittedly quite funny, takedown of soccer in light of his – formerly – beloved Sports Illustrated giving over its front cover and a shocking 11 pages inside to Argentinian superstar Lionel Messi and coverage of the upcoming Copa America tournament that kicks off in the U.S. for the first time ever on June 3.
"I know zero about soccer and that's more than I need to know," "Mainstream America doesn't even know what it is," and "Not one person has ever tried to promote soccer on my show" were just a few of Francesa's witty asides.
As a passionate soccer fan myself, I would point the irascible sports broadcaster to the facts that suggest this – truly global – sport is rapidly gaining traction in the U.S.
At the 2014 World Cup in Brazil there were more American fans visiting than there were from any other country. Soccer is very popular at school level, importantly especially with girls as well as boys. The sport is massive in Hispanic and other multicultural communities. And it has few of the safety concerns troubling sports such as American football. (Many parents I know simply won't allow their kids to play football nowadays because of the well-documented dangers of concussion.)
Francesa is more self-knowing and aware of his particular form of shtick than he lets on, and he is already well past the salad days of his career. As he says, "It's a little late for me and soccer now and it's just not going to happen."
And there's no doubt America's domestic league the MLS has a long way to go to rival the top four U.S. sports. By the way, if you are interested, you can follow everything you need to know about soccer in the U.S. and the Copa America at PRWeek's excellent sister title FourFourTwo.
But the future of soccer in the U.S. is a subject for another blog. The point of this — admittedly lengthy — preamble is to draw the analogy between Francesa's resistance to change and the rapid evolution of communications and marketing from press releases, advertising, and one-way broadcast technologies, to branded content, social media engagement, new influencers, and interactive storytelling.
Like Francesa in the world of sports, there are still naysayers in the marketing community who doubt the long-term sustainability of the modern PESO mix and the nature of new influence. There was a great piece in Digiday recently quoting an anonymous social media exec on the hype surrounding new influencers and the seemingly out-of-control inflation in demand and fees for YouTube stars such as Casey Neistats, who the piece says can charge up to $500,000 for a piece of content the brand doesn't even own the rights to.
There will be teething pains like this and I expect the marketplace to settle down once marketers become more au fait at sourcing and working with — not managing — new influencers who resonate with their consumers and target audiences.
But social media and new influence is the way forward. We saw another great example this week with the "Chewbacca mask mom video," a film of Grand Prairie, Texas mom Candace Payne laughing joyously when she bought a Chewbacca mask from Kohl's that rapidly became the most-popular Facebook Live video ever and has now been viewed more than 150 million times.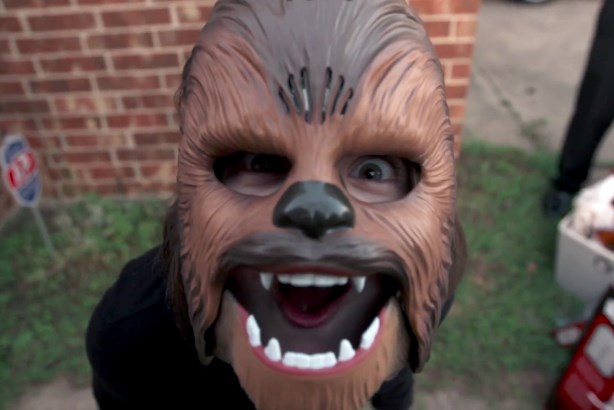 Image via Kohl's / Twitter
The retail chain acted quickly, as brands must do in these circumstances, by posting a GIF of the video on Kohl's Twitter and Facebook channels. It gave Payne and her family a bunch of Star Wars merchandise and doubled down on the connection – videoing it of course and posting on social, which in itself was liked 700,000 times on Facebook and retweeted 2,000 times.
After that, the story took off in classic style through earned media, with Payne enjoying her 15 minutes of fame and appearing on Good Morning America. Kohl's staffers also got involved in the social media melee, saying how proud they were to work for the retailer that rewarded Payne in such a way.
As PRWeek consumer senior reporter Diana Bradley pointed out in her story, Kohl's was the exclusive department store sponsor of this year's Academy Awards, which garnered 34.4 million viewers, but it has arguably garnered more attention and genuine traction through this spontaneous Chewbacca tie-up.
Conspiracy theorists will claim this was all a set-up by Facebook to promote its Live video platform in the war with YouTube, and it's true the film seemed to synch more than neatly with Mark Zuckerberg's algorithms and the folks at Menlo Park wasted no time in getting Mrs Payne up to HQ for a visit with her favorite Wookiee.
But it's a sunny holiday weekend, so let's be charitable. What cannot be denied is that, unsurprisingly, the Chewbacca masks have sold out — great profile and fantastic news for Kohl's, its social media agency Huge, and the product's manufacturer Hasbro.
Another recent example of the engagement engine in action is Mars' 12-week Mix Mania Weber Shandwick-created campaign, a collaboration between four of the company's pet-care brands — Cesar, Pedigree, Nutro, and Iams — that launched earlier this month showing how our canine friends freak out when they chow down on wet dog food.
The activation centers on humorous close-up, slow-motion short- and long-form videos of dogs' faces after they have eaten the wet food. A microsite was set up so consumers could interact and upload their own photos and videos, and proprietary Facebook, Instagram, and Twitter pages were also established.
There are also direct marketing and sales promotion elements to the campaign, which engages all elements of the PESO mix.
My third recent example is Arby's, a brand that has completely turned itself around in the past few years through innovative marketing and communications activity. I was lucky enough to visit Arby's HQ in Atlanta this week and saw the sandwich chain's social media listening room in action.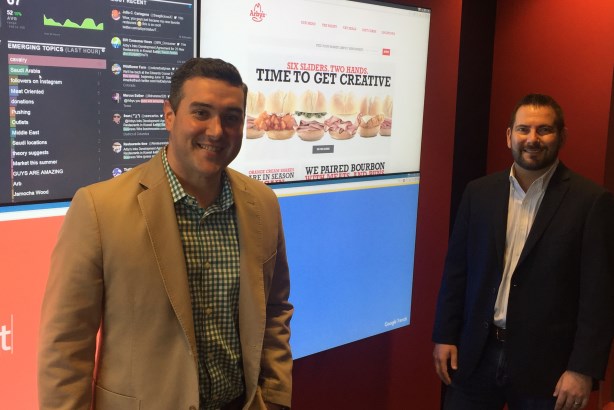 Inside Arby's social media listening room. Pictured above are Luke DeRouen (l), director, brand communications and content, and Jason Rollins, manager, corporate communications.
With the help of agencies such as Fallon and Edelman, the brand has also used the full range of PESO in its marketing, from the We Have The Meats positioning, its "vegetarian" menu on Leap Day, its tweet about Pharrell Williams' hat at the Grammys, its Meat Bus tour of Manhattan to support the return of the company to New York City, and its "secret" Meat Mountain option born of customers asking for a sandwich based on in-store merchandising.
There were a lot more attempts at real-time marketing yesterday as brands tried to tap into Red Nose Day, often interacting with each other to fuel the buzz. All these methods are becoming the new normal and communicators are learning how to do it without committing social media faux pas - though clearly there are still many high-profile examples of the latter as well.
But the evolving practice means brands are more comfortable loosening the noose and don't insist on having a lawyer involved at all times. Smart campaigns can just as easily be activated from a social media exec's living room as the brand's formal social media center surrounded by the general counsel and CMO.
It's what consumer communications and marketing is all about today, and it encompasses a broad church of activities, media, agency support, and strategies – all of which are in the wheelhouse of the modern PR pro.
By the way, just like Mike Francesa's favorite classic American sports, paid-for advertising — including TV — isn't going away and still has its place in the communications mix. It just isn't necessarily the starting point of the big idea/campaign or the sole purview of the creative agencies anymore.
One thing's for sure, for all those working in communications and marketing who think they can rely purely on old methods to get their messages across, I refer them to the words of the great man himself when he said: "Then you better start swimmin' or you'll sink like a stone, For the times they are a-changin'!"
All this is said in the full context and understanding that without the past you can't have a safe and prosperous future — so Happy Memorial Day.