Last year you launched a global campaign around female empowerment, with Taylor Swift headlining. What were the results?
The brand platform honors our heritage with a modern twist, hence the tagline: Ladies First Since 1916. The campaign celebrates, empowers, and inspires women, finding that amazing balance between being feminine and demonstrating strength. Our consumer is multi-faceted and we reflect that.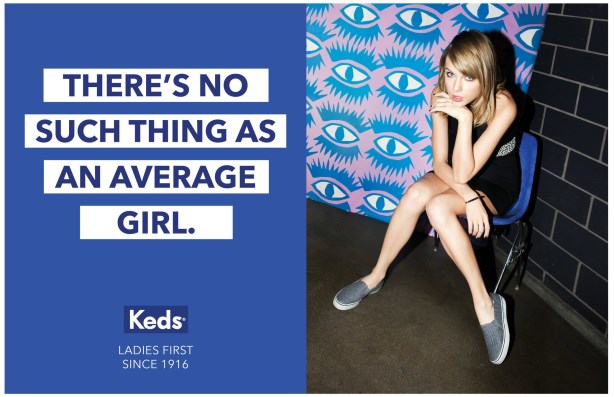 Ladies First activated in over 30 key global markets. Sales improved in targeted U.S. channels by over 20% and internationally by over 50%. It helped drive ecommerce sales by over 35%.
The campaign increased Instagram followers by 50% and generated over 400 million impressions during the U.S. launch. And it helped open new distribution in global fashion accounts such as Collette.
This year is Keds' 100th anniversary. Doing anything special?
Our Keds Collective event in February launched our centennial year and the continuation of Ladies First, generating over 470 million PR impressions.
Keds Collective is a curated group of industry leaders who embody the brand's overarching commitment to powerful women, creativity, and self-expression. New additions include actress Allison Williams, and singers Ciara and Tori Kelly. Members of the collective are modeling in Keds' spring 2016 ad campaign.
[Williams] acted as creative director and star for Keds' video shorts Uncharted Territories and Woman's Touch, which launched in February on YouTube. And Ciara will collaborate on a signature shoe design that will be available at retail.
Taylor Swift is the kind of celebrity that isn't afraid to voice her opinion. Do you ever get worried about your brand being associated with her? How would you react if she said something [you didn't agree with]? Do you have guidelines for anything like that?
We've worked with Taylor for four years. We trust her and all the amazing women we work with and want them to be who they want to be and go where they want to go. She has strong views, but so do we. That makes her, her. And the same goes for other women we work with.
Are you using any new social media platforms?
We launched on Snapchat in Q4 2015 to give consumers an inside look at our new Keds Collective and get a different view of them. Because Snapchat content deletes within 24 hours, celebrities are more comfortable using it. [Content] doesn't have to be perfect because it disappears.
Do you use a lot of real-time efforts on social media?
Any time our consumer engages with us, whether in social media or at one of our events, we respond quickly. We take it seriously and treat them as we would a friend.
We're all about female empowerment, so if there is a thread around that on social, whether it's the first woman to be named to a senior ranking position in the military or a woman doing an amazing job such as the youngest senator, we celebrate that and participate in a conversation in real time.
How do you contend with competitors?
We create shoes for women and we're focused on that. By sticking to that we differentiate ourselves. Keds believes in putting ladies first. The majority of our senior leadership is women: Me, our head of product, and head of sales. Not only do we have "Ladies First" as a brand platform, [as employees] we also eat, sleep, and breathe it.
Keds has gone in and out of popularity in recent years. How do you stay relevant?
We're laser-focused on our consumer and what she's doing in her life. Our demographic is a psychographic – not necessarily a specific age. We make sure we are always relevant. Sometimes the consumer gets more into one trend versus another, but through ebbs and flows we have always remained constant.
We've had unbelievable women wearing our shoes for over 100 years, whether it is Audrey Hepburn, Katharine Hepburn, Marilyn Monroe, Jackie O, and Yoko Ono, or even Baby in Dirty Dancing. Now we're moving it forward to Taylor Swift and the amazing women in the Keds Collective. It's a brand that's always influenced street style and footwear fashion and we look forward to doing that for another 100 years.
Q4 year-on-year revenue at Keds parent Wolverine declined 7.1% in 2015 - how did Keds do?
Keds does not report its individual brand earnings on behalf of or in regards to Wolverine and does not comment on Wolverine's earnings.
How is marketing and communications structured at Keds?
We're completely integrated. As CMO, I oversee all marketing and communications, whether you define that as traditional PR or social media or any type of outreach with consumers and even press. Roughly 12 staffers make up the marketing and communications teams.
What PR firm do you work with?
We brought on DKC as AOR in December. Prior to that, we worked with Shop PR.
Correction: An earlier version of this story contained language in the third question that was not part of the interview and has since been updated to reflect the original question. Separately, it was updated to correct Culp's quote about Swift using Snapchat. We regret the error.