News of Prince's death yesterday led to a huge amount of comment on social media, many accompanied by #Prince, #RIPPrince or #PrinceRIP.
Homebase's customer service team published this tweet this morning: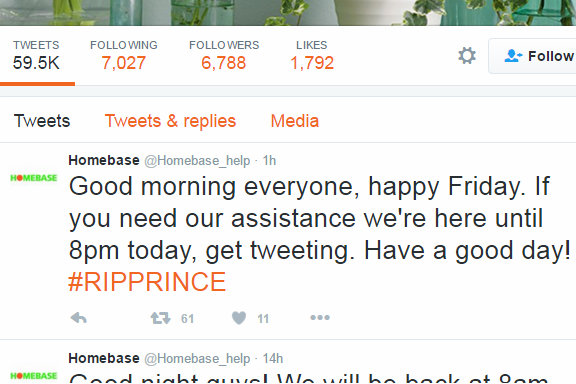 The tweet was later deleted after it was heavily criticised for exploiting the singer and musician's death for its own marketing purposes:
Homebase will look at engagement for that tweet & see success: "no such thing as bad publi..." blah. How about integrity? Taste? Brand?

— Vicky Phillips (@disjointedtales) April 22, 2016
Great job @Homebase_uk, inappropriate tweet of the day https://t.co/vixUhFdOoT

— Kelly Sotherton (@KellySotherton) April 22, 2016
"Make sure you use relevant and trending hashtags to increase your reach," said someone to @Homebase_help :-/ > pic.twitter.com/Ewd1Wb4N8g

— Adam Tranter (@adamtranter) April 22, 2016
Classy, @Homebase_help – using that hashtag as a marketing push is not cool. Not cool at all. https://t.co/7MYOnAAUG2

— Rob Jones (@FlamingBobby) April 22, 2016
Looking for a job? Homebase will be looking for a Social Media Manager next week. Desirable skill: not being a c**t. https://t.co/fysuiy1Jlu

— Harry Moore (@Harry_Moore_) April 22, 2016
Others, including senior PR industry figures, had a more mocking response:
Prince loved Homebase https://t.co/lgU1T80mXn

— Andrew Bloch (@AndrewBloch) April 22, 2016
@Homebase_help Purple drain, Puurrple drain... #Sacked

— Lee.T.Stoker (@leetstoker) April 22, 2016
PRWeek contacted Homebase for comment but received no reply at the time of publication - although it has since told the Mirror: "We sincerely apologise for any offence this has caused." The tweet had been deleted within two hours of it being posted.
In the US, cereal brand Cheerios and food company Hamburger Helper have also deleted their 'tributes' to Prince after coming in for criticism.
Writing for PRWeek earlier this year after the passing of David Bowie, actor Alan Rickman and Motorhead frontman Lemmy, Richard Stagg gave a satirical perspective on brands exploiting celebrity deaths for their own gain.