The campaign demonstrates that the FT – which was bought by Japanese group Nikkei last summer – can take readers beyond the headlines and help them connect the dots between events and issues in an increasingly interconnected world.
Changes to Chinese eating habits (below) and a potential British exit from the EU (above) are among the creative assets for the first round of the campaign, starting today.
The campaign, conceived by ad agency adam&eveDDB and developed in collaboration with the FT's in-house brand, marketing and creative teams, will be promoted through social, search, display, print and outdoor in the UK, US and Asia, and directs readers to the FT's new online brand hub, or to individual stories. Ad placement is being handled by Essence Digital.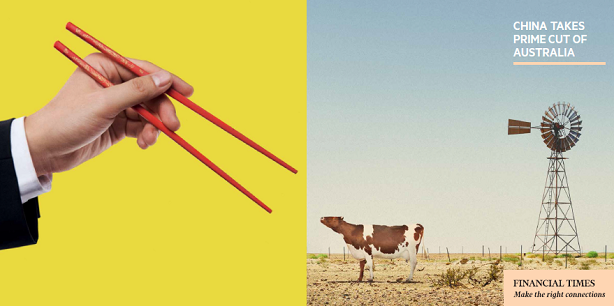 Darcy Keller, senior vice-president of comms and marketing at the FT, told PRWeek she started talking about the new campaign last summer, reflecting on how consumers "expected consistency" across different channels.
Having taken on brand marketing responsibilities in June, Keller said she wanted to create a campaign that would work across marketing categories and techniques. "This is the first FT marketing campaign that is truly integrated – in the past it had not been as co-ordinated and connected as we would have liked," she said.
Keller said that the new slogan "is very much in line with what our brand is already about", and that the print edition of future editions of the magazine would not look any different, explaining: "This isn't about changing the product, we think it's about connecting the marketing much more to the product. It's essentially content-led marketing, with journalism as a sales tool."
The campaign is targeting current and new audiences, with Keller saying: "We definitely want reach, but we want what we call quality reach – both current and potential audiences who will return. Scale is great, but we ultimately want people to come back."
James Murphy, co-founder and CEO, adam&eveDDB, said, "The FT is about the value of information, not just volume. It provides unmatched news, comment and analysis - but, most importantly, it makes the connections that enable its sophisticated and demanding audience to thrive."
Keller also clarified that the agency Golin's announcement yesterday (Tuesday) that it had been taken on by the FT was not in relation to today's launch.
Click to read PRWeek's profile of Keller from the February edition of the magazine.