Professional communicators tend to look at the Brexit debate from two angles. The first view is objective: how are the 'leave' and 'remain' campaigns being communicated? How are the key protagonists – David Cameron, Michael Gove – performing? The second view is subjective: how would leaving the EU affect me, my family, my business?
This edition of PRWeek – published two months before the big vote on 23 June – examines both perspectives. It looks at the campaigns in some depth, including interviews with those – such as Finsbury's Roland Rudd – who are involved in these huge comms exercises. It also asks leading UK PR professionals – those in the Power Book 2016 – for their personal viewpoints.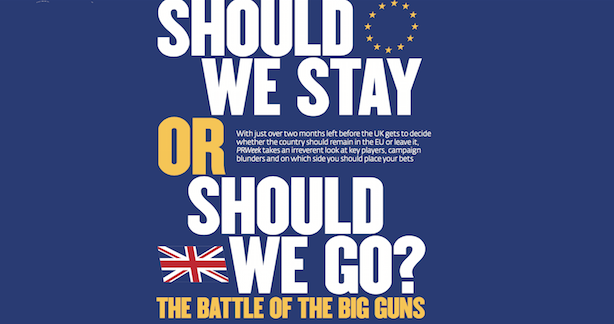 In terms of the campaigns themselves, it is too early to tell who is performing best. According to PRWeek's initial poll, comms leaders have more confidence in the 'remain' campaign. But, since then, Cameron's plan to spend £9m of public money to convince us of the benefits of the EU has run into major opposition. This places even more importance on the efforts of the independent Britain Stronger in Europe, which Rudd is currently spearheading. As Rudd points out, this means business leaders and, indeed, PR professionals will play a significant role in the referendum's outcome. On the 'leave' side, campaigners are ramping up their efforts, taking on as much comms advice as they can.
But when it comes to the personal views of whether Britain should remain in the EU, the UK PR sector is overwhelmingly supportive of doing so. Eight out of ten comms leaders say leaving would spell disaster, with some passionate views expressed. Yes, there is an underlying sense of Europe's mismanagement in recent years – and the possibility of a surge in new comms briefs should Britain leave – but the overwhelming majority see withdrawal as diminishing the nation and its economy.
All that said, the UK PR industry predicts a close outcome to this crucial vote on Britain's future. And this is why great statesmen such as Lord Michael Heseltine feel the need to speak out. Heseltine, the founder of PRWeek publisher Haymarket Media Group, warns (in the new April edition of the magazine) in stark terms of putting this vote in its historical context. The EU was formed in the aftermath of two terrible wars that ripped Europe apart and we should seek unity in today's troubled times, not division.
Danny Rogers is the editor-in-chief of PRWeek UK