Roland Rudd's office, next to Moorgate station in the City of London, is not particularly flash. And yet, perched at the top of an unprepossessing 60s office block, it boasts a powerful outlook over the capital's business district.
Rudd today is in characteristically bullish mood. Dressed in his trademark dark suit and tie, the imposing boss of Finsbury burns with a passion for business and Europe. He appears sanguine despite becoming the Daily Mail's favoured whipping boy of late.
In recent months, a relentless string of stories have swiped at the "sleek" or "oily PR man" who – the pieces take glee in mentioning – just happens to be great mates with other Mail bêtes noires such as Lord Mandelson and broadcaster Robert Peston. Daily Mail editor Paul Dacre has always taken a dim view of Rudd's type: public school, Oxbridge-educated metropolitan elitists, who enjoy fine wines and breakfasts at The Wolseley. But the reason the Mail's sights are firmly fixed on Rudd at the moment is because of his central role in the 'remain in the EU' movement, as treasurer of Britain Stronger in Europe (BSE). Oh, and the fact that his sister, Amber Rudd, is Secretary of State for Energy and Climate Change – and personally opposed to Brexit.
Rudd is responsible both for raising the money for the 'remain' campaign and for shaping its comms strategy – the latter alongside David Cameron's team and other key figures from politics and business. US political journalism magazine Politico described Rudd last month as "the man Cameron is counting on to keep Britain in Europe".
But, of course, that is not even Rudd's day job. He is founder and chairman of Finsbury, one of the world's biggest financial PR consultancies, and regularly voted one of the most powerful players in British PR. He also remains chairman of the 10-year-old Business for New Europe organisation, which seeks reform in the EU while remaining committed to Britain's membership.
Attention brings insight
So how does this generally acclaimed businessman feel about his treatment by the Daily Mail?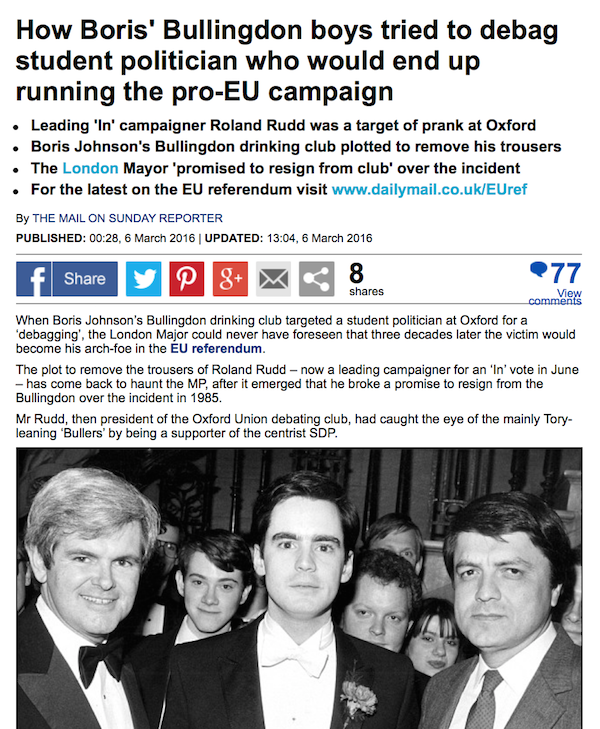 "I don't mind in the slightest," says Rudd, insisting that being at the sharp end of the right-wing press' anger helps him understand the comms job in hand: "You see, the similarities between the current campaign and the 'In' campaign during the 1975 referendum on Europe are extraordinary in terms of the debate language and the issues. But many of the roles are reversed this time: then it was the Labour Party that was split, with six cabinet ministers wanting to leave – whereas today it's the Conservatives who are divided, with eight ministers wishing to leave. And in 1975 the British press pack was completely 'In'. However, today, it's at best split and, at worst, it tends to be more 'leave' than 'remain'."
This "right-wing media bias" has forced Rudd and the 'remain' team to place great emphasis on alternative comms channels such as direct mail, phone banks and social media.
"We have already sent a news sheet to 14 million households, which has had positive feedback, and we're keen to send millions more. We have a very good social media team. If you talk to someone like Jim Murphy from the Better Together Campaign in Scotland, he will tell you Facebook resonates enormously with people. Half of people use it and, on average, they check it eight times per day. It is particularly important with some of the right-wing press who don't want us in, because we've got to get beyond this. Some people respond better to phone banks and that's why we've been investing in that. We are actually ringing people up."
For media, 'remain' is using Edmonds Elder, the digital strategy consultancy run by Tom Edmonds and Craig Elder that orchestrated the Conservatives' general election digital campaign last year. The pro-EU team believes that Edmonds Elder can again help win over those middle-ground voters who swung the general election towards the Tories. And Rudd confirms that Jim Messina, Barack Obama's 2012 campaign manager and adviser to Cameron in last year's election, is providing important strategic advice.
"Since Cameron achieved his EU membership reforms in Brussels in February, there has been huge integration in the 'remain' team,' says Rudd. "There are good relations between the board of BSE [which includes Stuart Rose and Karren Brady] and 10 Downing Street [where Cameron's former spin doctor turned business adviser Gabby Bertin is pivotal]. But there are also strong relationships with Alan Johnson [Labour's lead pro-EU campaigner] and the Liberal Democrats. All these relationships are important. That said, it is crucial that we remain politically independent."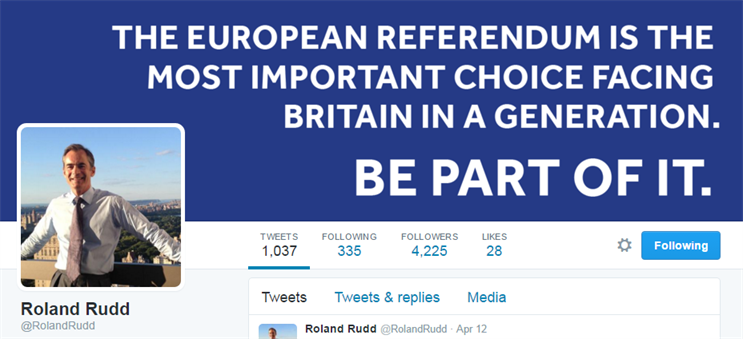 Raising optimum resources
However, this independence also creates practical problems – the principal one being money. The law now states that businesses cannot donate to a political campaign of this type without consulting their shareholders, which can be messy. So Rudd is targeting "wealthy individuals".
He will not say how much he needs to raise to run the optimum campaign but it is thought to be close to £20m. It is unlikely that BSE has raised more than half that amount so far, although Rudd is working hard to bolster the coffers, including plans for a fundraising dinner that will aim to raise £500,000.
While the campaign's comms armoury looks impressive, Rudd admits it is at a disadvantage when it comes to the core messaging: "In some ways, it is a simpler – and to some people a more compelling – message that the EU is imperfect, is getting worse, is remote from you, rules your life and, by the way, there's a flood of migrants coming here quickly, so you can just leave and set up a lovely new trading agreement with the EU. On the other hand, we must say that the status quo, although in some ways imperfect, is actually working pretty well and that on all the big issues – economics, security, even migration – you're better off in than out. But sometimes it's a harder sell."
So what is the strategy to win this battle?
"Well, at least people are now listening to the arguments quite carefully. And what they are absolutely desperate for are facts. It's incredibly important that we give them these facts. There is nobody in the 'remain' team who will come out with something that is knowingly inaccurate. We might be guilty occasionally of overhyping a point or making too much of something, but will never knowingly mislead.
"But there are some people in the 'leave' camp who will constantly and deliberately mislead. The best example of this is the '£55m per day' we are allegedly paying to Brussels. It's nonsense and they know the facts. They are talking about our gross contribution, which is around £19bn. But we immediately get back our rebate. And having taken that off, we immediately get funding back for the poor regions of Britain and money back for science and research as well as overseas aid. So, after all that, our actual net contribution to the EU is just over £6bn. It's a bit less than one-third of the figure that they're using. So we have to continually emphasise and re-emphasise this. The number of people who say to me, 'well, I like the EU but I think the price of £55m per day is too much'. Hopefully, by the end of the campaign, we will have been able to reach enough people and explain that it is fundamentally misleading."
Explosive IMF report: Brexit risks "severe damage to global economy" https://t.co/FhLAsoFOnU. Starkest warning yet that leaving is folly

— Roland Rudd (@RolandRudd) April 12, 2016
Rudd says economics, national security and Britain's leadership on the world stage are the three themes underpinning the 'remain' campaign. And the reason why a businessman such as himself is perfect to raise funds for and steer the campaign is because the debate will be ultimately won with economic arguments.
"For most people this is going to be an economic issue; they are going to think very hard about whether they are better off in or out. And I'm absolutely confident that when they do that, they will decide after four decades of being intertwined with the EU, we should continue. We do about 45 per cent of our trade with the EU and geographically you can understand why. The single market is huge and it is a British invention. Margaret Thatcher famously gave up the veto to ensure we got that through. The right-wingers who are so keen on leaving have completely obliterated her greatest achievement in getting this through.
"As for the 50 free-trade agreements that we have with the EU: well, we could sign individual agreements with individual countries – the last one we signed was in 1971 and that wasn't a huge success – but it would take more than a decade to do it and only on the basis that other countries would be interested in doing so. For all these reasons and others we would be better off in economically.
"So, if economics is at the heart of it, what businesses have to say is relevant. And the vast majority of businesses – whether large or small – are in favour of staying in the EU. That's the point that I need to get out. Although business isn't held in the same esteem as it might have been 10 to 20 years ago, if the argument is about economics, then it remains really important."
Rudd has put a lot of stock in getting Britain's business leaders to sign a letter stressing the importance of remaining in the EU. The letter was published at the end of February with 200 signatories, including 36 bosses of FTSE 100 companies. At the time of writing, 40 FTSE bosses have now signed up and Rudd is hopeful of getting at least 50 to do so. "Some haven't had their board meetings yet, some have strict rules against round-robin letters, which I think is a bit grand – and some want to keep their heads down because they are worried about what the right-wing press might say. Not even one FTSE250 firm has come out for Brexit," Rudd points out. "The 'leave' campaign has been desperate to get some to sign their side but so far without effect."
Brexit puts jobs at risk. Largest number of businesses ever sign letter supporting staying in a reformed EU. https://t.co/oeMrNlkvnI

— Roland Rudd (@RolandRudd) February 23, 2016
But what about small businesses – which includes most PR companies – are they not more sceptical about the EU?
"It's true that small businesses that don't trade outside the EU will be far more Eurosceptic because they have got in their minds that all the EU has done has added another layer of regulation that doesn't benefit them. I understand that. But it's interesting that the Institute of Directors, which is a bellwether of small business, surveyed its membership extensively and found that the vast majority were in favour of staying in.
"I believe business has a really important role to continue with the EU reform agenda. It is a process. Cameron's reforms were not the defining moment in our relationship with EU but I would describe them as really sensible, practical reforms that make our membership more attractive – and the EU better. We need to keep pressing all the time. We need business working with business right across the continent."
PR cannot duck the issue
And the PR industry specifically? Presumably PR professionals have a role to play in this debate.
"Everyone has a role. It's such an important issue. For anyone to duck it – to say they haven't an opinion or that they don't want to share it – is rather pathetic. It's also incumbent on PR consultancies to advise their clients to take a view on it.
"I'm not talking from self-interest here. If we were to leave I'm sure there would be lots of advice and help required from us. But Britain itself would be diminished. And, economically, there will be a decade of serious uncertainty. London, of course, is the world's great financial centre and the idea that France and Germany wouldn't seize the opportunity to create a pan-Euro financial centre outside London is crazy."
Like many, Rudd is surprised that both the current London Mayor, Boris Johnson, and the Tory hopeful, Zac Goldsmith, are supporting Brexit. "I think Zac will lose because of that position," says Rudd, damningly. "My dear friend Boris [Rudd and Johnson were at Oxford University together] was always a sceptic but a firm believer in being part of the EU. Indeed, as London Mayor it would have been incompatible. I really don't think it's something he believes in deep down. I can only assume that it's done for his role in the Conservative Party."
Zac Goldsmith just ensured he will lose London Mayor election by opting for Out when vast majority of City want to remain in EU

— Roland Rudd (@RolandRudd) February 21, 2016
Some will tell you that Rudd is keen to lead the 'remain' campaign because of his own political ambitions. He is said to covet a peerage, which would certainly be one up on his chief industry rival, Sir Alan Parker of Brunswick, who was knighted in 2013.
Either way, Rudd has at least been consistent on the EU debate for the past decade. And Cameron will be a little more relaxed to have one of Britain's most powerful PR men on his side come 23 June.