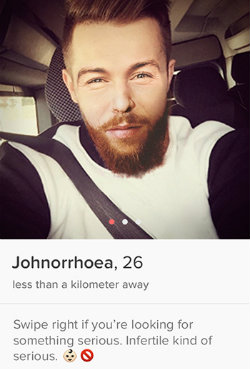 Hero Condoms, which is owned by Win & Roam Pty, created a number of fake profiles with biographies such as Johnorrhoea's "Swipe right if you're looking for something serious. Infertile kind of serious". Other names included Aidy, a pun on AIDs that has come in for particular criticism.
The campaign was launched last week, with some initially praising its inventive method, and Tinder users either confused or impressed by it (see below). However, it later attracted criticism from the public and sexual health campaigners.
Work on the campaign was done by an Australian creative Aaron Tyler, although he now appears to have deleted all mentions of it from his website.
Hero Condoms is led by charismatic CEO Dustin Leonard, who founded the company in 2012, and donates one condom to countries in the developing world for each sold in Australia.
Nic Holas, a writer and co-founder of the HIV community The Institute of Many, told BuzzFeed the campaign was offensive.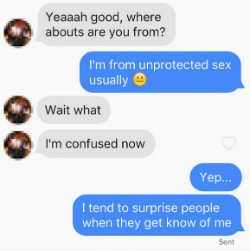 "Dustin Leonard clearly has zero understanding of what it's like to live with, and be judged for having, an STI or a chronic manageable illness like HIV.
"He claims the aim of this woeful bro-campaign was to 'de-stigmatise condom use', when really it was to sell their condoms by stigmatising anyone with an STI.
"We're not the butt of their jokes, and we're sure as hell not collateral damage in their pursuit of profits."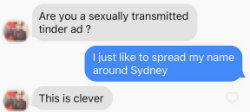 This article, pieces from other media sources and social media comment have formed an almost universally negative response to the campaign.
This was made worse by the response of Hero Condoms to one question on Twitter.
@Rob_Stott @BuzzFeedNews Wow, Hero condoms really stepped in it. Doesn't sound like they learned anything.

— Renee (@rennangel) 6 April 2016
Hero condoms are a brand that seriously 'don't get it'. https://t.co/k1KbqzwnXC

— Graeme Watson (@graemejwatson) 6 April 2016
PRWeek asked Tinder for comment, and received a response from Rosette Pambakian, the firm's VP, global comms and branding, who said: "We have no comment on the campaign except to say that it was not approved by Tinder and as a result the profiles were deleted."
Hero Condoms today removed the blog post about the campaign from its website, expressed regret at the backlash, but stopped short of apologising, via its Facebook page. Aaron Tyler did not respond to PRWeek.
Regarding our recent safe sex awareness exercise:Please note, the Tinder campaign is no longer running. The Tinder...

Posted by HERO on Tuesday, 5 April 2016