The 'leave' campaigns
What are the main campaigns?
The main protagonists in the 'leave' camp are many and varied. The two most high-profile campaigns – Leave.EU and Vote Leave – are as notable for their ability to fight like proverbial cats in a sack as for their ability to get the message across to voters ahead of the big day on 23 June. The two main campaigns are joined by smaller voices in the form of Grassroots Out, or GO for short, and Labour Leave. The Electoral Commission is to make a decision by mid-April on whether Vote Leave or Grassroots Out, which is backed by Leave.EU, will be the official voice of the 'leave' campaign, although this is unlikely to stop the team not chosen shouting from the sidelines.
Who are the main campaign protagonists?
Leave.EU was launched by the UKIP-supporting businessman Arron Banks. The campaign has eschewed high-profile spokespeople and instead appointed a 12-person 'jury' of people from various walks of life, including a fisherman, a retail worker, a solicitor, a motorcycle cop and a cowboy. OK, we're kidding about the last two.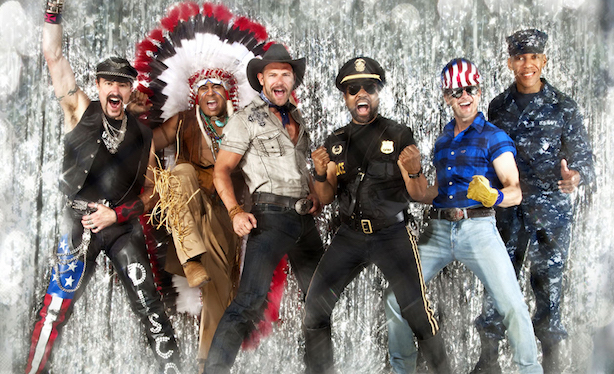 Vote Leave, meanwhile, is a cross-party group of MPs from the Conservatives, Labour and UKIP's sole MP, Douglas Carswell. On the subject of UKIP, GO is the party's natural spiritual home but it also boasts Conservative backbench MP and arch Eurosceptic Peter Bone.
Who is leading the PR charge?
Andy Wigmore is heading up comms for Leave.EU. Wigmore's pedigree includes running his own media company, a stint as a reporter for Sky and working in the presentation department of Conservative Central Office. Wigmore, a Belizean, is also a diplomat for the government of Belize and an Olympic-standard shooter, ranked 274 out of 274 in the world, so here's hoping his comms are better than his aim. Vote Leave's comms operation is steered by the formidable Matthew Elliott, founder of The TaxPayers' Alliance, Dominic Cummings, former SPAD to Michael Gove, and ex-British Bankers' Association man Paul Stephenson.
Are there any celebs in the race?
The big political beast looming large over the exit sign is London Mayor Boris Johnson. He has endorsed Vote Leave ahead of the Electoral Commission's decision. Other high-profile backers include Leave.EU supporter Frederick Forsyth, whose books include The Devil's Alternative (just saying), the historian Andrew Roberts and Rolling Stones frontman Mick Jagger.
Sir @MickJagger thinks that Britain could do better as a country outside of the EU. #LeaveEU pic.twitter.com/7rMvyCCc0s

— LEAVE.EU (@LeaveEUOfficial) April 5, 2016
Vote Leave has fellow Tory big beast Nigel Lawson as its chairman and GO also has a political powerhouse at its disposal in the form of Nigel Farage, while Labour Leave is chaired by, er, Kate Hoey MP. Interestingly, ex-football star Sol Campbell has also nailed his colours to the Vote Leave mast, claiming it will be best for British football.
What are the main triumphs and cock-ups?
Did we mention the propensity for fighting like cats in a sack? Vote Leave and Leave.EU have enjoyed several high-profile spats since January. Banks wrote to Elliott criticising Vote Leave's reluctance to merge with other Brexit groups, to which it received the media-statement equivalent of a slap around the face. "There will be no merger," the full statement read.
Banks tried again a few weeks later, telling Vote Leave in as many words to 'fit in or go away', but received a second slap for its trouble. In a third attempt that, frankly, had the whiff of masochism, Banks published an open letter describing Elliott and Cummings as "two of the nastiest individuals I have ever had the misfortune to meet", to which Vote Leave res-ponded: "We wish Arron Banks well." On the plus side, the 'leave' camp's stock rose when Johnson decided to throw his (political) weight behind the campaign, much to the irritation of the Prime Minister who expected him to stay in line.
The Brexit camp has also made much political capital of the Government spending £9m on sending pro-'remain' leaflets to every home in the country, with a petition against this swiftly garnering 100,000 signatures.
another day, another open letter from @Arron_banks of Leave EU trading insults with Vote Leave wooing Tory MPs... pic.twitter.com/2k2rXt48Y5

— Faisal Islam (@faisalislam) February 5, 2016
What is the effect of the campaigns on political parties?
That sucking sound you can hear is the Conservative Party starting to implode under the pressure of an issue that is as divisive for it today as it was nearly 25 years ago during the doomed John Major administration.
The resignation of Iain Duncan Smith, which commentators say had nothing to do with finding his morality over cuts to disability welfare payments and everything to do with Europe, has already opened the field for the so-called quiet man of politics to get seriously vocal about his opposition to Europe. And this time he really is turning up the volume. Is Labour doing any better? Arguably, it is less divided than the Conservatives, but a lacklustre approach to supporting continued membership could be interpreted as damning Europe with faint praise.
Where's Nigel?
The lead-up to the referendum was meant to be GO totem Nigel Farage's moment in the sun, where he got to make the case he has been making all his political career – only with more people listening this time. But sadly, the two main 'leave' groups decided Farage was too 'Marmite' – for which read 'divisive' – to lead their campaigns. As if to prove the point, in March at a debate on the referendum, Farage described UKIP's only MP Carswell (of Vote Leave) as "irrelevant" and said he didn't care if he left the party. Yes, how UKIP can appear divided on the single issue that unites them is a mystery to us as well.
Nice to see you to see you nice @Nigel_Farage warming up at London Palladium pic.twitter.com/fDZ0jeeRTH

— Andy Wigmore (@andywigmore) March 15, 2016
Who are the main media supporters?
Leading the mainstream newspaper charge in favour of Brexit is the Daily Express. The Sun has apparently yet to make a decision, despite 55 editorials written by editor David Gallagher that take a distinctly Eurosceptic tone. It is expected it and The Times, also owned by Rupert Murdoch, will come out in favour of Brexit. The Telegraph newspapers are also expected to follow suit, with the balance of their coverage in favour of leaving.
Followers on social media
The power of an army rests on its social media following, the renowned fifth-century BC military strategist Sun Tzu never said. However, he did say: "Victorious warriors win first and then go to war, while defeated warriors go to war first and then seek to win." And that is a good lesson for any political campaigner. Here are the social scores on the doors at the time of writing.
| Campaign | Facebook likes | Twitter Followers |
| --- | --- | --- |
| Leave.EU | 626,000 | 83,700 |
| Vote Leave | 308,000 | 31,300 |
| Grassroots Out | 14,600 | 11,900 |
| Labour Leave | 2,800 | 9,400 |
---
The 'remain' campaigns
While the Brexiteers have been clashing sabres and making noise, the campaigners to stay in the EU have been rather – how best to put it – staid.
What are the main campaigns?
It's a united front for the 'remainers' with Britain Stronger In Europe ('Stronger In' to its mates) leading the charge, and seen from the off as the only plausible contender for designation as official campaign by the Electoral Commission in April. And so it turned out – it was the only applicant. The campaign launched in October – although it actually registered at Companies House in June – and has common personnel ancestry with Business for New Europe (BNE). Itself founded in 2006, BNE remains operative as part of a supporting cast that also includes the European Movement, founded in the 1940s, and its new offshoot Students for Europe, as well as party groups such as the Tories' Conservative Group for Europe, Labour's In For Britain and the Lib Dems' (remember them?) #INtogether.
Want to know why you and your family are better off in Europe? Here are the key facts in just 30 seconds. pic.twitter.com/aQBOFADvVX

— Stronger In (@StrongerIn) February 25, 2016
Who are the main campaign protagonists?
Stronger In's spearhead is not just any business personality; he's former Marks & Spencer chief executive Sir Stuart Rose (pictured opposite), who was unveiled at the campaign's October launch. Also on the board of the group are businesswoman and Lord Sugar sidekick Baroness (Karren) Brady, Lord Mandelson, broadcaster and equality champion Trevor Phillips and Innocent Drinks founder Richard Reed.
However, the main man has undoubtedly been a certain David William Donald Cameron – the PR man-turned-PM's alignment with the 'remain' campaign has been seen as a major boost.
With 100 days to go, I'm in Felixstowe explaining why Britain is stronger and safer if we vote to "Remain" in the EU pic.twitter.com/2PL1BpX0pC

— David Cameron (@David_Cameron) March 15, 2016
Behind the scenes, Will Straw is leading the campaign as its executive director, and will be hoping to do his father Jack, a former cabinet minister under Tony Blair, proud by being the Straw that breaks the Brexit campaign's back.
Who is leading the PR charge?
Lucy Thomas leads various functions including PR and press for Stronger In, with former Centrica corporate affairs director Gabe Winn one of her reports as director of stakeholder relations. The former BBC producer had held a variety of campaign and media roles with BNE since joining the body in 2012. At BNE, she worked for chair Roland Rudd of Finsbury, who now sits on the Stronger In board, as does Halpern founder Jenny Halpern Prince. Former London 2012 marketing chief Greg Nugent has also been involved in Stronger In, and the group's advertising is being handled by adam&EveDDB – they of John Lewis fame – although rumours that their Man on the Moon character will make a surprise appearance by entering Schengen are sadly yet to come true.
Are there any celebs in the race?
"We need an A-lister!" "How's about June Sarpong?" "Ace!" is surely how the conversation in the Stronger In camp went. Virgin's Sir Richard Branson is a name with a little more oomph, while the actress Emma Thompson has also trodden the pro-European boards, albeit in slightly bizarre fashion. Promoting a film in Berlin in February, she said it would be a "crazy idea" for Britain to leave, also calling the UK a "cake-filled, misery laden, grey old island". Ryanair boss and renowned shrinking violet Michael O'Leary has promised to "bore everybody to death" by repeating pro-EU messages and his planes will carry 'remain' slogans. And they'll probably find a way of charging us extra for that.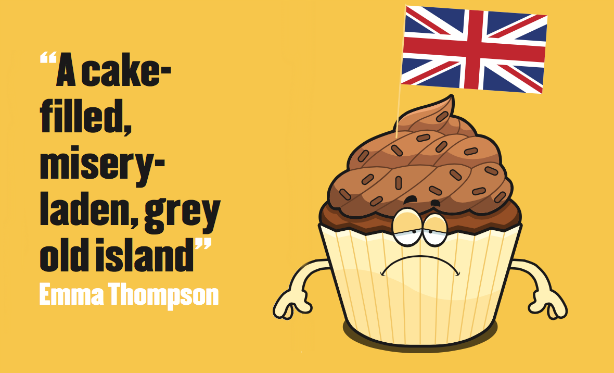 What are the main triumphs and cock-ups?
Sir Stuart Rose by any other name may smell as sweet, but it's probably best he keeps a piece of paper with the name of his campaign written on it to hand in future, having struggled to remember it in a Sky interview in January. That quote in all its glory: "I'm chairman of Stay in Britain… Better in Britain campaign... right start again. I'm Stuart Rose and I'm the chairman of the Better in Britain campaign… the Better Stay in Britain campaign."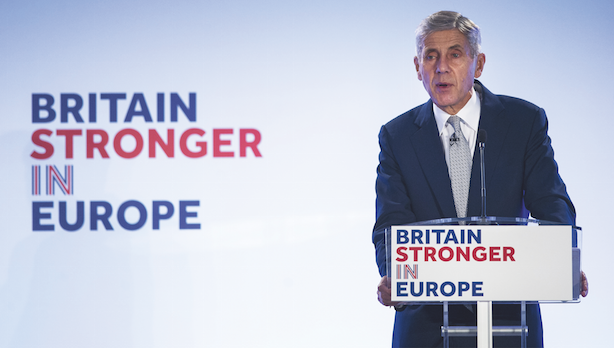 That aside, the main cock-up of the campaign has arguably been its lack of passion, although that was always likely given that it is the status quo lining up against a romantic, daring option. It has also been accused of being 'Project Fear' by Brexit voices. Major triumphs? Staying united is a good start. The media disbelief of Iain Duncan Smith's line that his resignation was over welfare not Europe would also indicate some intelligent briefing of media.
What is the effect of the campaigns on political parties?
The rise of UKIP over the past few years has stood as evidence of how toxic the issue of Europe has been for the Tories. Senior Conservatives have been gradually splitting into pro- and anti-European factions, with Duncan Smith's high-profile resignation and Boris Johnson's umm-ing and ah-ing running the risk of elevating personal politics over policy.
The Labour Party started this year in a place where it scarcely could have been less united, so the fact that nobody more interesting than Kate Hoey has broken its pro-EU ranks will count as a bonus. However, many have tutted at Labour leader Jeremy Corbyn's refusal to publicly support the same side as the Prime Minister, despite declaring himself a supporter of the EU last year. While the Scottish National Party has been united in saying it wants Scotland to remain in the EU, the contradiction that a vote for Brexit could trigger another Scottish independence referendum has left it appearing slightly tainted.
Who else wants to remain?
A trio of environmental charities – Friends of the Earth, Greenpeace and the Wildlife Trust – have all argued in favour of Britain remaining in the EU on the grounds it would ensure stronger environmental regulation. This kicked off a ding-dong between them, The Daily Telegraph and the Charity Commission in March over the regulator's guidance on charity campaigning. This was relaxed shortly after.
Who are the main media supporters?
The Guardian has all but come out in favour of 'remain' and is likely to make a stronger statement shortly. The businessperson's favourite, the Financial Times, seems the most pro-EU of the major newspapers.
Followers on social media
| Campaign | Facebook like | Twitter followers |
| --- | --- | --- |
| Stronger In | 322,000 | 20,800 |
Who should you put your money on?
The general election results last May rather put the damper on the science of political polling, being as they were spectacularly wrong. Yes, of course polls and pollsters still have their place but the smart punter always follows the money and for that look no further than the odds supplied to PRWeek by Paddy Power.
On 2 February, the bookie was offering odds of 2/1 on a Brexit (e.g. £2 won for every £1 bet) but this had shortened a little to 15/8 (£1.88 for every £1 staked) by 24 March - maximum winnings off a £1 bet have been as high as £2.60, and as low as £1.75.