J
une 23, 2016 – when the British public finally votes on whether to leave the EU – could go down as one of the most significant dates in UK history. But what would 'Brexit' mean for the country's PR industry?
To find out what the sector's most influential people think, PRWeek surveyed members of our UK Power Book during the first half of March. Around 100 responses were given, roughly two-thirds of which were from PR agency professionals – primarily CEOs and MDs – and the rest from senior in-house comms chiefs. In order to encourage candid replies, entrants could respond anonymously, although only about one third did.
This is what they told us.
Stay or go?
Most strikingly, the vast majority of respondents want Britain to stay in the EU.
Asked if they were personally in favour of withdrawal, 79 per cent said they were not, while 13 per cent supported Brexit. Eight per cent were undecided.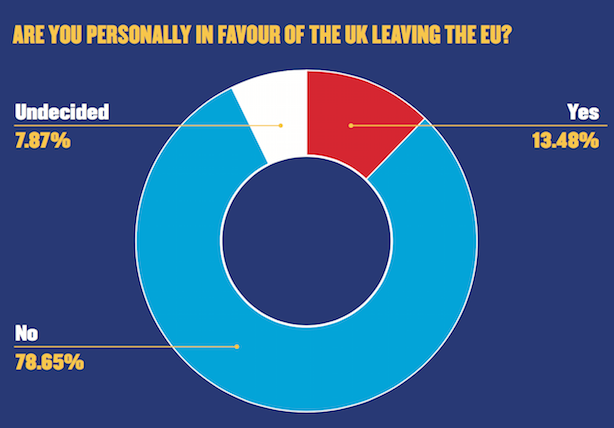 Gavin Devine, outgoing CEO of MHP Communications, says: "I believe strongly the EU has delivered significant economic, social and cultural benefits to the UK that are widely underestimated (and often simply disregarded) by politicians and the media. Leaving the EU will mean we will no longer benefit from those advantages and will not have the opportunity to shape and gain from further deepening of the Union, including the completion of the single market."
But he adds: "A positive manifesto to develop the EU in the UK's interests is essential."
Others highlight emotive as well as economic arguments. Peter Gilheany, director at Forster Communications, says: "I'm the son of two immigrants and simply don't have the same sense of attachment to the nation state that so many seem to have."
And Golin international president Matt Neale says: "After the last century of conflict surely we want to stay united in Europe, rather than become more nationalist and inward-looking."
But Shine Communications CEO Rachel Bell comes to a different conclusion: "It feels inherently right for the UK to remain a part of Europe and I've historically been pro-Europe, yet I find myself compelled to support a decision to leave. The level of financial mismanagement and the lack of financial due diligence for joining nations undermines all belief that the EU is sustainable in its current guise."
For Pagefield founder Mark Gallagher, the UK's membership of the EU has been a "disaster". "As an institution, the EU lacks transparency, accountability and has a democratic deficit that we will never fix. Our membership hampers us as a country. And we need to regain our confidence as a nation state, controlling our own money, economy and borders... time to leave."
The impact on PR
Asked what impact Brexit would have on the UK PR industry, the consensus was less overwhelming. While 53 per cent believed a UK withdrawal from the EU would have a negative impact on the industry, a large minority – 37 per cent – thought the effect would be broadly neutral.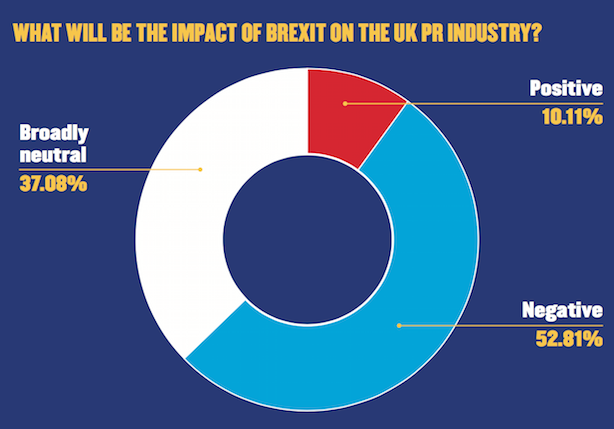 Molly Aldridge, CEO of London-headquartered M&C Saatchi PR, which has five of its 10 global offices in EU countries, echoes the concerns of many agency respondents: "Our clients increasingly want a single global focus from their PR agency, and leaving the EU would see us siloed and unable to operate with as much fluidity in Europe."
Mat Sears, director of PR, corporate and financial comms at EE, predicts a broadly neutral outcome, saying the impact is "very hard tell". But he foresees challenges if Brexit does occur. "European PR from UK-based companies may struggle, and what would happen to all those EMEA roles?" Sears asks.
Another telecoms PR chief, Vodafone corporate affairs director Matt Peacock, believes more firmly that the impact will be minor. "There will always be a need for organisations to explain themselves to multiple audiences. Brexit or no Brexit, that will not change," he says.
Meanwhile, Charles Lewington, MD of Hanover and one-time press secretary to former Conservative prime minister John Major, wants the UK to stay in the EU, but sees an upside if the referendum goes the other way – it will "produce a mountain of additional work".
Which campaign is best?
What of the campaigns themselves? A clear majority of our Power Book respondents believe the anti-Brexit faction are fighting a better fight so far; 64 per cent said the campaign to stay in the EU has been the stronger of the two. (Admittedly, some gave their views before the more recent campaigning in the past couple of weeks.)
"Stronger In is currently on top because it is more united than the 'leave' side, which has a range of different campaigns and appears divided," says Andy Sawford, MD of Connect and former Labour MP. "Stronger In benefits from having the PM as its de facto chief spokesman."
But he adds: "Both campaigns have scope to really sharpen up their comms."
Others agree with this second point. Chris McLaughlin, senior vice-president, global external affairs and marketing, at satellite giant Inmarsat, says bluntly: "Both [campaigns] are rubbish."
James Gordon-MacIntosh, co-founder and managing partner at Hope&Glory, opposes Brexit but thinks its supporters have a stronger campaign so far. "Playing on fear is a straightforward thing to achieve – particularly at a time of heightened tension around the refugee crisis. The 'leave' campaign has done a pretty good job of doing just that," he says. "The 'stay' campaign, meanwhile, has yet to come out of the blocks following the setbacks of personal wrangles played out on a public stage."
Devine issues a warning to the anti-Brexit camp: "At the moment the 'leave' campaign is doing a better job – mainly because it has an easier, black-and-white, case to make. The 'remain' campaign needs to do better in two areas: in painting a positive picture about the EU and the benefits it has brought and will bring in future; and in stopping being so patronising, talking down to the electorate."
Going public
One pertinent question is whether companies should take a public position on Brexit. There are clear risks either way, depending on the outcome of the referendum and the opinions of customers, clients, and the politicians they hope to influence.
So it is not surprising that many organisations do not want to raise their heads above the parapet. Just 20 per cent of respondents said their company had taken a public position on Brexit, and none of those said the stance was in favour of withdrawing from the EU.
One anonymous agency respondent points out: "Our job is to advise clients on the issues, not tell them what we think personally."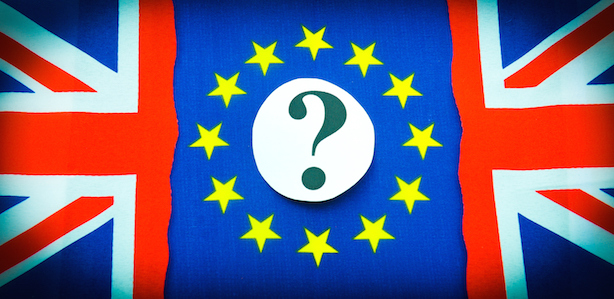 Others oppose, in principle, having a single corporate stance on a political issue. Gallagher says: "Here at Pagefield we encourage the many flowers in the meadow to bloom. So everyone here is encouraged to take part in the referendum campaign – on either side."
However, writing for PRWeek in February, Citigate Dewe Rogerson MD Patrick Donovan indicated that 'Brexit neutrality' was not an option for corporations: "Is it credible for companies such as Tesco to say they remain 'neutral' out of respect for the diverse views of its stakeholders? I don't think so. Shareholders and other interested groups are surely entitled to far more transparency."
Meanwhile, some in-house comms chiefs at firms reliant on close relations with EU countries are enthusiastically promoting the 'remain' campaign.
Airbus is one such firm. Jeremy Greaves, VP, comms and PR at Airbus UK, says: "Here we have a company that makes world-beating products with a predominantly European workforce (and a UK workforce of 15,000) and a business model that is based on European integration and co-operation. We are proud to be the company that flies the flag for Europe."
Preparation, preparation, preparation
Agency respondents were asked what they were doing to help clients prepare for the referendum and a potential EU exit. Several said they would do nothing because client dem-and was not there, but others had plans in place.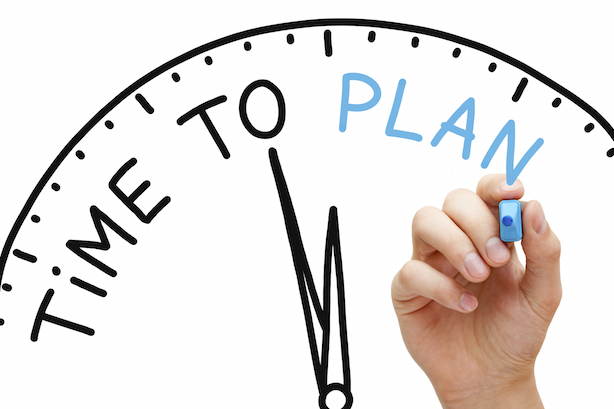 APCO MD James Acheson-Gray says his agency has developed a '#EUREF Response Plan' to help businesses prepare for the various possible outcomes, while Cicero executive chairman Iain Anderson says a client offer called 'Referendum Ready?' has been compiled in conjunction with market research firm Britain Thinks.
And Lewington says: "We are doing a lot of detailed work on the policy implications of a Brexit for our key sectors – financial services, energy, pharma etc. We are also advising on the most appropriate way for large corporations to contribute to the debate."
PRWeek also asked in-house comms chiefs if their organisation had a strategy for communicating the referendum and its outcome to both employees and the public. The majority who answered said they did not, preferring to "steer clear" of such an approach.
But Ryanair is one company that will not be holding back as it campaigns against Brexit. Head of PR Robin Kiely says: "Ryanair, our people and I hope the vast majority of our customers will all work together over the coming months to help deliver a resounding Yes vote [to staying in the EU] on 23 June."
The same is true for the TUC, whose head of campaigns and comms Antonia Bance says: "The TUC will be campaigning to put protection at work and jobs at the heart of the campaign."
What will voters decide?
Finally, we asked PR chiefs to predict the outcome of the referendum. The result was overwhelming. Eighty-nine per cent believed the public would vote for Britain to remain in the EU, although 80 per cent predicted it would be by a small majority. Just 11 per cent thought the referendum would produce a pro-Brexit outcome by a small majority – and nobody expected a large majority would vote to leave.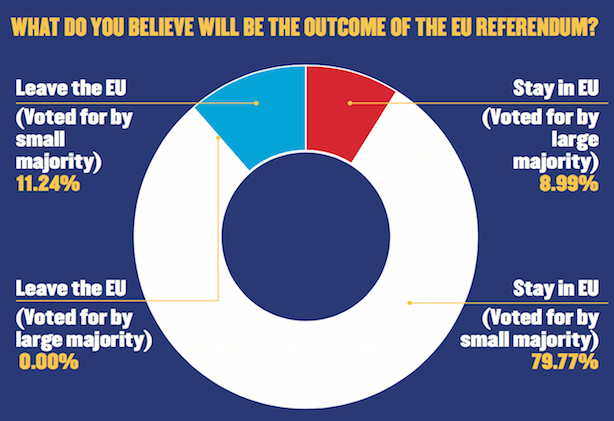 One anonymous respondent believes the result will mirror the Scottish independence referendum, when the Scottish public voted to remain in the UK by 55 per cent. It suggests a tight race is likely – with all to play for ahead of 23 June.
Mark Houlding, chief executive of Rostrum, sums up the views of many: "We'll moan to anyone who'll listen but Brits are a cautious lot. We'll stay in. Just."