"I always said I was unemployable, and I still think I probably am, but I've now got an employment contract."
This is typical Angie Moxham. Once described by PRWeek as the nearest we have to a new Lynne Franks – the inspiration behind the stars of Absolutely Fabulous – the sometimes self-effacing, always engaging Moxham has admitted to being "crap" with figures, despite founding and growing London-based 3 Monkeys Communications to a £6m+ fee income PR agency.
So it is with characteristic humour that she reflects on life since her "baby" – now a teenager, in fact; born in 2003 – was acquired by Edelman sister firm Zeno for a reported £15m ($21.5m), creating 3 Monkeys Zeno (3MZ) earlier this year.
Of all the recent M&A activity in the agency world, few saw this coming. An arm of the world's biggest PR consultancy and an agency moulded in the personality of the undoubtedly talented and accomplished but uniquely eccentric Moxham are not, on the face of it, obvious bedfellows.
Ironically, 3 Monkeys had been looking at acquisitions itself before Zeno's approach, with global expansion among the possibilities; the firm held aborted talks with an agency in Singapore before Zeno came calling last February.
Moxham, the former Superdrug head of comms who co-founded PR shop Le Fevre before 3 Monkeys, says her agency could have continued to grow organically. (She makes a point of crediting MD Christine Jewell as a major factor behind the growth, incidentally.) However, a more difficult task was to beef up its practice areas. 3 Monkeys had "really good" consumer and tech practices already, working with United Biscuits and TGI Friday for the former practice, and Microsoft for the latter discipline. But she says health PR was a "real gap". Meanwhile, Zeno had a significant healthcare business but lacked 3 Monkeys' consumer expertise.
Emotional bond
It was a natural match, although this was not necessarily evident at the time. "I was absolutely not for sale," Moxham insists. Nevertheless, she agreed to meet Zeno's global CEO Barby Siegel in London. There was an immediate, and emotional, bond.
"It was like falling in love, like a little crush, because we're very similar – despite the fact she's from Brooklyn and I'm from Middlesbrough."
Superficial cultural differences aside, Moxham and Steve Earl, MD Europe at Zeno, stress that 3 Monkeys and Zeno are really cut from the same philosophical cloth. Moxham claims her agency was the first to work around the idea of 'EQ versus IQ'; that emotional connection is as or more important than logic and reason for encouraging people to believe in a brand. This is where the (now clichéd) concept of 'storytelling' at the heart of PR has come to the fore.
Moxham sees echoes of this in Zeno Group's Human Project, an initiative started about 18 months ago to understand how people form emotional connections with brands: "We still don't really understand the brain properly do we? The future will be about brands understanding how to communicate effectively, authentically, with different target audiences."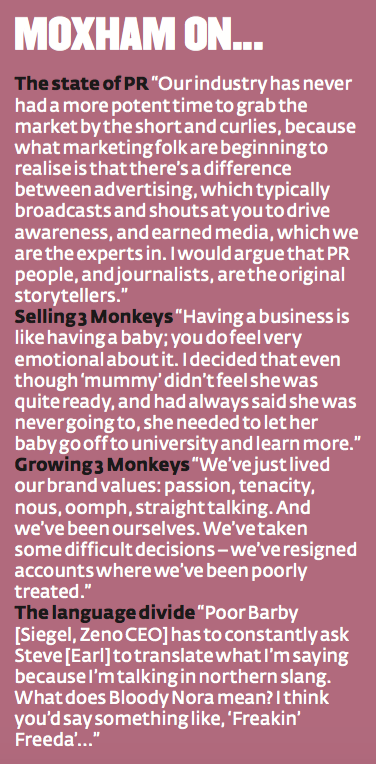 This might seem like intangible, lofty thinking, but Moxham gives a real-world example. 3 Monkeys was given a brief by pension provider Standard Life to get people talking about pensions in the pub. Two stars of reality TV show Goggle Box were brought in to do just that, and, backed by a social media campaign and media relations support, the campaign later extended to a tour of pubs, with participating boozers rebranded as the Prosperity Inn. It is another cliché, but the campaign worked because the protagonists had the authentic touch that made them believable.
Widened capabilities
Back to the integration, and Moxham says the addition of Zeno has helped increase capabilities in specific practice areas, such as healthcare, while Zeno's input "supercharges" the social and digital practice.
"We've got a real blended team now," she says. "We've got sector specialisms that are very deep and wide, health and tech being two. But if you look across our portfolio there's virtually no sector [in which] we don't have real specialism. Yes, health and tech have been beefed up but frankly everything has been beefed up in this marriage."
According to Moxham, the two parties were "flirting" for 11 months or so before the deal was signed on 25 January. The interval offered a chance for both sides to test the waters, and there was even some joint pitching. Moxham explains: "There's no way we were going to be moving in together after a one-night stand; it had to be proper courtship, to protect everybody."
The physical integration was swift. With the deal concluded on the Monday, employees were told the following day and Zeno's 15-strong London-based workforce moved into 3 Monkeys' Soho office during the rest of the week. The deal was announced publicly on the Friday.
No redundancies were made, with employees of both agencies given roles in the new entity. For example, Hannah Williams, who headed Zeno's tech practice, heads the enlarged tech segment at 3MZ. Meanwhile, in March 3 Monkeys alumni Tristan Pineiro returned to co-head 3MZ's consumer and brand practice alongside Anna Speight.
Earl says it is "business as usual": "We haven't shaken things up for the sake of it, but we've got some cases where we said, 'that person would be perfect for that client'. We've also done pitching work to people from both teams. But we've not rushed at it because frankly that tends to be the wrong thing to do. You need to get to know each other and understand each other's strengths first of all before you charge into that stuff. And equally for clients the message is nothing changes – and it doesn't unless it's something for the better."
Global opportunities
The merger offers a global reach for 3 Monkeys' existing clients; as things stand, the 3MZ brand, now employing around 80 people, will only exist in the UK, while Zeno has offices in 21 other locations globally; Zeno makes global revenues of $48m (£33.4m) annually, and is targeting global revenue of $100m.
Could we begin to see 3MZ offices open overseas as part of the expansion? "We haven't really got that far in our thinking," says Moxham. "What we know is, the brand equity in 3 Monkeys is pretty hot. It's a brand that has travelled. We're known in Seattle because of our work with Microsoft and Starbucks, for example. The plan at the moment is to keep it in the UK but it's about doing what's right for the market."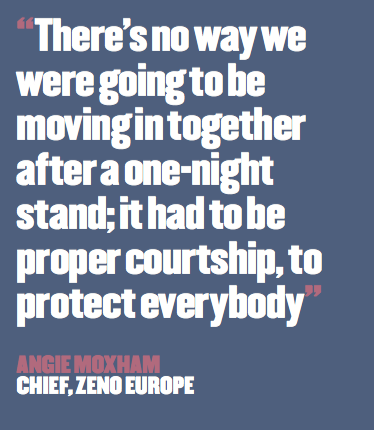 More fundamentally, is she worried being part of a global behemoth could stifle her and 3 Monkeys' creativity? She admits this was a concern. Under the new ownership, Moxham, now chief of Zeno Europe, reports to Siegel, who in turn reports to Richard Edelman, chairman of Zeno parent firm DJE Holdings.
"I've been very direct and transparent in my conversations with Zeno and Richard Edelman from day dot, be really clear. I can't change. People don't change and you certainly don't when you hit 50, it's too late for that.
"They're saying, why would we want you to change because you've got a winning formula? It's in nobody's interest to make any changes other than bringing the full global force of Zeno to the betterment of our clients and teams."
Despite being part of the wider group that includes Edelman, Moxham sees the parent company as very much an independent owner. "The only company I was ever going to sell to was an independent," she states. "We don't have the same constraints that those non-independent companies have." She has also retained a 10 per cent stake in the combined 3MZ.
What of Moxham herself? Despite being on an earn-out agreement after the acquisition, do not expect the self-confessed "unemployable" PR veteran to disappear any time soon.
"I'm not the retiring type, as anyone who knows me knows. I'm not going to drop dead on a golf course; I'll drop dead at my laptop or on my phone more likely. This is the beginning of an exciting new chapter."