On Sunday, her mother, Chantal Beaufays, confirmed her daughter's death on Facebook. She wrote: "Even if we'd been expecting it, this morning we were informed of Aline's death."
According to her LinkedIn profile, 29-year-old Aline (pictured) had worked for the Community of European Railway and Infrastructure Companies (CER) since September 2012 as a press and comms manager.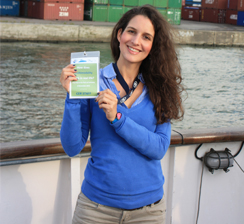 CER executive director Libor Lochman paid tribute to her in a message published on the organisation's website.
The message reads: "Aline left for a long one-way journey...
"Our colleague, Aline Bastin, was in the Brussels metro on her way to the office on Tuesday at 9.11 when the terrorists attacked.
"The CER team is deeply sad and would like to express their support to her family."
She had earlier been reported missing following the explosions in the metro and Zaventem Airport. To date 35 people have been confirmed dead after the attacks, with more than 300 injured. Islamic State has claimed responsibility.