To reflect its rapidly expanding business and the changing technology landscape, Expedia has recently started to globalize its communications function, placing Sarah Gavin in the cockpit.
Gavin, who has been with the company since 2011, was promoted from head of communications to the newly created role of VP of global comms at Expedia just last month. She now oversees all PR practices in the 70-plus countries where Expedia operates and, by June, about 20 people will report directly or have a dotted line to her.
The timing of the restructure is fitting, as Expedia approaches its 20th anniversary in May. As part of the milestone celebration, the company will communicate about the different ways travel has changed and the role Expedia has played since the birth of travel websites in 1996.
Expedia has seen its own major changes in the last two decades. In the past 12 months alone, it acquired a number of longtime rivals including Travelocity, Orbitz, and HomeAway. The company also owns Hotwire, Hotels.com, booking site Trivago.com, Egencia, and Expedia.com, as well as 115,000 vacation rental listings.
The drive for geographic diversity and the strength of the worldwide technology practice has served as the impetus to globalize Expedia's PR function.
"It used to be that Expedia's businesses [in different countries] were run separately," says Gavin. "Today, from a technology and business standpoint, what happens in the U.S. is much more closely tied to what happens in Asia, Europe, or Latin America than it was even two years ago."
Global opportunities
Another reason for consolidating global PR is down to the comms success Expedia has had in the U.S. Gavin's focus in the next year is bringing the organization's regional comms teams up to the same standard.
"We run the U.S. PR team like a business and we want to apply that to the global PR universe here," she says. "Making sure we have a one-team mentality from the beginning will be very important."
Traditionally, Expedia's PR campaigns have been built in the U.S. and, even if rolled out globally, led in the U.S. Under the new setup, its global PR teams will have more opportunities to participate in regional campaigns by owning responsibility for what happens in their respective countries. However, teams will also be accountable to each other by owning major global campaigns.
"It's great from a talent retention and engagement standpoint," she adds. "The big shiny objects shouldn't just sit in the U.S. — they should be shared globally."
Keeping the comms teams connected in different countries is a key focus for Expedia as it continues to grow its footprint worldwide. In November, Expedia launched a China-specific website and the company has its sights set on expanding operations further into China and Southeast Asia. Cuba is another area of interest, once bans are lifted.
Monthly meetings are held to keep on top of what everyone is up to who touches communications in any of the businesses owned by Expedia.
"We all get together remotely for a strategic discussion, as well as tactical calendaring," explains Gavin. "We make sure Egencia and Hotels.com aren't having the same conversations about their two biggest initiatives in the same time frame. And we discuss big issues coming up, what is on the mind of leadership, and stories we want to tell globally."
Expedia puts a premium on getting its employees together in person, whether it is a meeting at the same office or off-site. Gavin says this can help bridge the gap between issues such as a joke or cultural reference the company's U.K. team might make and how a staffer in Singapore, for example, might feel about it.
"Actual face time — not the phone app, but in real life — builds relationships and trust," says Gavin. "As we get people together more often, the less we have those cultural issues, because everybody gives each other a little more grace."
Internal restructuring
Gavin has also been helping the company as a whole with integration following myriad acquisitions. As part of this, last year Expedia formed a practice completely dedicated to internal and external comms surrounding acquisitions and integration. During an acquisition, Gavin says employees experience emotions akin to going through a death — denial, anger, and eventual acceptance. Leaders, too, need communications advice ahead of the change-management cycle.
"Our comms approach [during an acquisition] is to show up on day one and have an open, transparent conversation with employees and tell them the answers to everything we know, the questions we do not know the answers to, the process for how we are going to answer those questions, and the role they all are going to play in helping to get those questions answered so we can make decisions," she says. "That helps people feel empowered."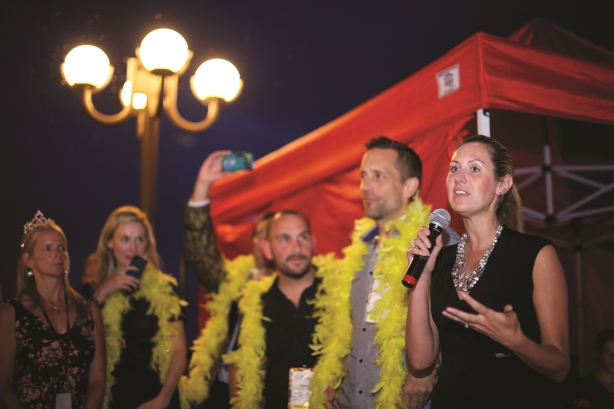 Gavin has increased efforts to integrate the global Expedia comms unit with team events
Humanity is a key element to comms during an acquisition, Gavin notes. Expedia calls upon staffers who have already been through acquisitions at other companies to stand in front of a room of newly acquired staffers and tell them about their experiences — good and bad. It's a move aimed at boosting morale — something she has been focused on since last year.
As part of her remit, Gavin runs internal and corporate comms for Expedia globally. She took on internal responsibilities in mid-2015 — previously that department reported into HR — and has since been looking at ways to introduce a "business mentality" with a bigger focus on measuring results.
Gavin has tried to engage employees more in Expedia's quarterly town hall meetings, which tend to follow earnings announcements and take place at its HQ in Bellevue, Washington. Remote staffers can watch a live stream. The announcements are also recorded.
"We noticed most people didn't watch the live stream or the videos," she explains. "And even if they did watch, it was on in the background and they weren't really engaging with the content."
To improve global engagement, Gavin's team initiated town hall viewing parties last summer, consisting of local leaders hosting a happy hour, discussing team performance, and entire offices watching the town hall live or taped. If a staffer cannot commit to watching the entire town hall, a three-minute CFO overview of company performance is available.
The parties have resulted in town hall online participation nearly doubling within the last year. And Expedia has seen consistently high levels of engagement, with over 70% of staff saying town halls help them understand the brand's strategic priorities, she adds.
Yet, even with the added pressure, Gavin keeps a cool head and her leadership is praised by coworkers.
"[Gavin] has a deep understanding of Expedia and the travel industry," says Greg Schulze, SVP of global tour and transport for Expedia. "She is a great leader of people — of her team and all of us at Expedia."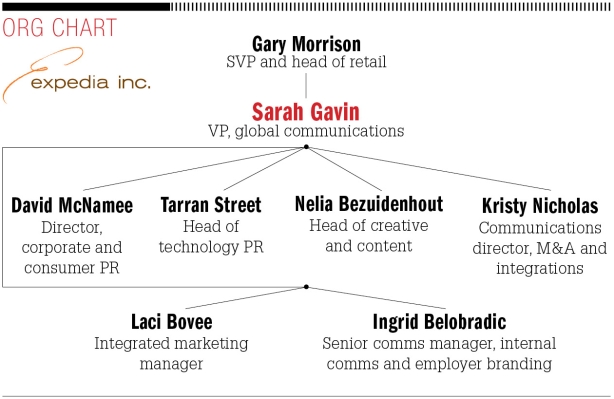 Another coworker, Expedia's head of technology PR, Tarran Street, notes that Gavin has the ability to get the PR team to buy in to a concept from the beginning and then give them the autonomy to see it through.
"It's the trust Sarah has in her team, and the trust she receives in return, that makes the projects she works on so successful," Street says.
While all of that is going on behind the scenes, externally Gavin has implemented an always-on PR strategy for Expedia. HL Group is Expedia's PR AOR in the U.S., and the MDC-owned firm also helps the company manage all of its global agencies.
"Everyone talks about travel all the time, so there is always a story to be told," she explains.
Gavin prefers to take a test and learn approach to external comms — a tactic she likens to firing 100 bullets before launching a cannonball.
"We are not about having one or two big campaigns a year; we would rather have a 1,000 smaller ones that move the needle every time," she says. "I'd rather my team test 10 different announcements per month and have five do well and five fail, than have us spend six months planning a major campaign to see it fail."
Expedia bases many of its efforts on data it derives from the 7.5 billion flight searches on its sites each year.
"We can quickly understand what's hot in travel at any given time and post something about a destination that is doing well in real time," says Gavin.
Handling crises that shake the industry
After more than 120 people were killed in three separate gun attacks in Paris last November, Expedia's stock fell 2.6% to $122.01, on top of an earlier decline of 3.6%, amid concerns the tragedy could harm European tourism. Paris bookings in particular declined almost 45% after the attacks. In crises such as this, Gavin says it is her team's job to help consumers and employees understand what is going on. Expedia communicated externally via a blog post and press interviews. In an interview with The Wall Street Journal, Expedia CEO Dara Khosrowshahi gave tips on how the tourism industry can keep people traveling after a terrorist attack.
"The Paris attacks shook the company in a big way in terms of the emotions of employees," Gavin says. "Our CEO sent an internal email about what we knew about our staff who were impacted and about the role we play as a travel company in making the world a better, safer place — it was really powerful."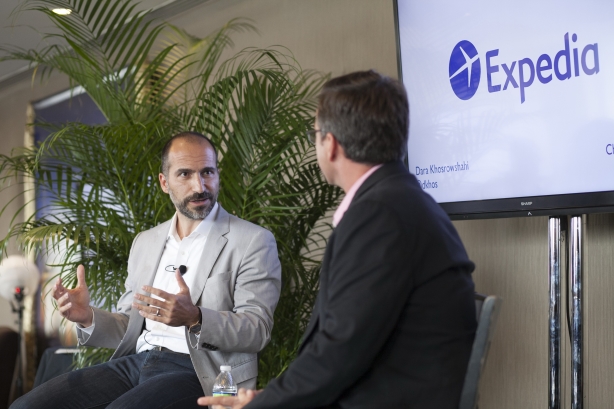 Following terrorist attacks in Paris, Expedia's CEO Dara Khosrowshahi gave tips on how the industry can keep people travelings
At an Expedia partner conference in December, execs discussed the business impact of the attacks and the role travel plays in preventing such tragedies.
"Travel makes a difference in terms of people's happiness, health, and the global economy," she adds.
Another issue Expedia had to deal with was helping quell consumer fears about traveling amid the spread of the Zika virus, after the World Health Organization declared it an international public health emergency earlier this year. Expedia worked with the press on where consumers could go for safety advice, as well as information on travel refunds.
In terms of future challenges, Gavin notes that it all comes down to global economic conditions.
"Travel is the canary in the coalmine for the global economic outlook," she says. "With issues such as the Paris attacks, understanding the global response from a travel and overall economic standpoint will be important for us."
Always aim for the Louvre
A big plaque in Sarah Gavin's office is adorned with the statement "Always aim for the Louvre" — a personal motto she took on when aiding the launch of Internet Explorer 9 during her time as a Waggener Edstrom VP in 2011.
"Everyone hated Internet Explorer and this was the first good browser they had launched in a long time," she said. "The business problem Internet Explorer had was it did well in the U.S., but Europeans hated it."
To get around this, Gavin and her team decided to hold the product launch at the "heart of the enemy" — in Paris at the Louvre. Everything was planned and ready to go, complete with a massive press event. However, due to a last minute construction project at the museum, the venue was switched to the San Francisco Design Center.
"I still tell my team, 'always aim for the Louvre' – for that thing that is impossible to do," said Gavin. "Even if you only achieve 90% of your goal, because you aimed so high you will achieve something amazing."
Résumé
2016-present
Expedia, VP of global communications
2011-2016
Expedia, head of communications
2006-2011
Waggener Edstrom, VP (handling Microsoft Windows)
2000-2005
EnGenius Technologies, director