SEATTLE: Starbucks took out two full-page newspaper ads on Thursday, but not to promote its coffee. Instead, the spots shared an uplifting message to readers.
The ads ran in The New York Times and The Wall Street Journal the day after the company's annual shareholder meeting. Both the advertisements and CEO Howard Schultz's speech at the meeting reflected on the state of the U.S. and the American dream and shared an optimistic message.
"The ads are intended to amplify this message of unity and opportunity and reinforce the core themes of [Schultz's] speech at [Wednesday's] meeting," said Corey duBrowa, SVP of global communications at Starbucks.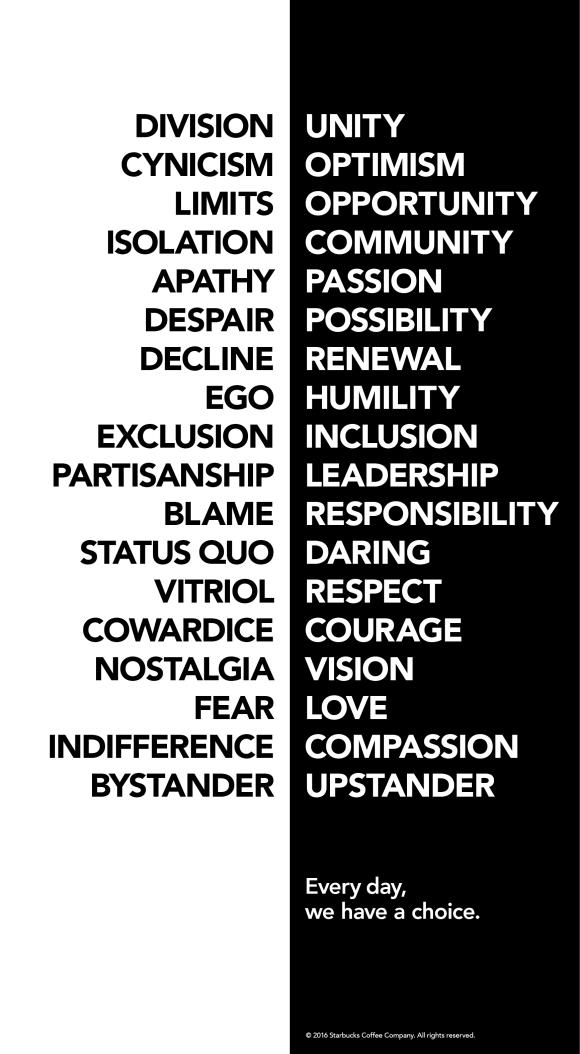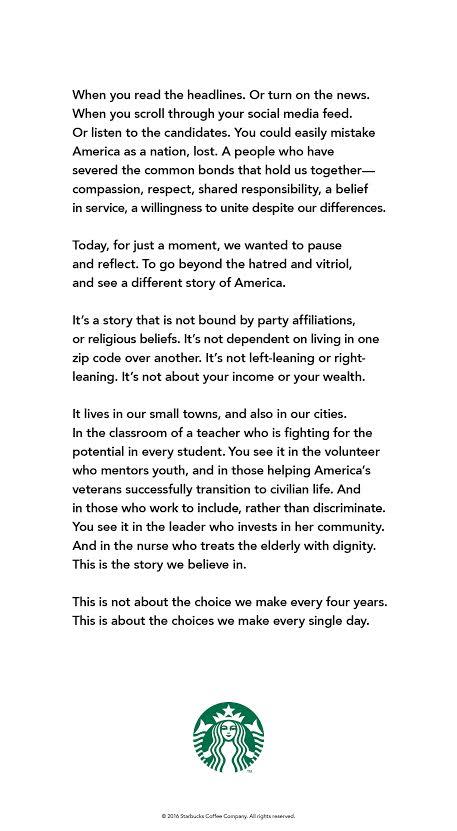 Schultz, in his speech, said the reservoir of the American dream is "running dry, depleted by cynicism, despair, division, exclusion, fear, and indifference," using the same list of words that appear in the ads. Both he and the promotions alluded to the presidential race, saying, "It's not about the choice we make every four years. This is about the choices we make every day."
"This is not about pushing a particular political agenda or candidate. And it is about far more than just the 2016 election," duBrowa said. "This is about elevating citizenship above partisanship and emphasizing the role and responsibility that each of us has in strengthening our democracy."
The ads are the latest in Starbucks' strategy of weighing in on controversial issues and current events. Last year, the coffee chain encouraged employees to discuss race relations with customers, and felt some backlash from the public for doing so. It has also advocated for the LGBT community and asked customers not to bring guns into its stores.
"If you mean that we have a history of giving voice to the ideas and passion of our partners, then yes, Starbucks continues to provide that platform," said duBrowa. "And the response from our partners, and customers, has been consistently positive."