Despite a parade of headlines heralding U.S. businesses establishing a beachhead in Cuba, actual progress is moving much more slowly, leaving PR a limited role to play for the foreseeable future.
However eager they are to reach this new market of 11 million people, U.S. businesses must operate in compliance – one could say lockstep – with the Cuban government in a state-controlled economy. They face strict restrictions on how they can communicate with the public, with advertising and marketing mostly banned.
Agencies and holding companies have announced plans to launch in the country, including WPP, Russia's Rose Marketing, Spain-based Llorente & Cuenca, and Weber Shandwick, which said last week that it has received permission to pursue operations there. However, they are only providing strategic counsel to clients looking to enter the market at this point.
Last year, Burson-Marsteller assembled an offering in a similar vein, the Cuba Specialty Team, led by Latin America CEO Ramiro Prudencio, to keep its clients abreast of political and economic developments in the U.S. and Cuba.
"The U.S. is evolving faster than Cuba is," Prudencio says. "The Cuban government remains cautious as to how it will allow brands to become visible on the island."
He adds that the Cuban government is trying to accomplish two things: "They want to create a stronger economy and at the same time retain control of the economy through a communist model."
Brand presence in Cuba is "tightly controlled," Prudencio notes. Many times, an individual's contact with a brand is limited to seeing its name in the airport – a far cry from the U.S.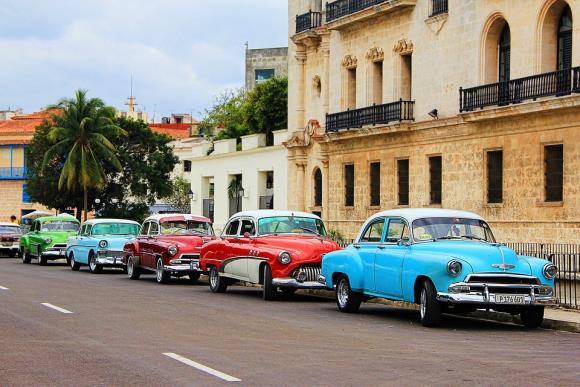 Cuban government regulations will force U.S. businesses to find creative ways to build their brands, says Kirby Jones, founder of Alamar Associates, a consultancy specializing in Cuban business and trade. He suggests they begin by sponsoring sports and cultural events.
Domestic Cuban brands advertise via El Paquete, single terabyte chips containing data material like soap operas that are sold on the black market, according to Prudencio.
"This is how [advertising] is beginning on the island," he adds. "In Cuba, you need a license from the government to do anything, and the government hasn't shut [El Paquete] down yet. But that's as much advertising as is going on."
Only small businesses engage in marketing, and even then it can be "as basic as local restaurants, known as paladares, often in someone's home, handing out flyers," Prudencio said.
However, some communications executives contend those government restrictions demonstrate why comms will be relevant in Cuba, says Micho Spring, chair of Weber Shandwick's global corporate practice, via email from the country.
"Companies entering the market will need to engage local partners and foster relationships on the local level in order to reach their key audiences, which is exactly what Weber Shandwick has done for years and what we hope to help our clients do more of when we open doors there," she says.
Spring adds that Weber hopes to be the first U.S.-based global marketing services firm with a presence in Cuba.
A business' entry into the Cuban market also largely hinges on its relationship with the government. Jones recommends they find their niche in the economy, demonstrate the value of their product or service, and show where their interests align with those of the government.
"There is an assumption among American firms that because we want to do it, they must want to do it, too," Jones says. "What [companies] have to learn is there are other people on the other side of the table, and those people across the table are smart and experienced."
Overlap between U.S. business and the Cuban government can be found in industries like agriculture, infrastructure, telecommunications, and, notably, travel and tourism, where several companies are trying to strike while the iron is hot. For example, Booking.com, a major subsidiary of The Priceline Group, will begin offering hotel rooms to U.S. travelers on Monday.
Yet communications has little to do with Booking.com's market entry. It crafted a "human story" about the brand, but mostly relied on a network of people who knew the country well and a go-between for contact between the Cuban government and hotel leaders, recalls Leslie Cafferty, VP and head of global communications at the Priceline Group.
"It required someone who understood Cuba because it's so unique," she says. "It proved immensely valuable."
Booking.com's services are tailored to U.S. travelers. And Starwood made headlines earlier this week when it signed a deal with the Cuban government, making it the first U.S.-based hotel chain to operate in the country since the Communist Revolution of 1959. Yet Jones notes the deal is for management only.
Travel and tourism are two areas ripe for investment, without much political pushback besides a few isolated voices, but companies selling consumer products will have a more difficult time findings their place in the Cuban economy, Jones says.
"It's not a priority for Cubans," he notes. "A need in the market has to develop, which it can, now that there's a growing domestic market with Cubans accumulating more spendable income."
JeffreyGroup founder and chairman Jeffrey Sharlach contends the size of the market will have the greatest effect on the PR industry in Cuba. An island country of 11 million people with an average working wage of $25 to $30 per month and little discretionary spending, Cuba offers a narrow playing field even without government regulations.
"Once people have money to spend, people will be offered opportunities to spend it," he says. "And PR and marketing will help companies to reach those consumers."
And even if the Cuban government is willing, that doesn't take into account the U.S. trade embargo on Cuba, which is still in effect.
"Over the past few days, there's been a tremendous amount of hoopla about The Rolling Stones and baseball games and the Tampa Bay Rays," Jones says. "But the thread through all of that is: the embargo still exists. It means you can't do business."
He adds that there is growing support for lifting the ban. Yet in an election year, anything is possible – and nothing is probable.
"Cuba is a mid- to long-term play," Prudencio says. "If the restrictions were gone tomorrow, it's still a limited consumer market. Our clients need to focus on realizing they will have to invest over a period of time before they see a big return."