St. Patrick's Day is the holiday of the year for Irish companies, so naturally Twitter was a pot of gold of brand wishes and promotions on Thursday.
As a drinking holiday, beer and liquor companies were in their element. Jameson Irish Whiskey offered free drinks to UK customers.
To celebrate #StPatricksDay, the drinks are on us in London and Manchester this afternoon. Bars TBC…#DrinksOnJameson pic.twitter.com/l8di7FeHQ0

— Jameson UK (@Jameson_UK) March 17, 2016
Jameson also sponsored a Snapchat filter to celebrate the day.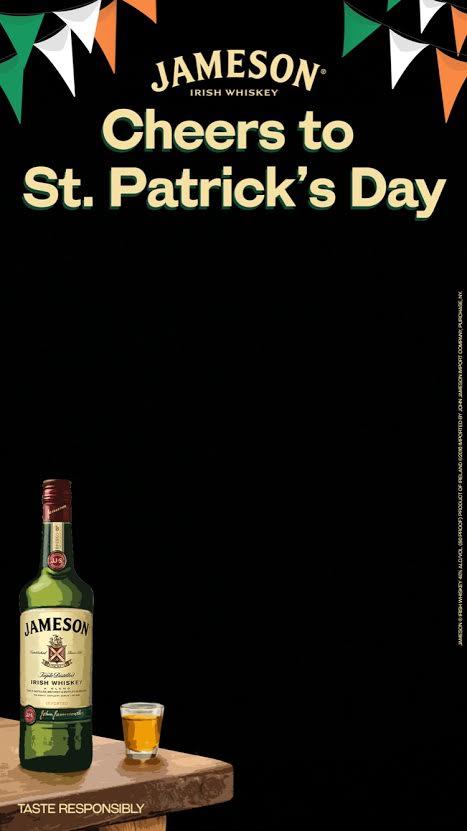 Guinness has been counting down to St. Paddy's Day all week and encouraging followers to use #GuinnessTache with photos of their foam mustaches.
That hour you lost to #DaylightSavings just brought you one hour closer to #StPatricksDay. pic.twitter.com/umeJJVkPcF

— Guinness US (@GuinnessUS) March 13, 2016
Budweiser tweeted a video to remind followers they can drink something other than Irish beers and whiskeys this March 17.
When you kick #StPaddysDay off with a round of something Irish, follow it up with something American #ThisBudsForYou pic.twitter.com/rFVO6xJHEl

— Budweiser (@Budweiser) March 15, 2016
The festivities weren't confined to the Irish or alcohol companies. Many brands jumped on the #StPatricksDay hashtag, which had more than 400,000 tweets by noon.
Some companies promoted sales or specials.
Ready to celebrate #StPatricksDay with (@Xbox Live) gold? 10 codes between now & 12p CT. 1st one in the next 5 minutes. #GSGoldGoldGold

— GameStop (@GameStop) March 17, 2016
Consider this your #StPatricksDay reminder! Don't forget to wear green tomorrow! #OOTD https://t.co/P88HLyHI8A pic.twitter.com/cgovnxw0t6

— Amazon (@amazon) March 16, 2016
Others just added a shade of green (or gold) to their usual Twitter messages.
#StPatricksDay is finally here! The leprechauns are leaping and the #LuckyCharms are magically refilling our bowls. pic.twitter.com/VKtOdKDtgJ

— Lucky Charms (@LuckyCharms) March 17, 2016
This 1971 @Buick Skylark Sport Coupe came prepared for #StPatricksDay. pic.twitter.com/Q42EUwaIZk

— General Motors (@GM) March 17, 2016
We found the pot of gold. #StPatricksDay pic.twitter.com/kOTje8Fwwz

— Red Bull (@redbull) March 17, 2016
Lucky you #stpatricksday pic.twitter.com/KT9TNq5aid

— New Balance (@newbalance) March 17, 2016