Winner
Emily Lenzner
Atlantic Media
Colleagues regard Emily Lenzner, VP of global communications for Atlantic Media, as an exceptionally smart, creative, and effective communicator, leader, and mentor.
Lenzner played a significant role in PR efforts for five American hostages held by the Islamic State in Syria — James Foley, Steven Sotloff, Peter Kassig, Kayla Mueller, and Theo Padnos.
Lenzner was part of a team formed by Atlantic Media chairman and CEO David Bradley that worked to rescue the five hostages. Bradley became involved in part because he had previously helped free Clare Gillis, a freelancer for The Atlantic's website, and two other reporters (including Foley) from the Muammar Gaddafi regime in Libya.
The story of the five hostages and the involvement of Bradley and his team is detailed in "Five Hostages," a 21,000-word story published July 6, 2015, in The New Yorker. Lenzner helped manage the story.
"Emily worked with media around the world to keep the hostages out of the headlines — when the Islamic State threatened to kill them otherwise — and she helped the families work with media when the time came to tell their stories," Bradley said in a statement. "Emily's communications role was as intense as any I've ever seen.
"The hostage families attached to Emily, and she to them, the way soldiers do in combat. She is equal parts talent and character, and exceptional at both."
Capturing all of the judges' sentiments, one lauded Lenzner as "a standout communications professional who used her position to help a global crisis. This shows
how you marshal your position into making a difference."
Outside of her role at Atlantic, Lenzner is involved with several advocacy groups, including the International Organization for Adolescents, an NGO she helped found, which is committed to the health and well-being of adolescents with a focus on stopping trafficking.
Honorable Mention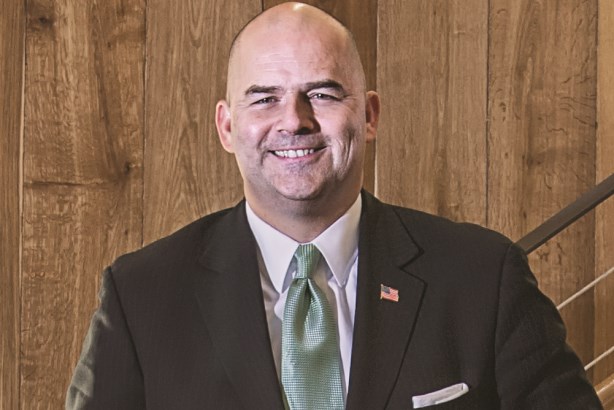 Ray Kerins
Bayer
"Ray has been a consistent leader in communications and his commitment is unparalleled," one judge said. As SVP of communications, government relations, and policy at Bayer, Kerins has helped launch and lead a number of innovative programs, initiatives, and partnerships. He also serves as chairman of Bayer's Political Action Committee and as executive sponsor for two employee groups: Bayer Resources for Armed Forces Veteran Employees and BLEND, a global resource for Bayer's lesbian, gay, bisexual, and transgender employees and supporters.