During his Budget statement, George Osborne said he would introduce a levy on sugary soft drink manufacturers in order to protect public health.
The tax will take the form of two bands - one of 5g of sugar or more per 100ml and a second of 8mg per 100ml – with pure juice and milk drinks, as well as small producers, exempt from the tax.
Osborne said soft drinks companies now had two years to reformulate their products and to place more emphasis on their no- or low-sugar brands.
Liam Keogh, founder of Palm PR, said drinks manufacturers would have to find a way to respond to the new regulatory landscape.
Keogh said the comms strategy for drinks brands would have to change to ensure brand loyalty as the price of those drinks rises.
He said: "For agencies operating in the food and drink sector, this change will present a huge number of challenges. The manufacturers of these soft drinks, and their agencies, are going to have to work harder to provide a compelling 'reason to purchase', especially if this new 'sin' tax casts a negative halo around the product."
Alicia Mellish, managing director of Stir PR, told PRWeek: "This announcement will send the biggest ripples through the food and beverage world. Due to be enforced in two years' time, I predict that we will see a raft of product innovation over the next 12 months, as brands work to retain margin under pressure from retail buyers looking to remain competitive through the price war."
Mellish questioned whether the tax hike on sugary drinks would actually deliver the health benefits sought by the Government.
She added: "For those products that don't alter their sugar content, Jamie Oliver and our calorie-counting Chancellor need to ask themselves: will an increase in the price of a can of pop prevent 70 per cent of our children becoming obese, or will consumers just take the hit?"
According to Brandwatch, there were nearly 115,000 mentions of the Budget on Twitter during Osborne's speech, with 59 per cent of them negative in sentiment, with ISAs, sugar and corporation tax among the most mentioned topics.
Sentiment towards the Chancellor's speech fell as he spoke of about the specifics of his Budget, according to Brandwatch, only to rise again when he began speaking about improved flood defences.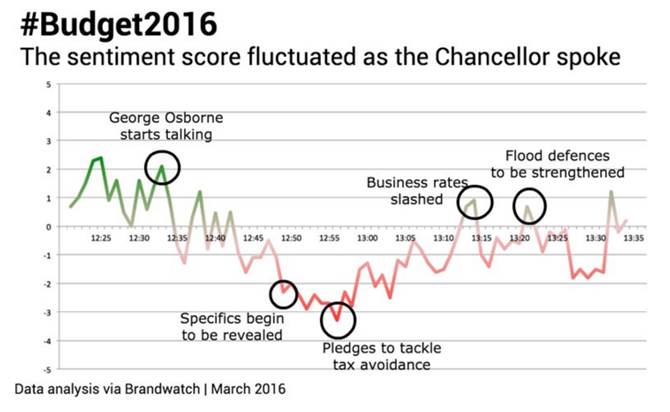 PRCA director general Francis Ingham welcomed the speech, saying it was good for owners of small and medium-sized businesses in the PR and comms world.
He said: "The private sector element of our industry comprises in the main entrepreneurs, running small companies. So a Budget that makes enterprise pay is to be welcomed. Business rates are a consistent pain for our industry, and anything that reduces their burden is welcome."