Winner
Ketchum and Truth Initiative
Left Swipe Dat
Since its 2000 launch, the Truth campaign had been very successful at decreasing the teen smoking rate — primarily through provocative ads focused on the dangers of smoking and tobacco-industry deceptions.
Ketchum launched an updated campaign at the 2015 Grammy Awards to reach a new generation.
"Today's teens have access to just about any information they want, so sharing facts is less impactful than it once was," an agency representative said. "Image is everything to this social media-obsessed, 'selfie' generation."
A study by Action on Smoking & Health revealed that smoking photos on dating apps get almost twice as many rejections, or "left swipes," as photos of nonsmokers. Thus, Left Swipe Dat delivered the message that smoking is unattractive and fatal.
A music video featuring young YouTube stars was the campaign's centerpiece. Social media amplification, national media outreach, and popular teen TV show integrations drove teens to thetruth.com. The YouTube stars, who collectively reach 26.6 million-plus social media followers, helped on all fronts: media relations, ad appearances, and social media outreach.
Social media audiences were also encouraged to create their own "Left Swipe" videos using the hashtags #leftswipedat and #PickMe for the chance to be part of a mash-up lip sync video.
"This team understood the target audience and what motivates them," said a judge.
The campaign earned nearly 2 billion media impressions from more than 75 placements in outlets such as People.com, On Air with Ryan Seacrest, CNN.com, HuffPost Teen, Access Hollywood, and Just Jared.
At submission time, the video had 39 million-plus online views. The agency reported #LeftSwipeDat reached number one worldwide trending status twice, beating out #Grammys on Grammy night.
---
Honorable Mention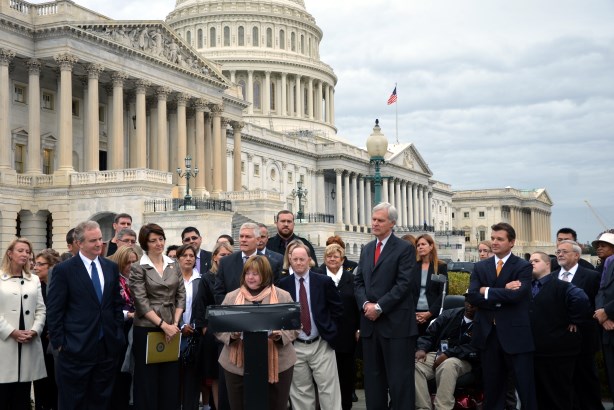 Jones PR and National Down Syndrome Society
National Down Syndrome Society ABLE Act
After spending eight years trying to get legislation passed that would help eligible families of Down Syndrome patients establish savings accounts for long-term disability costs, the National Down Syndrome Society hired Jones PR. On $40,000 in fees, a four-person public affairs team from the agency helped get the act passed in just four months. Strategy and tactics included emotionally humanizing the stories of families with Down Syndrome children by amplifying their voices in states and local congressional districts. "This showed PR's effectiveness in achieving results," said a judge.