The UK will vote on 23 June on whether or not to remain part of the EU, and the regulated campaigning period for this begins on 15 April.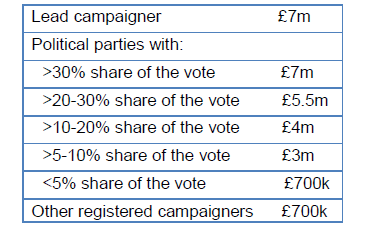 During this time, a single Electoral Commission-designated campaign group on each side may spend a maximum of £7m, while political parties' spend is allocated based upon share of the vote at last May's general election (see table, right), and other registered campaign groups may spend up to £700,000.
Other benefits of being lead campaigner include broadcasts, use of certain public rooms, a dedicated space in the Electoral Commission's official referendum leaflet and a one-off grant of up to £600,000, the commission said.
Applications to become the lead campaigner open today, and are open until 31 March.
It is seen as likely that Britain Stronger in Europe, chaired by former Marks & Spencer chair Stuart Rose, will be the only serious contender for lead campaign status on the In side.
For the Out side, there is a two-way contest for designation between Vote Leave and Grassroots Out, with the latter enjoying the support of a third campaign, Leave.EU, which has frequently criticised Vote Leave.
Vote Leave enjoys the support of MPs including UKIP's Douglas Carswell and the Conservatives' Bernard Jenkin, while Grassroots Out, although led by MPs, is marketing itself as a non-Westminster campaign.
Both camps have told PRWeek they are confident of gaining the lead campaigner designation, but a source has suggested that the designation may be a relatively moot point, with the Electoral Commission holding limited powers to punish overspend.
The Electoral Commission said today that following designation, it would publish all applications for designated lead campaigner status and the reasons for its decision.
Yesterday, Vote Leave attracted media attention for reportedly claiming to already be the designated campaign in an email sent to advertising agencies – the group is on the lookout for creative agencies having recently appointed regional PR firms. Leave.EU has written to the Electoral Commission to complain.