NEW YORK: Omnicom Group has restructured its PR firms within its DAS division, putting Porter Novelli CEO Karen van Bergen in charge of the newly created Omnicom Public Relations Group.
The unit encompasses 10 primary PR agency brands, including FleishmanHillard, Ketchum, Porter Novelli, Marina Maher Communications, Portland, Cone, and Mercury.
The chief executive of each firm, such as Ketchum's Rob Flaherty, Fleishman chief John Saunders, and new Porter Novelli CEO Brad MacAfee, is reporting to van Bergen under the new set up, which has created an organization of more than 6,000 employees. Saunders replaced Dave Senay in FleishmanHillard's top job in November.
All agencies will continue to operate as independent brands and businesses within Omnicom Public Relations Group.
Van Bergen is reporting to DAS Group of Companies chairman and CEO Dale Adams.
Omnicom developed the group to address changing client needs and the growing demand for integrated teams, global talent, and services using the latest technology. It will focus on attracting talent, creating customized teams for clients, and fostering collaboration across agencies, disciplines, and geographies. Omnicom PR Group will also focus on strategic acquisitions.
"PR as an industry is in transition and it shows with the expansion of our services that Omnicom is not going to sit around and wait for the future to arrive," said van Bergen. "We want to be part of shaping that by better answering clients needs, driving talent, collaboration, technology, and integration like never before."
She added that the reorganization will also help employees from one Omnicom agency more easily move to a position at another.
The reorganization was announced on Thursday just over two weeks after Omnicom reported disappointing revenue numbers for its PR firms for the fourth quarter and all of 2015. The holding company's PR agencies saw a 6.9% fourth-quarter 2015 drop in organic revenue, and revenues were down 1.4% for the full year, compared with the year prior.
However, van Bergen said those numbers were not the impetus behind the formation of Omnicom PR Group.
"It takes a long time to prepare for the right way forward, and I can confidently say the Omnicom Public Relations Group has been in the making for much longer than that," she said.
Van Bergen is also taking one of her top lieutenants with her to the new organization. Porter COO Joe Russo is transitioning to the same role at Omnicom PR Group. Porter has not yet named his replacement.
Van Bergen has worked at numerous Omnicom PR firms herself. She joined Porter in December 2012 from Fleishman, where she was senior partner and SVP and global lead for OneVoice, the integrated Omnicom offering servicing Royal Philips Electronics.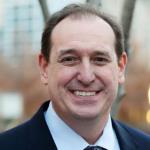 She is being replaced in the top role at Porter by longtime agency veteran Brad MacAfee, who has worked at the firm for 15 years, most recently serving as senior partner and president of the agency's North America region. His replacement in that role has not yet been named.
"All of us at Porter couldn't be happier for [van Bergen]," said MacAfee. "We are going to work tirelessly to live up to everything she has built here and we are going to build upon it."
MacAfee said his focus for Porter is "building off the success" the firm had last year. Earlier this month, van Bergen said Porter "saw year-over-year growth in both the quarter and our year-end results."
Earlier on Thursday, the company also created Omnicom Health Group to house its healthcare communication agency brands. Ed Wise, chairman and CEO of The CDM Group, is moving into the position of Omnicom Health Group CEO.