As announced by Prime Minister David Cameron on the weekend, the UK will cast its vote on the question 'Should the United Kingdom remain a member of the European Union or leave the European Union?' on 23 June.
Gill Morris, executive chair of Connect Communications, said that the 'remain' campaign would not want migration and borders to be the central focus of the debate: "They're reactive rather than proactively making the case – the 'in' campaign really has got to start calling the shots."
Morris also said that Britain leaving the EU could in turn cause the break-up of the UK, saying: "I don't think there is any room for complacency."
Alex Deane, head of public affairs UK at FTI Consulting, said that Cameron's suggestion that leaving the EU would be "a leap in the dark" was "wearing thin already".
"The #BrexitRisks satire seen widely on social media lampooning the scaremongering being done by those who back 'remain' is telling. The PM has a great deal more gravitas and presence than most on the UK stage – but even he must beware of overdoing the negatives in too pantomime a fashion," he said.
Ikea will have to rename all products using proper English words #BrexitRisks

— Boss Hogg (@BossHoggEngland) February 22, 2016
@nick_clegg Wind will change direction and Dorothy will never escape the Emerald City if we #Brexit #BrexitRisks pic.twitter.com/G5dp3n58wl

— Captain Fearmonger (@sparks30303) February 13, 2016
The new edition of satirical magazine Private Eye focuses on the apparent scaremongering of pro-EU campaigners on its front cover (right).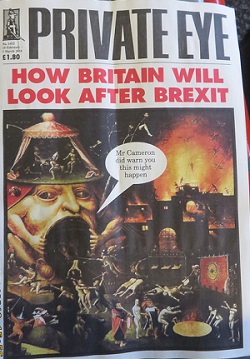 However Ella Fallows, head of political intelligence at Lexington Communications and co-founder of the group Women in Public Affairs, said Cameron had made his case well on The Andrew Marr Show on BBC One this weekend: "The line of 'taking a leap in the dark' is a strong one, and that indicates what a main theme of the remain campaign will be."
Telling PRWeek how their campaigns were taking shape, a spokesman for Britain Stronger in Europe said its campaign would focus on Britain being "stronger, safer and better off in Europe", while a Vote Leave official said "time to take back control" was a key message.
Earlier this year, the global chair of Ogilvy PR wrote in PRWeek that fear was often a better tactic than hope in political campaigns.
Credit for Private Eye cover: Gwydion M Williams via Flickr