n the morning of 3 December last year the financial markets were anticipating that the European Central Bank would try to pep up the European economy with a small but significant cut in interest rates.
So traders were caught completely off guard when the Financial Times, true to its reputation for having the inside track on such matters, scooped the ECB minutes before the announcement was due, with the surprising news that it would hold rates steady. "ECB leaves rates unchanged in shock decision," it tweeted.
There was just one small problem: the FT's story was wrong. Far from keeping rates the same, the ECB had in fact reduced interest rates to an all-time low. But such is the power of the FT's reporting that the Euro immediately plummeted by 0.4 per cent.
Within 45 minutes the FT put out a statement explaining that the wrong pre-written story had been accidentally posted. And within a couple of hours the market had corrected itself and the fuss was pretty much over.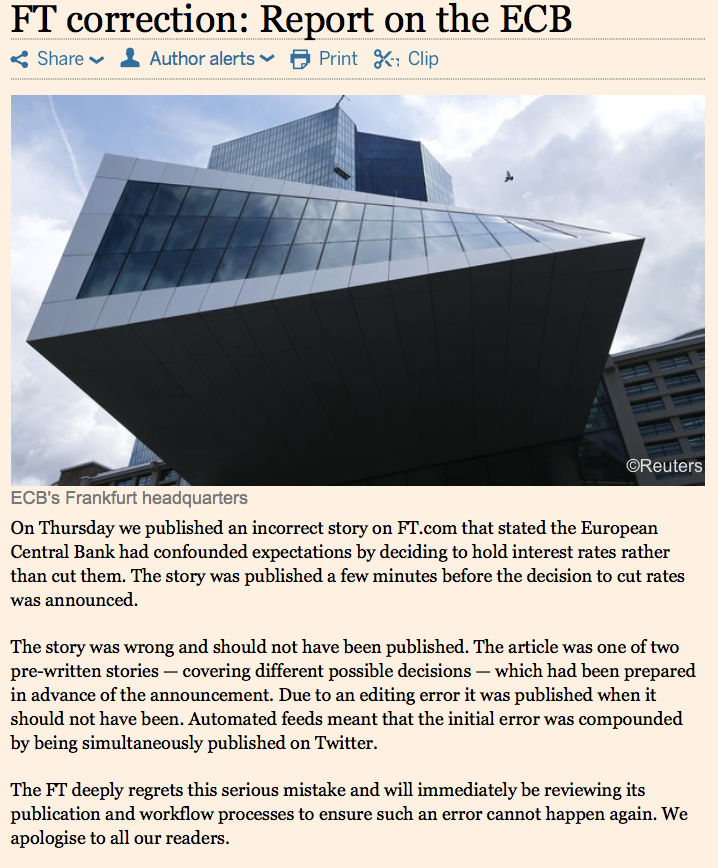 "Yes, that was an interesting one," smiles Darcy Keller, the FT's apparently unflappable senior vice-president for comms and marketing. "This particular event was a serious and unusual error (for us), and one we reacted to swiftly and comprehensively to ensure it never happens again. It certainly does no good to lose your head in a circumstance like that. We focused on getting to the bottom of things and ensuring our readers were updated in real time."
In a massive global news operation like the Financial Times, which not only reports events but has the power to influence them too, crisis is never far away, says Keller. This makes crisis comms one of the most challenging recurring aspects of her job. "We have had a lot of practice in a way that most comms teams haven't because we work in a 24/7 fast-moving news environment. There's all sorts of stuff every day. A piece of content that someone's not happy about…. we were hacked by the Syrian Electronic Army a couple of years ago… that was amazing."
Ready for anything
So Keller and her 15-strong comms team rehearse and rehearse and rehearse. "We are really fit when it comes to crises. We have done crisis comms simulations and we were told that we did well because we responded not only faster than anyone but showed good judgement too," she says with what you might call modest pride.
Fire-fighting may be the thing that keeps Keller on her toes but it is just a tiny part of her role. Unlike many comms directors who work in a little comms bubble, Keller is all over the organisation. In fact, when it comes to the business of communicating with 2,300 FT staff and the outside world, shaping the brand and shaping the distribution of the paper, FT Group appears to have put all its eggs in Keller's huge integrated basket. She seems to have a sphere of internal influence of which most comms people could only dream.
As well as being responsible for global comms, following the FT's £844m ($1.2bn) sale to Nikkei last June, she was made head of brand, commercial marketing, internal comms, brand events, digital comms and partnerships.
Since 2010 she has been on the senior management and digital executive teams, where she has helped shape the FT's groundbreaking digital and mobile strategy and its growth in recent years. As if that weren't enough, she has been a member of the company's executive board since 2013, responsible for developing, managing and delivering the FT Group's hugely successful global commercial strategy and leading its digital transition.
Today Keller has just flown in from Japan, for this interview, lunch with a big cheese at LVMH (an important FT advertiser), and then on to an executive board meeting before flying to New York tomorrow morning.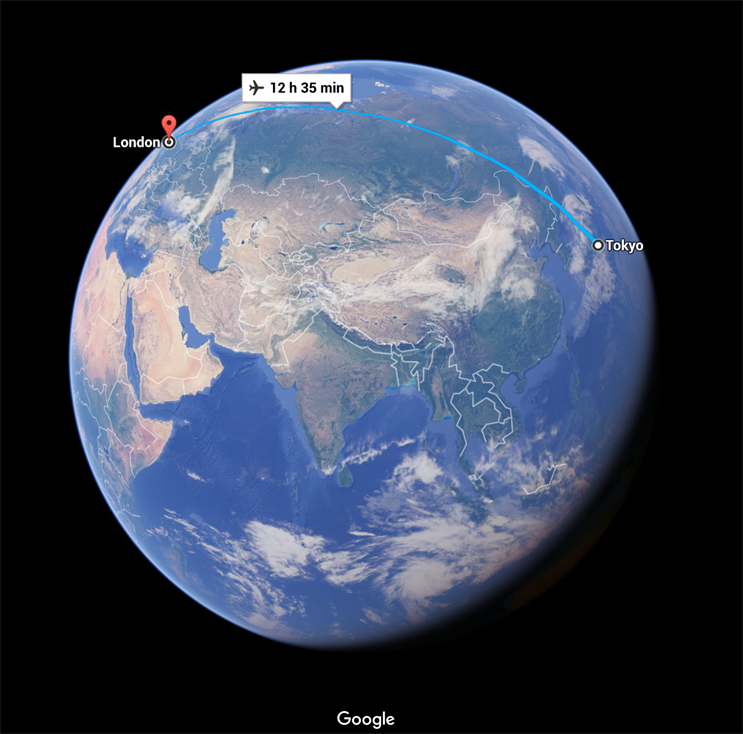 With a job description and workload like that at one of the world's most powerful media brands, you might expect her to behave like a frazzled, jetlagged power PR.
Nothing could be further from the truth. A slim, neat, gently spoken woman in her mid-thirties, she comes across as completely but calmly in control – but still somehow modest and approachable.
Rapid trajectory
Born in Texas, she has no drawl or twang. To this Brit at any rate, her accent sounds like standard issue American. The fact that her department was voted PRWeek's best international in-house team last year suggests that she is exceptionally capable. As does her rise up the FT hierarchy. She joined in 2007 and within five months was head of global press office in the US. Within six years she was promoted to head of global press office, then global director of comms, senior VP corporate affairs in 2014, and senior VP comms and marketing in June last year.
Internally one of her main tasks has been to globalise the FT's marketing and comms. "As communications channels converge and consumers expect greater transparency and authenticity, it is vital we are speaking with a consistent voice and combining our efforts and resources to create the greatest impact," she says. In January 2015 she co-founded the FT Global Marketing Council, which oversees all marketing activities across the organisation – from brand to performance and product marketing. "The Marketing Council has allowed us to act more decisively and effectively in managing our brand and reputation across channels – whether via paid, earned or owned media," she says.
She created a global structure for Communications (across corporate comms, media relations, events, partnerships and employee comms), and did the same last summer for Brand and Commercial Marketing: "The aim was to bring those teams closer to the work of communications to ensure we were making the most of our programmes and opportunities."
It comes as no great surprise to learn that, crisis comms apart, the other big issue in her work is keeping up with technological change and applying it in a useful way to the business: "A major challenge we are grappling with is the pace of change and keeping people focused and motivated. Ourselves included. It's the Wild West. We can make predictions and we can sort of guess and feel our way through what is happening but ultimately everything we knew about media is changing at a rapid clip. We have to experience that ourselves as communicators but we also have to find the confidence to help the organisation get through this."
It is slightly surprising to hear Keller say that. From the inside the FT may feel like it is in a state of anxious, sweaty confusion. From the outside, the progress of what Keller refers to as "a 128-year-old legacy media brand", through the uncharted digital rapids, has been little short of imperious.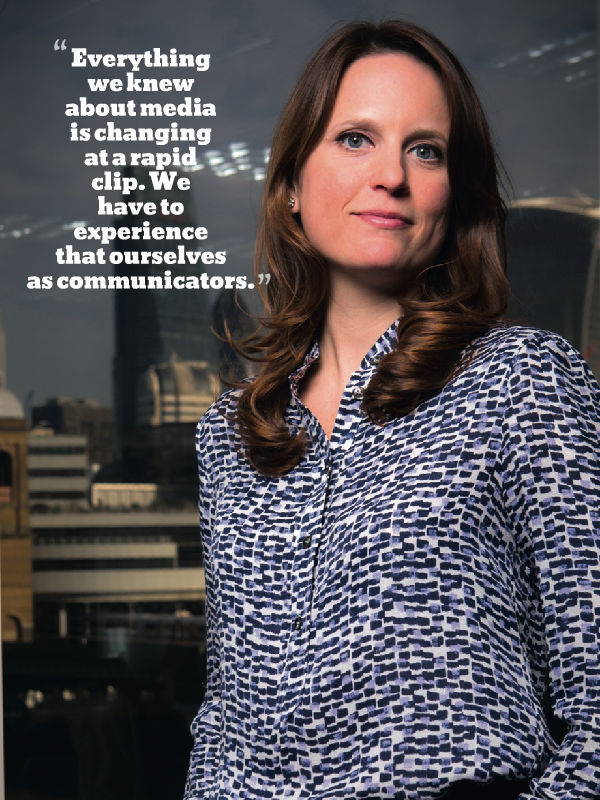 The paper's ABC figure peaked in 2002 with 478,000 copies daily. But since then UK print sales have been in steep decline. Last year it sold an average of 219,000 copies. It is exactly the calamitous circulation fall you might expect of an expensive quality newspaper.
But while other papers had the future foisted upon them, the FT embraced change in a very surprising and successful way. The paper probably leads the world in profitably migrating readers from print to its many digital incarnations. Almost half of the FT's traffic is now through mobile devices.
According to Darcy, the FT still aspires to one global print edition – albeit with slightly variable front pages. But online it has no fewer than five regional home pages. It rejected the volume model espoused by Mail Online and The Guardian and in 2007 became the first British news brand to charge for content using a metered paywall. Confident in the value of its content, it decided not to share its revenues with Apple and developed its own suite of apps for mobiles and iPads: the Financial Times app, the How To Spend It app, the Weekend app and a TV app developed with Samsung.
The organisation is also learning how to speak to different audiences in different ways. For instance, Keller says there is no evidence that millennials will not read long articles or want different content, but they do want a slightly more relaxed tone of voice. "Alphaville, our financial markets blog, has a very different (less formal) tone and speaks to the reader differently from the rest of the FT. You can draw a conclusion here. Maybe we should be testing that more across the site and maybe we will."
Digital coup
The results of the FT's 'digital migration' have been stunning. Paid circulation now stands at an all-time high of 780,000. Digital, which represented just 24 per cent of subscribers in 2010, now makes up almost three-quarters. Crucially, the half-million or so new subscribers are paying a minimum of £280 a year each for the privilege.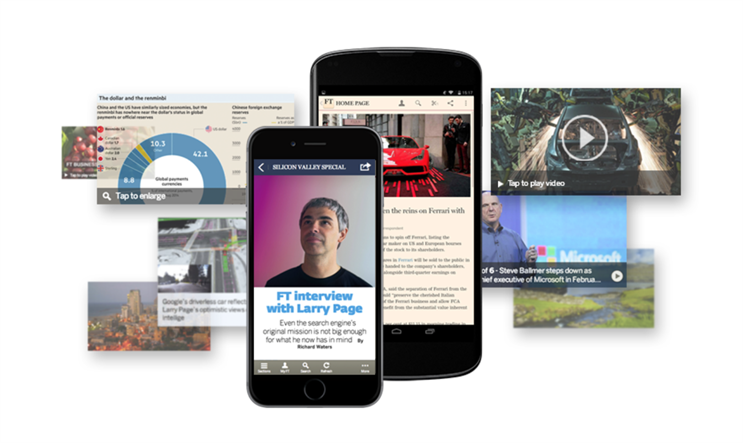 True, print advertising revenues have fallen 13 per cent in the past five years, from £85m to £74m, according to Nielsen data (the FT has said these don't give a full picture of finance as they track brand spend and not publisher revenue). But this is a relatively small amount compared with most print media and in any case it is almost irrelevant because the title makes more money from its content than its advertising.
"The newspaper is profitable before advertising," explains Keller. "That means subscriptions and circulation pay for costs of printing and distribution. Advertising is effectively icing on the cake." That financial strength could help explain the fact that, several weeks after this interview took place, FT columnist Lucy Kellaway was given free reign to publicly criticise Hewlett Packard Enterprise after the firm's comms chief made what she saw as a threat around its advertising spend as a key part of a complaint against an earlier column by Kellaway.
A mark of Keller's strength is she is even prepared to answer the question 'what do you do badly?'
She answers: "I tend to overthink things – it's agonising for me and the people around me too. I know it's agonising for my partner."
But she says working at the highest levels at the FT has forced her to deal with what could be thought of as a desire for perfection: "I've become much better at managing that. I've had to become more comfortable with being more superficial than I would like to be on issues."