According to data from social media metrics firm Brandwatch, the UK is the country tweeting about #SB50 most after the US and its neighbour Canada.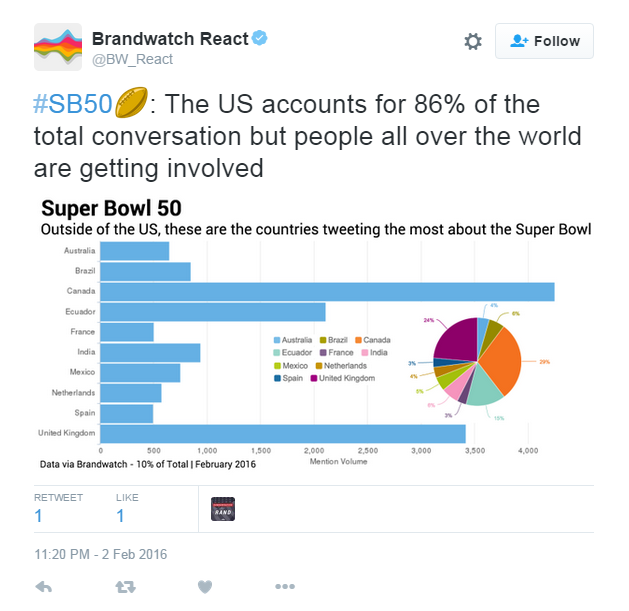 In the July edition of PRWeek UK, the chief executive of NFL UK said that American Football was already so big in the US that its only option for expansion was overseas. "NFL enjoys a dominance in the US not matched by any sport or league in the world, so the only place it can grow is internationally," Alistair Kirkwood said.
Under this plan, London's Wembley Stadium has played host to one or more NFL game a year since 2007, with an announcement in October made that at least two games will be held there each year until 2020, while Twickenham Stadium will also host games from 2016.
The possibility of an NFL franchise coming to London has also been floated, with outgoing London mayor Boris Johnson saying in October that he hoped this could happen "in the next few years". In recent years, NFL has increasingly featured on the front page of the BBC website, including video packages and highlights, and in the sports pages of national newspapers.
Further UK interest in this year's Super Bowl comes courtesy of Coldplay, whose half-time show will play to an estimated US TV audience of more than 115 million, with many more overseas.
Oliver Barr, a consultant at UK sports PR agency Calacus PR, said that the Wembley games and broadcast coverage had "undoubtedly spearheaded the growth in popularity of the NFL in the UK".
He added: "American culture is becoming ever stronger in the UK, with Halloween now taking US 'trick or treat' to epic proportions. And, in the same way, the razzamatazz of the Super Bowl has turned the entire affair into an excuse for a party."
Gerry Hopkinson, the Canadian co-founder of London agency Unity, said that an increase in UK celebrities declaring their love for the game had created a "transatlantic love affair". He said: "For many of us, America is still a glamorous place and everyone knows the Super Bowl is a special event, even if they don't know why. Apparently, there's been a huge rise in Super Bowl parties – it hits the same spot as the Oscars. You have to stay up late, it's not clear who's going to win and you usually get a lot of entertainment thrown in."
TV ads specially produced for the Super Bowl have been part of the excitement of the event for years - but with a 30-second spot on CBS selling for as much as $5m (£3.4m) this year according to Fortune magazine, augmenting this marcoms push with PR and non-owned media tactics is increasingly a priority for large brands looking to create an 'Oreo moment'.
An example this year comes from Budweiser, whose campaign featuring UK actress Helen Mirren urging people not to be "a pillock" by drink-driving has been viewed more than two million times on YouTube and picked up by various UK news outlets. Another stunt gaining column inches was for The Shard in London, which featured a video of the Vince Lombardi Super Bowl trophy being superimposed onto the building.