How is the team organised?
We work 24/7 on a shift system with people working evenings and weekends. Normal press office hours are between 7am and 7pm, then it's on an on-call basis. I'm always on call, as are senior press officers and heads of desks. They feed into chief press officers, who feed into me. There are six desks plugging into different parts of the business.
In total there are 30,000 staff across TfL, and internal and external comms are generally separate. But for the Olympics we trialled working together, bringing internal, external and marketing functions to work as one. We have carried on doing this for big events like the Rugby World Cup. We have also done this for proactive campaigns, such as the unlicensed minicabs campaign. We see how we can bring our expertise in on matters like that.
What type of enquiries do you deal with?
It's diverse, things break on social media so quickly now. If a train breaks down, it's all over Twitter and becomes a press matter. Then you get things like the Leytonstone Tube attack [the knife attack at the station in December]. For that we need to find out are staff safe, who is leading it (the Met or British Transport Police). Behind every incident – whether it be a station closure, if a bus prangs a car, a cyclist is knocked over etc – we are preparing ourselves to provide Londoners with knowledge.
Transport is a political issue in London alongside police and housing. If something breaks down, the productivity of London is such that transport problems cost people and businesses money, and in large numbers.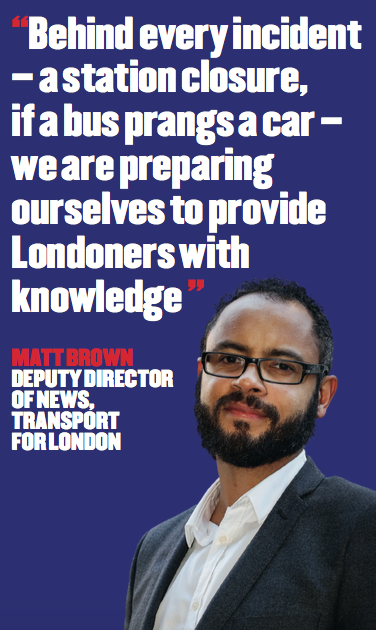 What is the balance between planned and reactive comms?
I'd say it's 50/50. There is a lot to communicate in London, but because of the political nature of what we do there is a lot of reactive stuff too. The phone is constantly ringing and everyone's extremely busy. FOI is another strain. It's our job to prepare ourselves for the stories that spawn from this; for example if a journalist asks us for crime figures on the transport network, we have to give them all the context and then interviews.
We do everything ourselves, from creative photography and social media, through to evaluation and monitoring. We don't use agencies, which is quite rare.
The model seems to be working; we've got all the talent and energy we need here.
Do you think that you get fair treatment from the media?
Yes, there's little point complaining about it. By and large we have built up good relationships with the media. We understand the controversial nature of what we do – the minute you build a new cycle route or road, a lobby will come out arguing it's the wrong thing to do. It's the same with Uber taxi drivers – it's very difficult to please everyone all the time. Media reflect debate and argument and we are at the centre of that. It's our job to explain the reasons behind doing it. We now have a good relationship with the London Evening Standard, which has been hard won over a number of years.
What are your thoughts on the ongoing Uber consultation?
We have tried to communicate that there are clearly different views about how to balance technology like Uber alongside existing business models of black taxis. Given the strength of debate it's right to have a democratic process. The regulations need updating – they are old, from a time before iPhones. We are interested in getting a real perspective on what people think.
What role will TfL play in May's mayoral election?
We have a great relationship with [the Mayor's office]. You have to work closely; he [Boris Johnson] is the chair of TfL and we are here to deliver his transport strategy. Even innocuous issues that you wouldn't expect to be political are. Although politics surrounds us, we are a public body, so when the pre-election period starts in March we aren't allowed to do anything that could be construed as influencing the election. We don't do any announcements at that stage; we stay out of it.
Whether it's [mayoral candidates] Zac [Goldsmith] or Sadiq [Khan] there will be a fresh agenda. Zac has signalled environmentalism and air quality as his focus. Sadiq is similarly interested in extending the Ultra Low Emission Zone. Both have said the housing crisis is a big part of their strategy. Transport plays a massive role in helping that – we are trying to extend London Overground to areas such as Barking and Battersea, which will enable regeneration to take place.
---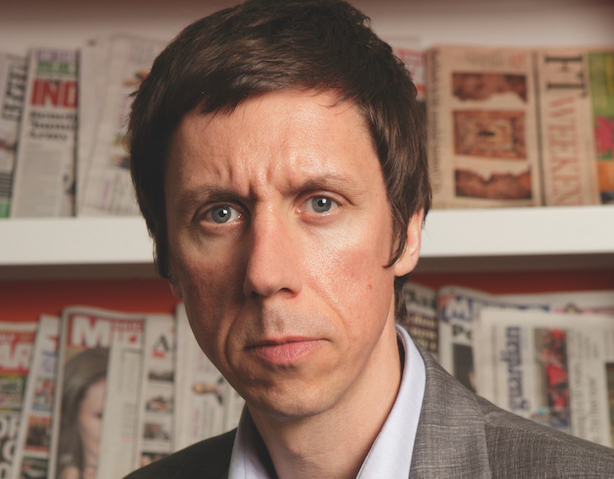 ---
What is your view of Boris Johnson?
He's clearly been a very successful and popular leader; he appeals to Londoners because we like politicians who say what they mean aside from politics. It's the independent spirit that Londoners like, which is why Boris and Ken [Livingstone] did so well. What you see is what you get, so in that respect he is easy to deal with.
We mostly deal with the Mayor's press office though, not so much Boris himself.
Are you restricted in terms of what PR campaigns you can run?
We have to explain our thinking to the Mayor's office but within the bounds of that we have grown in confidence and do try creative things out. We have a lot more partnerships now. For the 'Year of the Bus', we teamed up with Lego to make a life-size bus. A fair few people here have agency experience.
What is happening with the night Tube?
We are hopeful it will be delivered soon. Economically it makes sense and Londoners want it. We feel confident that [transport commissioner] Mike Brown has conveyed we will get there. It's just taking some time.
What has been your biggest challenge in the past year?
There have been so many – the Uber and taxi issue is just one. We have recently had a spending review in which we made our case for continued investment. It was a good result for us but also involved taking a cut of £2.8bn over the next five/six years, which will be difficult. We've launched a massive consultation on Crossrail 2, and are leading on the case to deliver it. We've also taken over new bits of the rail network out of Liverpool Street. Cycling and managing congestion on roads is a continued challenge – we are running the press for the 'road to modernisation programme', which is a £4.2bn investment.
An ongoing challenge is the fact that London's population is growing by the equivalent of two busloads of people every day. By 2030 this means a population size of 10 million people, which means that more transport infrastructure will have to be built.