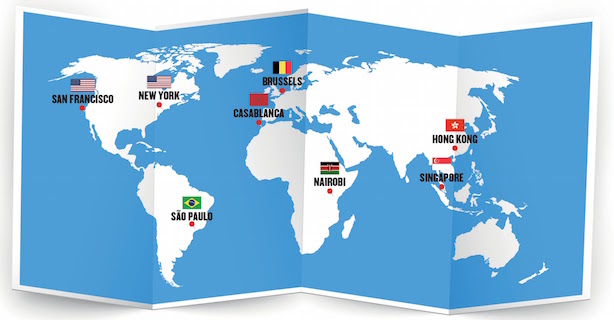 W
ith the UK PR industry in strong growth – fee income among the top 150 UK agencies surpassed £1bn for the first time in 2014, according to PRWeek's Top 150 PR Consultancies report, and is set to jump again in 2015 – it is hardly surprising British PR shops are looking overseas to expand their burgeoning influence.
Over the coming days, we profile nine British agencies that have opened offices in other countries. Our focus is primarily independent agencies that have taken their first international steps this decade, rather than those with long-established networks overseas. It provides a snapshot of the benefits and challenges of international expansion in the post-recession world.
For Francis Ingham, director general of the PRCA and executive director of global umbrella trade body ICCO, overseas markets are generally "quite amenable" to UK agencies.
There is "incredible kudos" associated with the "two global hubs of PR excellence" – London and New York – bringing "immediate respect and credibility". The UK's time zone, between the Americas and Asia, is also convivial to international connections.
He adds: "Partly it's just a natural stepping stone for a successful agency in the UK, but there is an element that clients increasingly want agencies that can work in multiple locations."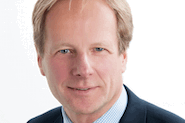 Keith Hunt, managing partner at corporate finance agency Results International, cautions that while UK agencies are continuing to open overseas, the rate of openings has remained steady rather than ratcheting up with the improving economy. Nevertheless, openings continue apace.
So where are the best opportunities? According to the ICCO World PR Report 2015, PR is growing in every region in the world. However, along with North America, optimism that growth will continue is greatest in Latin America and Asia. Optimism about future profitability is lowest in Western Europe, followed by Eastern Europe.
Hunt suggests: "The US and South East Asia are the most attractive places to open up given the size of their respective economies. New York remains the favourite choice while the West Coast, LA and Silicon Valley both also draw interest. In Asia, Shanghai, Hong Kong and Singapore are the top destinations. The latter is often referred to as one of the four 'Asian Tigers' and a recent PwC report said it was likely to replace Switzerland as the wealth management capital of the world by the close of 2015. Singapore is the Asian regional hub for a huge range of multinationals and is an attractive place for any expansionist PR business."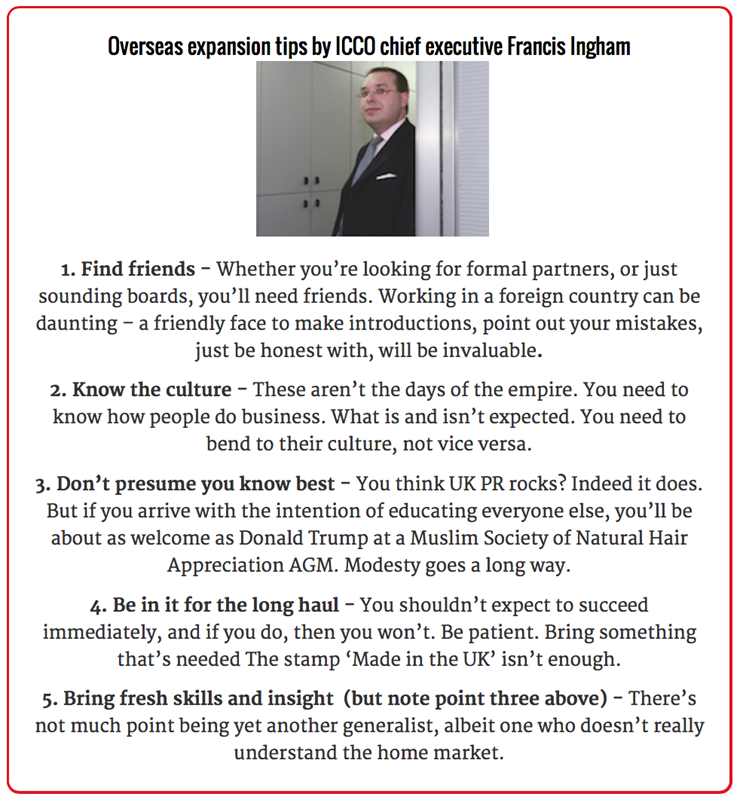 To infinity and beyond
In the next feature we highlight three agencies that have had success in the US recently, but some caution is urged. London-based Four Communications is targeting openings in other markets, particularly South East Asia.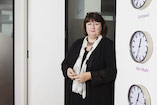 But Four Communications CEO Nan Williams says a US move is unlikely: "It's very competitive. We're going to have to spend a great deal of money to make a mark. Are we really going to be able to do that, or are we better off going into markets where it's less over-supplied?"
Briton Greg James, a founding partner of UK PR agency Cake's American office, which opened in New York in 2009, explains some of the difficulties. Firstly, scale: "The size of the market is like running a pan-European campaign, not a UK campaign," he tells PRWeek via email from the US.
Secondly, cultural understanding: "Sense of humour etc is very different in Ohio than it is in NYC than it is in Miami – and much UK PR work is predicated upon shared cultural understanding.
"The size of the media market is also vastly different," adds James, currently chief strategy and development officer at Havas Media, the media arm of Cake's parent company Havas.
There are very few true 'mass media' vehicles in the way we understand them in the UK. On top of these things, of course, we forget how small the UK is. Nobody here really cares about the UK market so it's arrogant to think that you can sweep in and bring your brand of magic where many others are doing it, James says.
"So yes, we found it a tough start and the product we were offering had to adapt. For us, that came as we aligned the business far more closely with our partner network. We identified the niches that the media business wasn't filling for clients in content, in social, in big ideas."
Ingham believes that, "bizarrely", it is easier for US agencies to come to the UK than vice versa. "I think the UK is a less conservative market than the US," says Ingham. "It's just more welcoming of people from a different background. Also, it's a bit easier to get the legal position to work in the UK than in the US."
Location, location, location
Whichever country an agency wants to enter, Hunt offers this advice: "Think carefully about the location you select and research the local market.
"Italy has a completely different business style and approach from France. While the former may require some flexible and imaginative strategies to avoid impenetrable bureaucracy, in the latter you are first and foremost well advised to make friends within the local business community.
"Japan is a completely different kettle of fish and any European contemplating opening there will require local support. In Germany, a highly regional territory, the choice of location is a major consideration; Munich, Frankfurt, Bonn, Hamburg, Berlin are all popular, but with rather different characteristics."
Employment law is another consideration, Hunt stresses. "In many European countries, it can be nigh on impossible to make workers redundant."
As Ingham puts it: "If you're going to go overseas, you've got to do so with your eyes open."
This article comes from the February edition of PRWeek UK.
Click to read the full range of features, analysis and opinion on international expansion, along with the case studies on nine agencies' expansion plans.