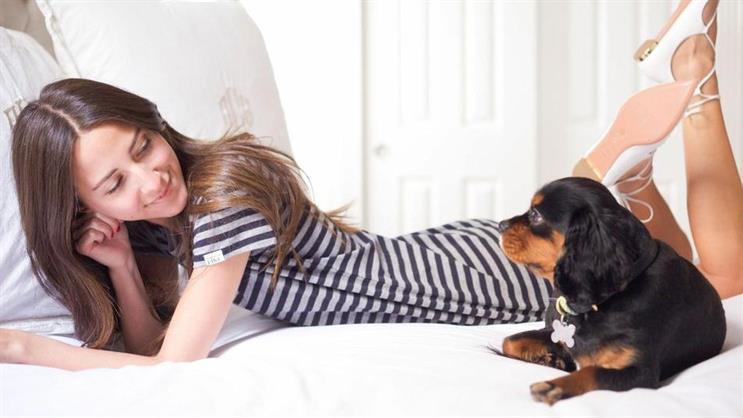 Followers: 813,000 on Instagram
Has worked with: American Express, J&J, Kate Spade
Channels: Instagram.com/SomethingNavy, http://somethingnavy.com/
Fashion Instagrammer Arielle Noa Charnas hasn't yet surpassed a million followers on any single social media platform, but that hasn't stopped her from connecting her personal brand, SomethingNavy, with high-profile partners and sponsors. One reason for that, she says, is that she taps into a key demographic.
You don't have a million followers on Instagram yet, but you've attracted big names like American Express, J&J, Honest, Marc Jacobs, and Kate Spade. How did you attract these brands?
I love to work with big companies because I get the opportunity to speak to a larger audience. Maintaining the brand's integrity and remaining on-brand, I remain authentic to my own image and brand by putting my own spin on things. Partners and sponsors I've worked like that I can appeal to a mass market that ranges from young teenagers to middle-aged women.
Fashion blogging is huge, but many creators never gain a large following. How did you cultivate an audience?
I started SomethingNavy almost seven years ago, and it was actually for all the wrong reasons: for a boy. I had just finished up school and was trying to figure out what I wanted to do with my life. My boyfriend at the time was such a go-getter and passionate about his job. Meanwhile, I was finding different ways to keep myself busy and started the blog merely as a hobby taking pictures of my outfits.
Soon after I started my blog, he broke up with me. As devastated as I was, I ended up putting all my effort into the blog as revenge, knowing that he would see me looking good and doing just fine without him.
Eventually, I realized that I genuinely loved putting outfits together and sharing it with others. At this point, it was entirely for my own self as a creative outlet and something I was really good at and genuinely loved. I just kept at it and remained consistent and true to myself.
Unlike some social media stars, you have a dedicated website. What are the costs and benefits of running your own site?
Costs are definitely maintaining it and keeping your readers happy. Sometimes when I don't post for awhile there are some avid readers of my blog that ask me if something is wrong and where I went. There's definitely a pressure to keep it updated and refresh it as often as possible.
The benefit is that I can tell my story behind all the photos. The other social media channels are limiting, as I'm allotted only a certain amount of characters. But on my blog, this is where I can connect with people and express myself. The blog is all me and such an amazing representation of how much I've evolved as a blogger, and even as a person.
When I first began blogging, I was a risk-taker and wore a ton of colors and eccentric outfits because I was still trying to find my niche and figure out who I was. Throughout the years, I've learned so much more about myself and am confident in the person I am, which shows in my more consistent, clean, polished, and simple looks.
What is your advice to brands that want to work with online influencers?
For any traditional businesses that are hesitant in working with influencers – it's the right move. [It] will keep your brand relevant and introduce your name to a whole new demographic. My advice is to choose someone that really speaks to your brand and fits the bill – if it's truly organic and the influencer actually is a fan, it will show.
And what advice would you give to a content creator when they are approached with a brand offer for the first time?
Make sure the brands make sense for your image. Have a good understanding of the type of blogger you want to be and remain consistent.