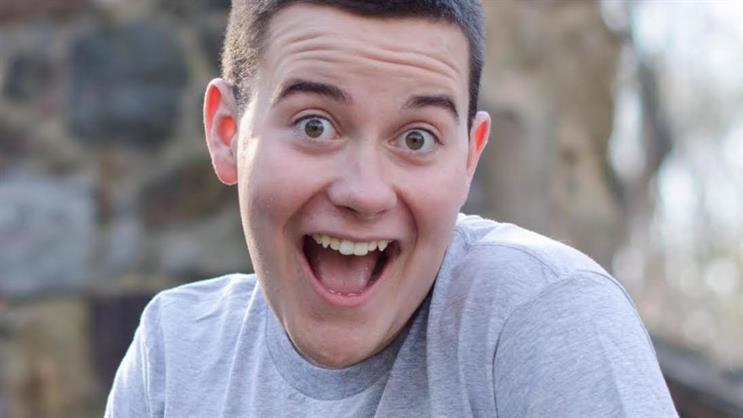 Followers: 135,000 on Vine; 38,000 on Pinterest for "A Little Craft In Your Day"
Has worked with: Home Depot, Irish Spring, Walmart, DecoArt paint
Channels: https://vine.co/LetsDIY, https://www.pinterest.com/craftinyourday/
How did you get started and on which channels did you start seeing success?
I started by creating online content for a creative outlet and never once thought I would monetize it in any way. It was just me in 2010 – in fifth grade, mind you – creating online content for the fun of it. I love to talk, and I started crafting and saw that on YouTube there was a community of creative people making videos and sharing it online. I thought, 'I want to do this too.' Because no one in my family crafts I have no one to talk to, and lo and behold, I was part of an amazing community.
How I started monetization was when we launched A Little Craft in Your Day. A little bit before that, before I met [my partner] Courtney, my mom lost her job and it was a really hard time for us.
I decided to take that hard time and turn my blog into some type of income, because I had a lot of influential friends making their full-time job doing this. I implemented what they were doing, figured out what would work best for me, figured out great brand partnerships, and here we are today.
When did you really start to see things take off?
From 2012, which I believe was when I started to focus on creating an income for myself; by 2013 I was bringing in a full-time income.
How do you maintain a balance between working full-time and high school?
In seventh grade – this was right when I decided I wanted to make this some type of business – I left the regular brick-and-mortar school and went to an online environment where I'm able to work any time of the day, any week, any hour, wherever I am. So if a client says, 'Hey Tanner, I need you at this conference next week – here's your ticket and here's your paycheck,' I can go, and it's not taking away from any of my schooling, [there's nothing] that I'm missing out on. I attend [in-school] testing at the end of each semester, so we just go and take our end-of-course exams and then we're free, but everything else we do completely online; my teachers and the entire staff are available to me online.
Who is your audience and how are you interacting with them?
Our demographic is anyone from age 12 to around 25. What we do for our website is create content that's easy and fun. [It's] people that DIY that don't know they DIY. Our demographic is people who want cheap and nice ideas to decorate their room, their dorm, and hopefully their first home and apartment. We create a lot of DIY editorials that focus on room décor because there's a huge demographic of people just moving out who want to decorate their dorms for the first time and teenagers who want to decorate their rooms, but don't have the cash to do it.
One of the most popular posts on our website is "25 teen girl room décor ideas," and it has something like tens of millions of hits and truly went viral over the years. We see about 10,000 page views to it, and pages like it, almost a day. We then leap off of that and go from sharing a bunch of ideas to sharing how to specifically create ideas.
What brands are you working with?
I'm a spokesperson for DecoArt, they're a paint company [and] they're one of the US leaders in providing acrylic paints. They reached out to us to do a simple one-off gig and we pitched a full-on partnership to market to Generation Z; they said, 'Here's your contract.' We're able to work with them every month on developing content for the next generation of crafters. We're the lead of their Generation Z marketing and we're putting together an influencer program to take it to the next level for 2016 where we're able to work with even more influencers.
Generation Z isn't interested in seeing ads. What we're paying attention to right now is influencer marketing, where we're able to be authentic and tell people that we're working for this brand, and they're excited for us.
When we're able to do a brand partnership, I'm able to bring in a videographer and put a budget aside for production quality and we're able to make awesome stuff. We're able to justify our cost and at the end there are amazing products that our audience is enjoying.
What are some of your best practices for sponsored content?
What I love to do with sponsored content is create an authentic story behind it – and this can work in many different industries. I'm in a how-to community so I focus on how-to tutorials. We take the brand's products and create projects with it.
You can take this and turn it into a lot of different areas. We partnered with Irish Spring in February and they wanted a sponsored video talking about a new collection they have and I shared how I am sort of a stinky guy and how Irish Spring helps me when I'm at the gym. It was a funny video, but it was honestly very true.
It took a while to come up with that story because I was thinking, 'OK, Irish Spring, I'm a DIY blogger, how could I justify working with this brand?' but when we thought of that, it was just awesome because I started thinking how busy my schedule was and how awesome Irish Spring is – it was their new signature collection and higher-end products.
It's all about sharing an authentic story that relates back to the brand, but also your influencer's brand. If you're working with a random partner that isn't going to make sense to you, your audience is going to see that and you're not going to be able to have a genuine connection with them. They're going to think that you're probably just a sellout.
We've also worked with brands like Home Depot, where we created projects to drive people to their Do It Herself program. We've worked with brands like Scotch Duct Tape, where it's really for Generation Z. We've even been able to work with a brand like Walmart Family mobile, where we're able to talk about how you can get an awesome phone for a really low cost; that's been a fun partnership this year.
Where are you most active on social media?
Our most successful platform in terms of number ratio would be Vine. We have over 135,000 followers on Vine. The social media network that drives the most ROI right now would be Pinterest. I'm seeing tens of thousands of people coming to our site from there, but building an actual relationship with our readers and our watchers; it would probably be on Vine right now.
How did your partnership with Ketchum come to fruition?
Back in October, they were putting together their transition event for Generation Z and they reached out to my YouTube network saying, 'Hey, do you have any influencers that are in Generation Z?' They said, 'Tanner Bell.' They had me fly out for their event and speak on how we're marketing to Generation Z and to represent my YouTube network. Since then we've connected with them and have a nice friendship to hopefully work together more in 2016.