The campaign was driven by the insight that passengers like to be instantly immersed in the country they're stepping into, but it also needed to resonate beyond the airport.
Red conducted consumer research exploring what visitors like most about the UK – including favourite words, phrases, sights and sounds.
The agency then worked with actor, director and writer Stephen Fry and comedy scriptwriter Graham Linehan to create a tongue-in-cheek video guide to the UK, celebrating quintessentially British customs and welcoming those travelling through Heathrow to the UK.
The video was released on YouTube at the start of January and is also via the free WiFi portal at the airport and on the Heathrow Express train service, reaching millions of people as they travel to and through the airport.
The campaign secured more than 300 pieces of national and international coverage in outlets including The Telegraph, The Independent, ITV's This Morning, BBC Radio 2, MailOnline, Mashable UK, USA Today and Time.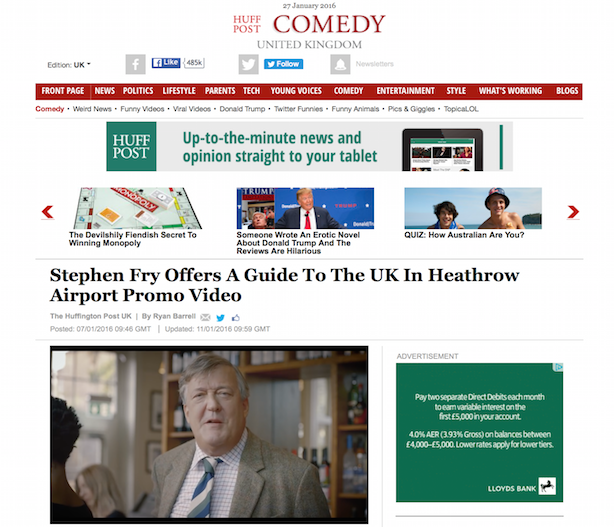 The campaign has achieved significant social engagement, with more than 370,000 views on Heathrow's YouTube channel and more than two million cumulative views to date. People have shared and commented on the video around the world, putting Heathrow at the heart of a conversation about the UK.
Independent research found that a fifth of the UK population had seen coverage of the campaign, and a third of those who had seen the video said it significantly enhanced their view of the airport.